General
Money
Entry Requirements
Health & safety
Weather
Embassies
Etiquette
Public Holidays
Attractions
Map
---
Introduction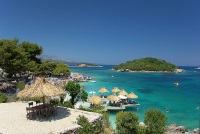 Albania ©Artur Malinowski
Increasingly celebrated as one of Europe's most remarkable and unusual tourist destinations, Albania boasts a coastline lapped by both the Ionian and Adriatic Seas, and a traditional culture relatively untouched by globalisation. The little Balkan gem is known as the birthplace of Mother Theresa and the great 15th-century hero Skanderbeg, and those who know their history remember the isolation of Albania under Communist rule, even after the fall of the Iron Curtain and the Soviet regime. It wasn't until 1992 that the Communist party finally relinquished power and Albania established a multi-party democracy.
Albania boasts beautiful beaches, snow-capped mountains, rivers, lakes and forests and some of the most hospitable people in Europe. Not only that, it also features Butrint, a UNESCO World Heritage Site and one of the world's archaeological wonders. It provides visitors with a glimpse of Mediterranean civilization from the Bronze Age through the Greek, Roman, Byzantine, Venetian and Ottoman periods; and if that wasn't already impressive enough, the ancient site is situated on top of a cliff overlooking Corfu.
In the leafy capital city of Tirana, tourists can enjoy the pretty views over the city from Mount Dajt or head to one of the many sidewalk cafes to sample some traditional Albanian fare, which has a primarily Turkish influence.
Saranda in the south is known for its unforgettable beaches and colourful spring flowers while Shkodra features the Rozafa Castle, a major tourist attraction. Orchards burst with ochre, burnt oranges and yellows in autumn while spring sees apple and cherry blossoms carpet the roadsides. These seasons are the best time of year to visit Albania, as even in September it is still warm enough to swim on the southern coast.
With both coastal and mountain holidays on offer, as well as fascinating ancient culture, Albania is guaranteed to knock the socks off first time visitors.
Communications
The international access code for Albania is +355. The outgoing code is 00 followed by the relevant country code (e.g. 0044 for the United Kingdom) and city codes are in use (e.g. 04 for Tirana and 052 for Durres). Internet cafes are widely available. Vodafone and AMC are the two mobile phone companies, which have agreements with most other European companies. Travellers with roaming enabled European cell phones should be able to use their cell phones in Albania.
Emergencies
127 (Ambulance); 128 (Fire); 129 (Police)
Languages Spoken
The official language of Albania is Albanian but Greek is also spoken in many areas. English is not widely understood but is spoken in some of the hotels and restaurants.
Duty Free
The import and export of local currency is prohibited. Travellers to Albania may bring with them: 200 cigarettes or 50 cigars or 250g of tobacco; 250ml of eau de toilette or 50ml of perfume; one litre of spirits and two litres of wine.
Electricity
Electrical current in Albania is 220 volts, 50Hz. Round pin attachment plugs and Shuko plugs and receptacles with side grounding contacts are in use. Voltage fluctuations are common.
Passport
We recommend that travellers always have six months validity remaining on their passports because sometimes passport control can get pedantic about it, despite what the official guidelines say. However, officially, all travellers entering Albania must have at least three months' validity remaining on their passports. They also require onward/return tickets, all documents for their next destination, and sufficient funds for the duration of their stay. Those arriving from yellow fever risk countries must have proof of vaccination against the disease. It is possible for most visa-exempt travellers to stay in Albania longer than 90 days but they may be required to register with the authorities after this point.
Entry Requirements
Canadian
passport holders require a passport valid for three months beyond date of arrival, but do not require a visa for stays of up to 90 days.
show more ...
Health
A Yellow Fever vaccination certificate is required for all travellers older than one year of age arriving from a yellow-fever infected area in Africa or the Americas. Vaccinations are also recommended for hepatitis A and hepatitis B. Travellers spending time in rural areas and eating outside of hotels and restaurants may want to consider a vaccination for typhoid, and those at risk of animal bites should consider a rabies vaccination.
Tap water is not safe to drink unless it has first been boiled, filtered or chemically disinfected.
Medical facilities are limited in Albania, particularly outside Tirana. Comprehensive medical insurance, including evacuation by air ambulance is essential before travelling to Albania. All essential medications should be imported into Albania. Although it is not required, it is generally advisable to take along a signed letter from a doctor detailing what the medications are and why they are needed.
Emergency Phone Number
127 (Ambulance); 128 (Fire); 129 (Police)
* For current safety alerts, please visit
Foreign travel advice - GOV.UK
or
Travel.State.Gov
Money
The currency in Albania is the Lek (ALL). There are numerous ATMs in Tirana and main towns, as well as bureaux de change where Pounds, US Dollars and Euros are widely accepted for exchange. Although street money changers operate openly, they do so illegally. Credit cards are not as widely accepted as one would expect, except in a few of the most up-market hotels and restaurants in Tirana. Foreign currency can be changed in banks at exchange offices (kambim valutor). The most commonly accepted currencies are the US dollar and the Euro; keep in mind that Lek may not be exchanged outside of Albania. Banks are open only on weekdays from 8.30am to 2.30pm.
Exchange Rate
Not available.
Embassies of Albania
Foreign Embassies in Albania
Customers
The Albanian attitude towards women is still conservative, especially in rural areas where modest clothing and behaviour is the norm. Homosexuality is not illegal but outside of urban areas it is still controversial and public displays of affection may attract unwanted attention. Penalties for drug related crimes are severe.
Public Holidays in Albania
| | | |
| --- | --- | --- |
| | 2017 | 2018 |
| New Years Day | 1 | 1 |
| Summer Day | 14 Mar | 14 Mar |
| Nevruz | 22 Mar | 22 Mar |
| Catholic Easter | 16 Apr | 1 Apr |
| International Labour Day | 1 May | 1 May |
| Orthodox Easter | 16 Apr | 8 Apr |
| Eid al-Fitr (End of Ramadan) | 26 Jun | 15 Jun |
| Eid Al-Adha (Feast of Sacrifice) | 2 Sep | 22 Aug |
| Mother Theresa Beatification Day | 19 Oct | 19 Oct |
| Independence Day | 28 Nov | 28 Nov |
| Liberation Day | 29 Nov | 29 Nov |
| National Youth Day | 8 Dec | 8 Dec |
| Christmas Day | 25 Dec | 25 Dec |
Travel Guide powered by www.wordtravels.com, copyright © Globe Media Ltd. All rights reserved. By its very nature much of the information in this guide is subject to change at short notice and travellers are urged to verify information on which they're relying with the relevant authorities. Globe Media and UNIGLOBE Travel does not accept any responsibility for any loss or inconvenience to any person as a result of information contained above.