General
Money
Entry Requirements
Health & safety
Weather
Embassies
Etiquette
Public Holidays
Attractions
Map
---
Introduction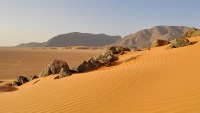 Algeria ©Julian Herzog
Algeria is not generally considered a popular tourist destination and despite a gradual decline in violence between the 1990s and now, attacks against foreign tourists are still a possibility and a concern. That said, the majority of visits to the country are trouble free. Those who do travel to the region will find that Algeria is not short on sightseeing opportunities and certainly provides tourists with an authentic experience.
The capital city of Algiers, sitting on the northern coastline, is a growing metropolis. Once a strategic point of entry for would-be conquerors from Europe and the Middle East, it now welcomes the presence of multi-nationals such as Carrefour and Quick. Historically the most popular remnant of battles waged on the city's coast is the Cashbah, a UNESCO-listed citadel, the oldest part of which dates back to 1660. Also along the coast is Tipasa, a pleasant seaside village which holds some spectacular Roman ruins. Timgad, which is further south, holds North Africa's most extensive and best preserved Roman Ruins.
Typically Mediterranean in climate, Algeria has warm sandy beaches, particularly around Oran, a popular tourist destination in the summer months. The infamous Sahara Desert begins right where the coast ends, rocky at first, elevating over the vast Haut Plateaux (High Plateaus), and untold miles of sand and sun. In the far south of Algeria is the Hoggar mountain region which holds the nation's highest peak, the Tahat Mountian, and caverns containing rock paintings dating back to the time of the Berbers, over 10,000 years ago.
Communications
The international access code for Algeria is +213. The outgoing code is 00 followed by the relevant country code (e.g. 0044 for the United Kingdom). The area code for Algiers is 21. Algeria's mobile network operates on the 900 to 1800 band for GSM. Internet usage in Algeria is growing but infrastructure is still limited.
Emergencies
14 (Ambulance and Fire Services); 17 (Police)
Languages Spoken
Arabic and Berber are the official languages in Algeria. English and French are used in some government departments and media.
Duty Free
Travellers are allowed to import 200 cigarettes or 50 cigars, 250ml of eau de toilette, 50ml of perfume and 2 litres of wine. Narcotics, firearms and gold are strictly prohibited.
Electricity
Electrical current in Algeria is 230 volts, 50Hz. European two-pin and Schuko plugs are standard.
Climate Info
Algeria holds all the hallmarks of a Mediterranean climate. Warm but wet in the winter along the coast while extremely cold on the higher plateau. Summers are dry along the coast and downright arid as you progress inland. The hot sirocco wind can make for an unpleasant summer.
Passport
Passport must be valid for at least six months after intended stay. Visas are required for all visitors except when in transit and spending less than 24 hours without leaving the airport. A transit visa for up to 48 hours can be obtained from airport authorities. Visitors may be required to produce return/onward tickets, other documents for next destination, and proof of sufficient funds. Those arriving from yellow fever risk countries must carry proof of vaccination.
Entry Requirements
Canadian
nationals require a passport valid for at least six months upon arrival. Visa required.
show more ...
Health
Travellers visiting Algeria should be aware of the risk of malaria and the use of mosquito nets and repellent will help reduce the risk of contracting the disease. Travellers should also make sure they receive a booster hepatitis A vaccine before travelling to Algeria. A tetanus booster vaccine is also recommended and rabies occurs in some parts of the country so travellers coming into contact with wild animals should be cautious.
Safety
Algeria's president has lifted the two-decade state of emergency, however this is widely believed to be an attempt to pacify growing unrest within the country. Travellers to Algeria should always be vigilant and check with their tour operator or travel agent before embarking. Travel to most of the southern part of Algeria is advised against by most Western governments, including: Tamanrasset, Tindouf, Boumerdès, Bouira and Tizi Ouzou. Long trips and overland travel should be avoided, as well as crowds and protests. Terrorism is a big problem in Algeria, taking the form of kidnappings, bombings and cross-country ambushes.
Emergency Phone Number
14 (Ambulance and Fire Services); 17 (Police)
* For current safety alerts, please visit
Foreign travel advice - GOV.UK
or
Travel.State.Gov
Money
The unit of currency is the Algeria Dinar (DZD), which is divided into 100 centimes. Algeria has a cash-based economy. Although ATMs are available in the bigger cities most won't accept international cards. Currency can be exchanged at banks, bureaux de change and the larger hotels. Credit cards are only accepted at large hotels.
Exchange Rate
Not available.
Embassies of Algeria
Algerian Embassy, Washington: +1 202 265 2800
Algerian Embassy, London (also responsible for Ireland): +44 020 7589 6885
Algerian Embassy, Ottawa: +1 613 789 8505
Algerian Embassy, Canberra (also responsible for New Zealand): +61 02 6286 7355
Algerian Embassy, Pretoria: +27 12 342 5074
Foreign Embassies in Algeria
United States Embassy, Algiers: +213 0770 082 000
United Kingdom Embassy, Algiers: + 213 (0)770 085 000
Canadian Embassy, Algiers: +213 0770 08 30 00
Australian Embassy, Paris, France (also responsible for Algeria): +33 1 4059 3300
South African Embassy, Algiers: +213 21 484 418
Embassy of Ireland, Berne, Switzerland (also responsible for Algeria): +41 31 352 1442
New Zealand Embassy, Paris, France (also responsible for Algeria): +33 1 4501 4343
Customers
Being a predominantly Islamic state, visitors would do well to familiarise themselves with the religion before going to Algeria. Holy months and days mean businesses are often closed for lengthy periods. It is advisable not to travel there during the holy month of Ramadan. Homosexual activity is illegal and punishable by imprisonment. Women are expected to dress conservatively and no smoking is allowed in public. Drinking of alcohol is also frowned upon though some locals might partake. Photographing of police or military personnel or establishments is strictly prohibited.
Business
Pleasantries are considered essential to business dealings in Algeria. Ask after one another's health and demeanour. Do not back out of a handshake too hastily. Closeness is an expression of warmth and familiarity to Algerians. Business cards are used, if possible though, have them translated to Arabic and/or French.
Tipping
A 10 percent tip is expected but may be factored into the price at more upmarket venues.
Public Holidays in Algeria
| | | |
| --- | --- | --- |
| | 2017 | 2018 |
| Mawlid (Birth of the Prophet) | 1 Dec | 21 Nov |
| New Years Day | 1 Jan | 1 Jan |
| International Labour Day | 1 May | 1 May |
| Independence Day | 5 Jul | 5 Jul |
| Eid al-Fitr (End of Ramadan) | 26 Jun | 15 Jun |
| Eid Al-Adha (Feast of Sacrifice) | 2 Sep | 22 Aug |
| Ashura | 30 Sep | 20 Sep |
| Anniversary of the Revolution | 1 Nov | 1 Nov |
| Islamic New Year | 22 Sep | 12 Sep |
Travel Guide powered by www.wordtravels.com, copyright © Globe Media Ltd. All rights reserved. By its very nature much of the information in this guide is subject to change at short notice and travellers are urged to verify information on which they're relying with the relevant authorities. Globe Media and UNIGLOBE Travel does not accept any responsibility for any loss or inconvenience to any person as a result of information contained above.