General
Money
Entry Requirements
Health & safety
Weather
Embassies
Etiquette
Public Holidays
Attractions
Map
---
Introduction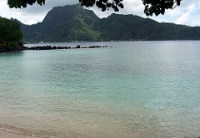 American Samoa ©Ben Miller
Aptly named 'The Heart of Polynesia' and nestled deep in the Samoan Archipelago, where the warm tropical waters of the South Pacific Ocean greet white palm-fringed shores, lies the hidden treasure of American Samoa.
Inhabited as early as 1000 BC by Polynesian navigators, Samoa was 'discovered' by European explorers in the 18th century and occupied by the US in 1900. Not to be confused with Western Samoa, American Samoa comprises six islands located in the Samoan Archipelago halfway between Hawaii and New Zealand and while there is a strong American influence in the islands, American Samoans proudly retain their cultural heritage.
The main island of Tutuila is mountainous and wonderfully scenic with good hiking in the National Park of American Samoa. Transport round the island is cheap and buses operate from the market in Fagatogo. There's the usual list of attractions including waterfalls, villages, native wildlife, beaches, and archaeological sites to see here. It is also home to the capital and only port of call, Pago Pago, which is both an entertaining and informative village and the US-style stores, restaurants and bars are a refreshing change for anyone who has been travelling the Pacific islands for long.
Boasting some of the most breathtakingly beautiful beaches anywhere in the South Pacific, and a warm and humid climate, there's plenty of time to explore the biodiversity of marine life found off the shores of the American Samoan islands. One such place is Fagatele Bay National Marine Sanctuary, a tropical reef displaying flamboyant tropical fish, crabs, lobster, sharks and octopus offering exciting snorkelling and diving. The National park of American Samoa, which is essentially three parks laid out across four extinct volcano islands, also offers visitors some of the best scenery for miles and is worth the visit.
The weather is warm, the people hospitable and the country exquisitely beautiful. The memory of American Samoa is one that will certainly be relived for years to come by those who visit this wonderful country.
Communications
The international country dialling code is +1. The country area code for phones in American Samoa is 684. There is good mobile phone coverage in main regions, with operators using GSM networks; rural areas may have limited coverage. There are international roaming agreements with most international operators.
Emergencies
911
Languages Spoken
English, Samoan
Duty Free
Travellers to American Samoa may bring with them up to 200 cigarettes, 100 cigars, 1 litre of alcohol, and an amount of perfume reasonable for personal use.
Electricity
The voltage used in American Samoa is 120V, 60hz. Plugs are type I with an earthing pin and two flat pins forming an inverted V-shape.
Passport
Visitors must have a passport valid for six months beyond arrival in American Samoa. Visas are not usually required for touristic stays of up to 30 days, but there are exceptions. You must also have proof of sufficient funds, documents for your next destination, and an onward ticket.
Entry Requirements
A
passport valid for six months beyond arrival date is required, but no visa is required for touristic stays of up to 30 days.
show more ...
Health
It is advised that travellers get routine vaccines before travelling. These vaccines include measles-mumps-rubella (MMR) vaccine, diphtheria-tetanus-pertussis vaccine, varicella (chickenpox) vaccine, polio vaccine, and a yearly flu shot. Visitors should consider vaccinations for hepatitis A and Typhoid. Mosquitoes are present in American Samoa, and visitors are advised to arm themselves with malaria prophylaxis and repellent.
It is best that travellers eat food that is cooked and served hot and avoid food from street vendors. Tap water should be avoided, so it is best to drink water that is either bottled or has been disinfected.
Medical services are somewhat limited with one hospital, the LBJ Tropical Medical Center, so it is best travellers take prescriptions or over-the-counter drugs with them in case of illness. Comprehensive medical insurance is advised.
Safety
Most visits to American Samoa are trouble-free. For optimum safety travellers should ensure that they are alert when on foot and choose a safe vehicle when using transport; riding only in cars that have seatbelts and avoiding overcrowded, top-heavy buses and minivans.
Emergency Phone Number
911
* For current safety alerts, please visit
Foreign travel advice - GOV.UK
or
Travel.State.Gov
Exchange Rate
Not available.
Embassies of American Samoa
Foreign Embassies in American Samoa
Customers
American Samoans are known to be friendly and generally welcoming, but travellers should be sensitive to local cultural mores.
Many American Samoans have adopted Western-style dress but the traditional wraparound lava-lava is still worn by many of the older generation. In keeping with Samoan custom regarding modesty, visitors should not wear swim wear or other skimpy clothing away from the hotels. Women must confine their bikini tops to the beach.
Same-sex sexual activity has been legal in American Samoa since 1980 but visitors should be aware that same-sex couples are not eligible for the rights and benefits available to different-sex married couples.
Business
Business in American Samoa is professional and largely based around the economy's strongest industries, agriculture and fishing.
Lightweight suits for business visits are acceptable and ties need only be worn for formal meetings and occasions. Professional and authoritative positions are held mostly by men, but women occupy important roles in some government agencies and businesses too. Business hours generally operate between 8am and 5pm and are not open over the weekend. Some businesses and banks are open on Saturday mornings, and there may be some small markets open.
Tipping
Tipping is not practised or expected in American Samoa. However, if a guest wishes to tip an employee, they are welcome to do so.
Public Holidays in American Samoa
Travel Guide powered by www.wordtravels.com, copyright © Globe Media Ltd. All rights reserved. By its very nature much of the information in this guide is subject to change at short notice and travellers are urged to verify information on which they're relying with the relevant authorities. Globe Media and UNIGLOBE Travel does not accept any responsibility for any loss or inconvenience to any person as a result of information contained above.