General
Money
Entry Requirements
Health & safety
Weather
Embassies
Etiquette
Public Holidays
Attractions
Map
---
Introduction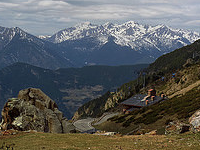 Grandvalira ©M.Campo
Andorra is a tiny dot on the map; an independent Principality dwarfed by France and Spain, most famous for being a tax haven and a popular tourist destination peppered with summer and winter resorts.
Following centuries of struggle between the counts and the bishops of Urgell for the surrounding valleys, Andorra came into being in 1278, when the Spanish bishop of La Seu d'Urgell, and the French House of Foix established co-sovereignty of the area. The French and Spanish continued to tussle over the region and it was only in 1993 that it officially became an independent state, obtaining its first written constitution. With this mixed history, it is no surprise that true Andorrans are a minority in their own country; Spaniards, French and Portuguese make up the majority of the population.
The country occupies 181 square miles (468 sq km) and is mountainous and beautiful, dotted with lakes, forests, and three major rivers. The typical flora and fauna of the Pyrenees region dominates the scenery. Its principal and most populated town is Andorra la Vella with several museums and monuments to explore, including a Miniature Museum, a Perfume museum and an Ethnographic museum. The principal reason, however, for visits to Andorra is for the excellent skiing. The country boasts several major ski resorts, including Grandvalira (formerly called Soldeu/El Tartar) and Vall Nord (formerly Arcalis/Ordino), which cater for all types of skiers.
If skiing is not for you, however, Andorra also offers plenty of hiking opportunities, horse riding, golfing, relaxing in some fine restaurants and cafes, and of course some excellent duty-free shopping.
Communications
The international access code for Andorra is +376. The outgoing code is 00, followed by the relevant country code (e.g. 0044 for the United Kingdom). City/area codes are in use. Andorra is well covered by a GSM 900 network and most international mobile companies offer roaming agreements. Internet cafes are widely available.
Emergencies
110 (Police); 116 (Ambulance); 118 (Fire); 112 (Mountain Rescue).
Languages Spoken
The official language of Andorra is Catalan (used in administration and business). More than half the population speaks Spanish, and French and Portuguese are also spoken.
Duty Free
Visitors may exit Andorra without paying duty on the following items: 3 litres of alcohol not exceeding 22 percent volume; 300 cigarettes or 75 cigars; 75 grams of perfume. Certain agricultural products as well as tea and coffee are restricted, it is best to clarify these allowances before travelling through customs.
Electricity
Electrical current is 230 volts, 50Hz. Round pin attachment plugs and Shuko plugs and receptacles with side grounding contacts are in use.
Climate Info
Andorra's climate is typical of mountainous areas, with cold winters and mild summers. The climate is dry, with a large number of sunny days. Autumn experiences the highest rainfall, while winter gets plenty of snow, guaranteeing excellent skiing conditions and drawing in the crowds to the various ski resorts. The average temperature range is between 28ºF (-2ºC) and 75ºF (24ºC).
Passport
All visitors must have a valid passport with a recommended validity of at least six months past the date of departure from Andorra. The passport must have one unused page for visa issuance. Although there are no visa requirements for Andorra, travellers must have the relevant documentation for either France or Spain, depending on which country will be transited to reach Andorra, and should apply to the relevant embassy in their home country. Visitors must also hold onward tickets, all other documents required for next destination, and sufficient funds.
Entry Requirements
Canadians
need a passport to enter Andorra, but no visa is required. However, the relevant regulations and visa requirements of France or Spain must be met.
show more ...
Health
There are no health risks associated with travel to Andorra, but it is recommended that travellers are up to date with routine immunisations. Medical care in Andorra and neighbouring Spain and France is excellent, but can be expensive and medical insurance is advised.
Safety
There are no risks associated with travel to Andorra, but travellers should always be vigilant and not display valuables.
Emergency Phone Number
110 (Police); 116 (Ambulance); 118 (Fire); 112 (Mountain Rescue).
* For current safety alerts, please visit
Foreign travel advice - GOV.UK
or
Travel.State.Gov
Money
The unit of currency in Andorra is the Euro, divided into 100 cents. Currency can be exchanged at banks and bureaux de change. Most major credit cards are accepted, including Eurocheque cards and ATMs are widely available in Andorra La Vella.
Exchange Rate
Not available.
Embassies of Andorra
Andorra Embassy, New York, United States: +1 (212) 750-8064.
Andorra Embassy, London, United Kingdom: +44 (0)20 8874 4806.
Foreign Embassies in Andorra
United States Embassy, Madrid, Spain (also responsible for Andorra): +34 91 587 2200.
British Consulate, Barcelona, Spain (also responsible for Andorra): +34 902 109 356.
Canadian Embassy, Madrid, Spain (also responsible for Andorra): +34 91 382 8400.
Australian Embassy, Madrid, Spain (also responsible for Andorra): +34 91 353 6600.
South African Embassy, Madrid, Spain (also responsible for Andorra): +34 91 436 3780.
Irish Embassy, Madrid, Spain (also responsible for Andorra): +34 91 436 4093.
New Zealand Embassy, Madrid (also responsible for Andorra): +34 915 230 226.
Customers
Andorrans tend to be friendly and courteous. Smoking is common, although restrictions have been placed in neighbouring Spain.
Business
Catalan is the official language of Andorra, although Spanish is widely spoken. A small minority speak French and English is minimal. It is best to ascertain before meetings which language will be used. Punctuality is important, handshakes are the norm on greeting, and business attire should be smart and formal.
Tipping
A 10% service charge is usually included on restaurant bills in Andorra and anything extra is for exceptional service.
Public Holidays in Andorra
Travel Guide powered by www.wordtravels.com, copyright © Globe Media Ltd. All rights reserved. By its very nature much of the information in this guide is subject to change at short notice and travellers are urged to verify information on which they're relying with the relevant authorities. Globe Media and UNIGLOBE Travel does not accept any responsibility for any loss or inconvenience to any person as a result of information contained above.