General
Money
Entry Requirements
Health & safety
Weather
Embassies
Etiquette
Public Holidays
Attractions
Map
---
Introduction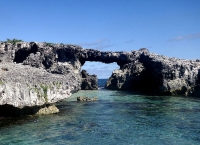 Devil's Bridge, Antigua ©Robert Pittman
In 1784, Admiral Horatio Nelson chose Antigua, situated in the centre of the Leeward Islands, as the base for Great Britain's Caribbean Fleet. It is easy to see why, as the island boasts a varied coastline with secure docking points, a protective coral reef and steady trade winds. Add to that shimmering sandy beaches, bright sunshine and a laid-back attitude, it is no surprise that Antigua, together with its smaller sister island Barbuda, is today one of the Caribbean's most popular tourist spots.
Along with the uninhabited Redonda Island, Antigua and Barbuda form a tiny nation with a population descended largely from African slaves and a mix of Europeans. Visitors flock to enjoy the stretches of beach and miles of excellent hikes on Antigua, the protected nature reserve of Redonda, the exclusive resorts and superb bird sanctuary on Barbuda, and world-class snorkelling and scuba diving among wrecks along the nation's coral reefs. The warm winds that Nelson relied on to bring his ships safely into harbour, now contribute to one of the world's biggest maritime events known as Sailing Week, a popular attraction and event of the Island.
The nation's largest city is the popular cruise destination of St John's, situated on Antigua. With a strong maritime history, the city is filled with related attractions and offers visitors a chance to shop, dine and unwind. Codrington (named after sugar plantation owner Christopher Codrington) is Barbuda's main city and acts as a base for explorations of the many coastal shipwrecks, as well as the island's diverse bird population. Ultimately, however, visitors flock to this island nation to enjoy the expanse of sandy beaches and the unique atmosphere of the Eastern Caribbean.
Communications
The international access code for Antigua and Barbuda is +1, in common with the US, Canada and most of the Caribbean, followed by 268. The outgoing code is 011 followed by the relevant country code (e.g. 01144 for the United Kingdom). A GSM 900 mobile network covers Antigua, and GSM 1900 covers both Antigua and Barbuda. Internet cafes are available in tourist areas.
Emergencies
Emergencies: 911.
Languages Spoken
English is the official language, but most locals speak English patois (jargon or dialect).
Duty Free
Travellers to Antigua over 18 years do not have to pay duty on 200 cigarettes, 50 cigars or 250g of tobacco. 170ml of perfume and 1 litre wine or spirits is also allowed.
Electricity
Electrical current is 220 and 110 volts, 60Hz. Most hotels have both voltages available. American-style two-pin plugs are used.
Climate Info
Antigua and Barbuda have a pleasant year-round climate. The average daily temperature drops a few degrees in winter (December to March) from the usual high of around 81°F (27°C). Antigua and Barbuda are fairly dry throughout most of the year except during the rainy season (mid-September to November) when daily showers can be expected. Hurricane season runs from June to November and visitors are advised to keep an eye on the weather forecast during this period.
Passport
All nationalities must hold confirmed onward or return tickets and sufficient funds to cover their period of intended stay. Technically, Antigua and Barbuda only require that passports be valid on arrival in the country, but as many countries require a valid passport for re-entry we strongly advise that passports are valid at least for the duration of travel and preferably for six months after travel. Visas are generally not required for stays less than one month. Extensions are possible on visas. As part of the Western Hemisphere Travel Initiative (WHTI), all travellers travelling between the United States and Canada, Mexico, Bermuda, and the Caribbean region are required to present a passport or other valid travel document to enter or re-enter the United States. If departing from the USA a valid passport will be required by immigration authorities. Proof of yellow fever vaccination is required for those arriving from risk areas.
Entry Requirements
Canadians
require a valid passport. A visa is not required - the duration of permitted stay will be determined by Immigration on arrival.
show more ...
Health
There are no special health requirements for visitors to Antigua and Barbuda, except for yellow fever immunisation for those over one year of age arriving from an infected country. Hepatitis A vaccination is recommended but not mandatory. The Dengue Fever mosquito is found throughout the islands, and incidents of the disease are on the increase; care should be taken to avoid being bitten by mosquitoes. Travellers should be aware that some types of tropical reef fish are poisonous, even when cooked. Health insurance with provision for medical evacuation is strongly recommended, as medical treatment is expensive. There is no hyperbaric chamber; divers requiring treatment for decompression illness must be evacuated from the island. The private hospital, Adelin, requires a substantial credit card deposit before treating visitors, who then have to personally reclaim the cost from insurance on their return home.
Safety
Most visits to Antigua and Barbuda are trouble-free but visitors should not become complacent. Crime exists on the island and visitors should take normal precautions. Avoid isolated areas, including beaches after dark, and do not carry large amounts of cash or jewellery. Hurricane season is usually from June to November.
Emergency Phone Number
Emergencies: 911.
* For current safety alerts, please visit
Foreign travel advice - GOV.UK
or
Travel.State.Gov
Money
The Eastern Caribbean Dollar (XCD) is the main form of currency in Antigua and Barbuda, and it is tied to the US Dollar (USD), with USD 1.00 equal to XCD 2.70 (long-standing, pegged rate). US currency can be used nearly everywhere. Major currencies can be exchanged at the international banks in St John's and at many hotels. Credit and debit cards are widely accepted but there are not many ATMs in the area, so it is best to make arrangements around this.
Exchange Rate
Not available.
Embassies of Antigua and Barbuda
Embassy of Antigua and Barbuda, Washington DC, United States: +1 202 362 5122.
High Commission for Antigua and Barbuda, London, United Kingdom: +44 (0)20 7258 0070.
High Commission for the Countries of the Organization of Eastern Caribbean States, Ottawa, Canada: +1 613 236 8952.
Foreign Embassies in Antigua and Barbuda
United States Consular Agent, St John's, Antigua: +1 268 463 6531.
British High Commission, St John's, Antigua: +1 268 561 5046.
Canadian High Commission, Bridgetown, Barbados (also responsible for Antigua and Barbuda): +1 246 429 3550.
Australian High Commission, Port of Spain, Trinidad and Tobago (also responsible for Antigua and Barbuda): +1 868 822 5450.
South African High Commission, Kingston, Jamaica (also responsible for Antigua and Barbuda): +1 876 620 4840.
Customers
Antiguans and Barbudans are primarily of African origin, descendants of slaves brought to the Island centuries ago to labour in the sugarcane fields. Away from the resorts, the islands have a distinct West Indian flavour - calypso, steel bands and reggae are all popular. But the islanders have also been influenced by the years of British rule and this is particularly apparent in their passion for cricket. It is an offence to wear camouflage clothing, as it is reserved for the military, and beachwear should be confined to the beach.
Business
Antigua's tax advantages have attracted many international companies and offshore financial centres to the island. Business attire is generally more formal than other Caribbean islands; a lightweight suit is appropriate for most meetings, unless in an informal outdoor setting where smart-casual dress is more appropriate. Handshaking is customary for introductions between both men and women; women are considered equals in the business world and should be treated as such. Business cards are exchanged on introduction. Being late for meetings is considered offensive. Business hours are 8am to 12pm and 1pm to 4.30pm Monday to Friday and 8am to 12pm Saturdays.
Tipping
Tips of 10-15 percent are common in Antigua and Barbuda, depending on the service. Some restaurants and hotels will automatically add a 10 percent gratuity. Porters and bellhops expect 50 cents per bag, and taxi drivers 10-15 percent of the fare. There is an additional room tax of 8.5 percent.
Public Holidays in Antigua and Barbuda
Map of Antigua and Barbuda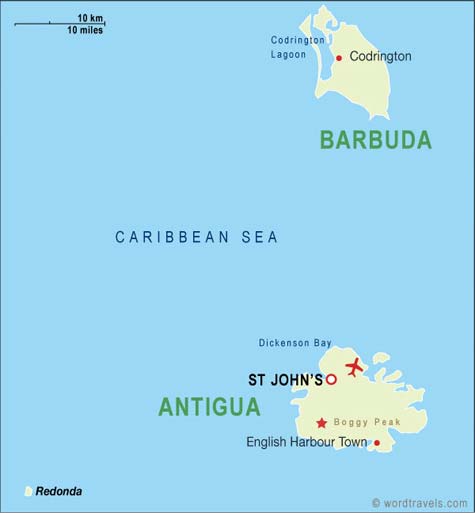 Travel Guide powered by www.wordtravels.com, copyright © Globe Media Ltd. All rights reserved. By its very nature much of the information in this guide is subject to change at short notice and travellers are urged to verify information on which they're relying with the relevant authorities. Globe Media and UNIGLOBE Travel does not accept any responsibility for any loss or inconvenience to any person as a result of information contained above.