General
Money
Entry Requirements
Health & safety
Weather
Embassies
Etiquette
Public Holidays
Attractions
Map
---
Introduction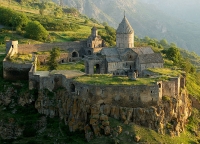 Tatev Monastery ©Alexander Naumov
Historically, culturally and scenically the Republic of Armenia is a captivating destination. Not only has it been acknowledged as a cradle of civilisation with centuries of ancient history to unravel, but it also boasts natural attractions aplenty and is spoilt for beauty.
Armenia was one of the first countries to adopt Christianity as its official state religion, around the year 300, and many of the country's surviving ancient monuments are Christian churches and monasteries. Mount Ararat, in Turkey, was once within the borders of Armenia before the area was divided between Turkey and the USSR, and is believed to be the site of biblical Noah's landing of the ark following the great flood. Armenians still consider the mountain, the highest in the region at 16,946 feet (5,165m), to be a symbol of their land, and it features on their national emblem today. The story of Noah's Ark is important in Judaism, Christianity and Islam.
The tiny landlocked country of Armenia is part of the Southern Caucasus region, sandwiched between Europe and Asia and between the Black and Caspian Seas. Present-day Armenia occupies but a fraction of the ancient Armenia, and was once a republic of the Soviet Union. Its capital, Yerevan, is one of the world's oldest cities, established years before the founding of ancient Rome.
Armenia is largely mountainous and very picturesque. The countryside is riddled with small lakes, and also boasts one of the world's biggest mountain lakes, Lake Sevan. The mountains are also home to health spas and treatment centres, and the Tavush region is known for its healing mineral waters, with resorts such as Ijevan and Dilijan popular treatment centres.
The Kotayk region boasts some of Armenia's most spectacular scenery and is a popular destination for local and foreign tourists. The resort of Tsakhkadzor ('canyon of flowers') is most popular in winter, with excellent skiing. Visitors to the Syunik region will find beautiful scenery and natural springs, as well as sights like the Tatev Monastery, the Stonehenge of Armenia (Karahunj), Goris and the Shaki Waterfall. To the north, the Lori region is sought out by campers and hikers, but also boasts two UNESCO World Heritage Sites, the monasteries of Sanahin and Haghpat, as well as the Odzun Cathedral. East of Yerevan lies the spiritual centre of Armenia, the Holy See of Echmiadzin, the most significant cathedral in the world's oldest Christian nation.
Communications
The international dialling code for Armenia is +374. The outgoing code is 00 followed by the relevant country code (e.g. 0044 for the UK). City codes are in use, and the national prefix to call between cities is 0 e.g. (0)1 for Yerevan. Public pre-paid card phones are available throughout the country, but not all will allow international calls; post offices and major hotels have international dialling access, but calls are expensive. Internet cafes are available in Yerevan and other large cities. Mobile phones can be rented.
Emergencies
101 (Fire); 102 (Police); 103 (Medical Emergency)
Languages Spoken
Armenian is the official language, and it has its own alphabet. Russian is widely spoken and English is becoming more prominent.
Duty Free
There is free import on 400 cigarettes or 10 cigars, 2 litres of alcohol, perfume within a monetary limit and personal goods of up to US$400 in value.
Electricity
Electrical current in Armenia is 230 volts, 50Hz. Round two-pin attachment plugs and Schuko plugs are in use.
Climate Info
Most of Armenia experiences a continental climate due to its high elevation, with hot summers and cold winters. The higher elevations receive more precipitation and are cooler. Summer is the most popular season for travellers, but spring and autumn are the best time of year to travel in Armenia for those who prefer milder temperatures. Yerevan's summer temperatures (June to September) are hot, with averages ranging between 72°F (22°C) and 93°F (34°C), and occasionally reaching 104°F (40°C). In contrast, winters in Yerevan are freezing cold with temperatures dropping to between 5°F (-15°C) and 32°F (0°C). Precipitation levels are low throughout the year.
Passport
All passports must be valid for the period of intended stay. It is highly recommended that passports always be valid for six months after departure when travelling. It is recommended that all visitors requiring a visa should obtain it prior to arrival from the Armenian Embassy in their home country; however, visas are obtainable for some nationalities for a tourist stay of up to four months at Yerevan Zvartnots Airport, if holding sufficient funds and proof of onward travel.
Entry Requirements
Canadians
require a passport valid for duration of stay and a visa for entry to Armenia. It may be possible for tourist visas to be issued on arrival at Yerevan (EVN) for stays of up to 120 days, but this should be confirmed in advance.
show more ...
Health
There are no immunizations required for travellers to Armenia but vaccinations for hepatitis A and hepatitis B should be considered. There is a small risk of malaria between June and October in some of the villages of the Ararat Valley. Tap water should not be drunk, unless filtered or boiled. Medical care is limited, particularly outside of Yerevan, and treatment is not recommended for anything major. Comprehensive medical insurance should include emergency medical evacuation. All required prescription medication should be taken along, in the original packaging and accompanied by a signed doctor's note.
Safety
Crime is relatively low in Armenia, but travellers should still be careful with their personal possessions and avoid any unnecessary displays of wealth. Pickpockets take advantage of crowded market areas. Avoid travel near the border with Azerbaijan due to continuing tension between the two countries.
Emergency Phone Number
101 (Fire); 102 (Police); 103 (Medical Emergency)
* For current safety alerts, please visit
Foreign travel advice - GOV.UK
or
Travel.State.Gov
Money
The official currency of Armenia is the Dram (AMD), which is divided into 100 luma. Foreign currency can be exchanged at banks as well as many hotels, with US dollars the most widely recognised and easily changed, although notes should be in good condition. Credit cards are not widely accepted other than in some large hotels and restaurants. There are few ATMs in Yerevan. It is advisable to carry plenty of small change in local currency as shops and markets will often not have change.
Exchange Rate
Not available.
Embassies of Armenia
Armenia Embassy, Washington DC, United States: +1 202 319 1976.
Armenia Embassy, London, United Kingdom (also responsible for Ireland): +44 (0)20 7938 5435.
Armenia Embassy, Ottawa, Canada: +1 613 234 3710.
Foreign Embassies in Armenia
United States Embassy, Yerevan: +374 (0)10 464 700.
British Embassy, Yerevan: +374 (0)10 264 301.
Canadian Embassy, Moscow, Russia (also responsible for Armenia): +7 495 105 6000.
Australian Embassy, Moscow, Russia (also responsible for Armenia): +7 495 956 6070.
South African Embassy, Kyiv, Ukraine (also responsible for Armenia): +380 (44) 289 8870.
Irish Embassy, Sofia, Bulgaria (also responsible for Armenia): +359 2 985 3425.
Customers
Armenia is an orthodox Christian country and the locals tend to be conservative, especially outside of the capital. Women should avoid wearing shorts and short skirts, particularly outside of Yerevan. Military bases and installations should not be photographed. Homosexuality is no longer illegal in Armenia, but homophobia is still a problem.
Business
Business is conducted fairly formally in Armenia; dress tends to be conservative and good etiquette is important. Business hours are Monday to Friday from 9am to 6pm, though there is some variation between businesses.
Tipping
Many restaurants in the capital will add a service charge onto the bill, but this generally does not go to the staff, so tips are welcome in Armenia. A tip of about 10 percent is fair.
Public Holidays in Armenia
| | | |
| --- | --- | --- |
| | 2017 | 2018 |
| Victory and Peace Day | 9 May | 9 May |
| National Army Day | 28 Jan | 28 Jan |
| New Year Holidays | 1 Jan | 1 Jan |
| Orthodox Christmas Eve and Orthodox Christmas Day | 5 Jan | 5 Jan |
| Womens Day | 8 Mar | 8 Mar |
| Genocide Remembrance Day | 24 Apr | 24 Apr |
| First Republic Day | 28 May | 28 May |
| Constitution Day | 5 Jul | 5 Jul |
| Independence Day | 21 Sep | 21 Sep |
| New Years Eve | 31 Dec | 31 Dec |
Overview
Despite some truly heavy-hitting historical and cultural attractions, including three UNESCO World Heritage Sites, Armenia remains an underappreciated tourist destination. As the first country in the world to adopt Christianity it is no surprise that Armenia is dotted with ancient churches and monasteries, making the country primarily a religious tourist destination. Being off the radar of package tours and a little hard to get to actually adds to the mysterious biblical allure of the region.
The biggest tourist attractions include the 17th-century Khor Virap Monastery, an important pilgrimage site loomed over by the iconic Mount Ararat, where Noah is said to have landed the Ark; the Etchmiadzin Cathedral, reputed to be the oldest state-built church in the world; the 2,000-year-old Garni Temple, a gloriously well-preserved Pagan temple; the archaeological site of Carahunge, called the 'Stonehenge of Armenia'; and the UNESCO-listed Monastery of Geghard, built in 1215.
In the global imagination Armenia is also strongly associated with the horrific Armenian Genocide of 1915, during which Turkish troops killed about 1.5 million Armenians. This tragic history is memorialised at Tsitsernakaberd, part museum and part memorial, where travellers can learn about the Armenian holocaust and pay their respects.
Travel Guide powered by www.wordtravels.com, copyright © Globe Media Ltd. All rights reserved. By its very nature much of the information in this guide is subject to change at short notice and travellers are urged to verify information on which they're relying with the relevant authorities. Globe Media and UNIGLOBE Travel does not accept any responsibility for any loss or inconvenience to any person as a result of information contained above.