General
Money
Entry Requirements
Health & safety
Weather
Embassies
Etiquette
Public Holidays
Attractions
Map
---
Introduction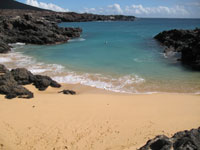 Comfortless Cove, Ascension Island ©Ben Tullis
Surrounded by turquoise blue waters and sandy white beaches, the British territory and volcanic island of Ascension is named after the day of its recorded discovery. This tropical and very remote destination, untouched by human history for so long, was initially discovered in 1501 by Portuguese seafarer Joao da Nova Castelia, only to be rediscovered two years later on Ascension Day by Alphonse d'Albuquerque.
Ascension Island remained uninhabited until 1815 when Emperor Napoleon I was incarcerated on St Helena and ownership of the island was taken over by the British when they established a naval garrison. It later became a place of quarantine when the HMS Bonetta brought her yellow fever victims here in 1838, many of whom went on to be buried in the aptly named Comfortless Cove. Today the cove is a popular place for relaxation and a pleasant shelter against big waves for swimmers; a small cemetery named after the ship can still be visited.
Turtle tracks in the beaches' sand are a common sight on Ascension Island, known for its green turtles, which come ashore from January to May to lay their eggs. Despite being home to more than 44 dormant volcanic craters, this arid island comes with a soft centre, namely the Green Mountain National Park. Surrounding the 3,000-foot (914m) Green Mountain, Green Mountain National Park is the best place to go to experience the island's natural beauty. A strange mix of endemic plants (which are propagated in nurseries dotted around the park), and Norfolk Island pines (planted in the 1800s to provide timber for ship masts), Green Mountain National Park is also home to land crabs, fairy terns and red-necked francolins. The Park is criss-crossed by historic walking trails, all of which provide panoramic views of the island, and there are plenty of picnic tables on offer, as well as a children's play area. Additionally, the area surrounding Green Mountain is generally a few degrees cooler than the rest of the island, offering welcome relief on sweltering days.
Most visitors to Ascension Island find themselves in the capital of Georgetown, one of the five main settlements and home to the island's handful of pubs, each with their own peculiar opening and closing times. Among some of the town's historic sites are a small Roman Catholic church, the 'Grotto', and the remains of a mosque, which served Muslims from West Africa in the early days of occupation.
Ascension Island may be small, but there is plenty to keep the active tourist busy with numerous walks, scuba diving opportunities, and a wide variety of sports including golf. Fishing is also a popular pastime with a wonderful variety of open-ocean fish, including sharks, wahoo, tuna, marlin and sailfish.
Communications
The international dialling code for Ascension Island is +247. The outgoing code is 00 followed by the relevant country code (eg. 0044 for the united Kingdom). Prepaid phone cards and telephones are available. Most hotels provide internet connections.
Emergencies
General Emergency: 999
Languages Spoken
English is the official language.
Duty Free
Travellers to Ascension Island over 16 years with goods purchased personal consumption do not have to pay duty on these goods provided they are for personal use or are gifts for family and friends. This does not apply to large quantities of alcohol or tobacco if the amounts exceed the following limits: 200 cigarettes or 250g tobacco, 1 litre of spirits, 2 litres of wine or 12 x 340ml beer.
Electricity
Electrical current is 240 volts, 50Hz. Flat three-pin plugs are standard.
Climate Info
Ascension Island has a subtropical climate, experiencing warm weather all year round with an average humidity of 69 percent. The average temperature reaches a maximum of 88ºF (31ºC) during the months of January, February and March; however, temperatures generally stay within the range of 71°F to 87°F (22ºC to 31ºC) all year round. The South East Trade Winds moderate these temperatures and rainfall is variable. Temperatures at sea level range from 68ºF to 88ºF (18ºC to 31ºC) and about 58ºF to 78ºF (8ºC to 28ºC) on Green Mountain. The rainiest months in Ascension Island are March to May, however even the peak rainy season averages no more than four days of showers per month. March has the longest days, with up to 8.9 hours of sunshine, while October days are the shortest with only 5.2 hours of light.
Entry Requirements
Health
Medical insurance is required when visiting Ascension Island. No vaccination is required before travel but a vaccination against yellow fever is sometimes recommended in case of a flight/ship being diverted to a risk area (Africa). Non-malarial mosquitoes can be a nuisance and travellers should arm themselves with mosquito repellent. A small hospital is available to deal with day-to-day complaints but sophisticated treatment is not available on the island. Travellers should carry adequate supplies of prescription medication. A UK-qualified dentist is available on the island. Travellers planning on diving should be aware that there is no decompression facility on Ascension, nor are there qualified rescue divers.
Safety
The level of crime on Ascension Island is very low. Crimes or violence against residents or visitors are virtually unheard of. Visitors hiring cars should be aware that wild sheep and donkeys can congregate on the roads, especially during wet weather.
Emergency Phone Number
General Emergency: 999
* For current safety alerts, please visit
Foreign travel advice - GOV.UK
or
Travel.State.Gov
Money
The currency in use on Ascension Island is the Saint Helena Pound which is fixed to the British Pound Sterling. This is divided into 100 pence. Saint Helena banknotes are accepted on Ascension Island and Saint Helena only. They cannot be exchanged in UK banks. Notes and coins are the same as in Great Britain apart from the design. British money is accepted all over the island and the US dollar is accepted occasionally, notably at Cat Hill (US Base).
Exchange Rate
Embassies of Ascension Island
British Embassy, Washington DC, United States: +1 202 588 6500.
British High Commission, Ottawa, Canada: +1 613 237 1530.
British High Commission, Canberra, Australia: +61 (0)2 6270 6666.
British High Commission, Pretoria, South Africa: +27 (0)12 421 7500.
British Embassy, Dublin, Ireland: +353 (0)1 205 3700.
British High Commission, Wellington, New Zealand: +64 (0)4 924 2888.
Foreign Embassies in Ascension Island
Customers
Customs in Ascension Island are much like those of the UK, with handshaking being customary when introduced to someone new.
Business
Business is conducted much like in the UK. Politeness and punctuality are key to good business relations, and initial meetings are often conducted formally and impersonally, becoming more open and social as things progress. Business cards are exchanged upon introduction. Dress is formal, with dark suits preferred. Business hours are generally 8am to 5pm Monday to Friday, with an hour taken at lunch.
Tipping
Tips of 10 to 15 percent are expected in restaurants and upmarket hotels in Ascension Island if a service charge hasn't been included. Tipping for other services is discretionary.
Public Holidays in Ascension Island
Travel Guide powered by www.wordtravels.com, copyright © Globe Media Ltd. All rights reserved. By its very nature much of the information in this guide is subject to change at short notice and travellers are urged to verify information on which they're relying with the relevant authorities. Globe Media and UNIGLOBE Travel does not accept any responsibility for any loss or inconvenience to any person as a result of information contained above.