General
Money
Entry Requirements
Health & safety
Weather
Embassies
Etiquette
Public Holidays
Attractions
Map
---
Introduction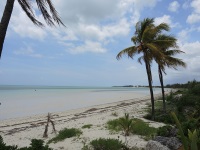 Banana Bay, Bahamas ©Pietro
Graced with extensive beaches bleached white by the year-round sun and surrounded by sparkling turquoise waters filled with varied and colourful sea life, the islands of the Bahamas are a major destination for divers, sailors and sun-worshippers. Although often thought to be part of the Caribbean, the Bahamas is actually an archipelago of 700 islands with thousands of small 'cays' strung out in the ocean, starting 55 miles (89km) from Miami in the Atlantic Ocean.
The islands' first inhabitants were the Lucayan Indians who lived here from the 9th century until after Columbus discovered the islands in 1492, making his first step into the New World. The resulting exploitation led to the native population being virtually wiped out. For two hundred years, until independence in 1987, the Bahamas was a British Crown Colony and a strong British influence can still be seen in the architecture and culture.
The population of the Bahamas now consists mostly of Bahamians of African descent, who are mainly descended from freed slaves. The strong African cultural influence is evident in everyday life, and in events like Junkanoo, a traditional street festival held every year on Boxing Day. There is also a strong American cultural influence, particularly in the capital, Nassau.
Due to its proximity to the US, the Bahamas has become an offshore banking and financial centre. Tourism, however, remains its most important industry. The long stretches of empty beaches, clear waters and excellent facilities have made the Bahamas a popular destination throughout the year and the varied attractions of each of the islands ensure that there is something for everyone.
Communications
The international access code for the Bahamas is +1, in common with the US, Canada and most of the Caribbean, followed by 242. The outgoing code is 011 followed by the relevant country code (e.g. 01144 for the United Kingdom). Calls from the Bahamas can be expensive, so if possible use a calling card. VOIP services are a much cheaper and more popular means of communication. A mobile network operates on the GSM 1900 band. Internet cafes are widely available.
Emergencies
911/919 (General Emergency Helpline)
Languages Spoken
English is the official language in the Bahamas.
Duty Free
Travellers to the Bahamas over 18 years do not have to pay duty on 200 cigarettes, or 50 cigars or 454g of tobacco; 1 litre spirits and 1 litre wine; and other goods to the value of US$100. Prohibited items include firearms and ammunition without a police permit. Pets and dogs from countries with rabies infections are strictly prohibited from entering the country.
Electricity
Electrical current in the Bahamas is 120 volts, 60Hz. Two-pin flat blade plugs and flat blade plugs with round grounding, are standard.
Climate Info
In general the weather is good all year in the Bahamas and the trade winds ensure that the temperatures remain relatively mild. Seasonal changes are minor. The rainy season extends from May to November, when there is a slight chance of hurricanes. Peak season is between December and April, when average temperatures range between 75°F (24°C) and 85°F (29°C). Generally the northern and western islands are cooler, while the southern islands can get very hot in summer.
Passport
All visitors must be in possession of a return or onward ticket, plus proof of funds, and a passport valid for period of intended travel. As part of the Western Hemisphere Travel Initiative (WHTI), all travellers travelling between the United States and Canada, Mexico, Bermuda, and the Caribbean region are required to present a passport or other valid travel document to enter or re-enter the United States. We recommend that passports are valid for six months beyond travel to any country.
Entry Requirements
Canadians
require a valid passport but they do not require a visa for stays of up to eight months.
show more ...
Health
A yellow fever vaccination is required by travellers aged more than one year arriving from infected areas, and a hepatitis A vaccination is recommended for all visitors over two years. There is a risk of malaria on Great Exuma Island and travellers should take precautions before travel. Food and water is considered safe, though it is advised not to eat fruit or vegetables unless peeled or cooked. Visitors should note that some types of fish, including tropical reef fish, are poisonous to eat even when cooked. Medical facilities are good in Nassau and Freeport, but expensive, and usually require payment in cash on treatment. Comprehensive medical insurance is advised.
Safety
Most visits to the Bahamas are trouble-free, though care should be taken in the major cities of Nassau and Freeport. Visitors should take sensible precautions and not carry large amounts of cash or jewellery on their person or wander away from the main tourist areas, especially after dark. In light of several fatal accidents and serious injuries that have occurred using rented watersports equipment, it is advisable that only those experienced on jet skis consider renting them on New Providence and Paradise Island. The watersports industry in the Bahamas is poorly regulated and visitors should only rent equipment from reputable operators and make sure that they have received adequate training before going out onto the water. Hurricane season is from June to the end of November.
Emergency Phone Number
911/919 (General Emergency Helpline)
* For current safety alerts, please visit
Foreign travel advice - GOV.UK
or
Travel.State.Gov
Money
The official currency is the Bahamian Dollar (BSD), which is divided into 100 cents. The Bahamian Dollar is equal in value to the US Dollar and both currencies are accepted throughout the islands. Currency can be exchanged at banks, bureaux de change and many hotels. There are ATMs in the main tourist centres and credit and debit cards are widely accepted in all the big resorts. Travellers cheques can be changed at all banks, although those in US Dollars receive the best rates. Banks tend to be open from 9:30am to 3pm (Monday to Thursday) and 9:30am to 5pm (Fridays).
Exchange Rate
Not available.
Embassies of Bahamas
Bahamian Embassy, Washington DC, United States: +1 202 319 2660.
High Commission for The Bahamas, London, United Kingdom: +44 (0)20 7408 4488.
High Commission for The Bahamas, Ottawa, Canada: +1 613 232 1724.
Foreign Embassies in Bahamas
United States Embassy, Nassau: +1 242 322 1181.
British High Commission, Kingston, Jamaica (also responsible for The Bahamas): +1 876 510 0700.
Canadian High Commission, Kingston, Jamaica (also responsible for The Bahamas): +1 876 926 1500.
Australian High Commission, Port of Spain, Trinidad and Tobago (also responsible for The Bahamas): +1 868 822 5450.
South African High Commission, Kingston, Jamaica (also responsible for The Bahamas): +1 876 620 4840.
Customers
The British and African influences on the Bahamas are still obvious, but the island's proximity to the US has resulted in a somewhat Americanised culture. Some of the islands and resorts are very upmarket and require a certain standard of dress. Beachwear should be confined to the beach and smart-casual dress is usually expected for the evening.
Business
Nassau is the business centre of the Bahamas, whose economy is heavily dependent on tourism and offshore banking. Business protocol is fairly relaxed, although appropriate business attire is expected. Meetings are usually held in conference rooms, they begin punctually, and business cards are customarily exchanged. Handshakes on introduction are the norm between both men and women; women are treated as equals in the business environment. Office hours are generally 9am to 5pm, Monday to Friday.
Tipping
Many hotel and restaurant bills in the Bahamas automatically include a service charge of about 15 percent to cover gratuities; if this is not included a 10 to 15 percent tip is expected for most services, including taxi journeys. Hotel staff usually receive about BSD 1 per bag.
Public Holidays in Bahamas
| | | |
| --- | --- | --- |
| | 2017 | 2018 |
| New Year's Day | 1 Jan | 1 Jan |
| Good Friday | 14 Apr | 30 Mar |
| Easter Monday | 17 Apr | 2 Apr |
| Whit Monday | 5 Jun | 21 May |
| Labour Day | 2 Jun | 1 Jun |
| Independence Day | 10 Jul | 10 Jul |
| Emancipation Day/August Monday | 7 Aug | 6 Aug |
| National Heroes Day | 9 Oct | 8 Oct |
| Christmas Day | 25 Dec | 25 Dec |
| Boxing Day | 26 Dec | 26 Dec |
| Majority Rule Day | 10 Jan | 10 Jan |
Overview
The Bahamas are the quintessence of 'holiday heaven', with things to see and do reaching far beyond sunbathing on the miles of white sandy beaches, or idly frolicking in the translucent turquoise waters.
The islands offer a number of activities and attractions, with everything from Loyalist settlement ruins and the Glass Window Bridge to Christopher Columbus' first stop in the New World. The Bahamas also boasts one of the largest underwater cave systems in the world, and scuba divers can see the mysterious stone blocks in the waters off Bimini, said to be part of the 'lost city' of Atlantis, or visit Long Island to explore the deepest 'blue hole' in the world. A unique experience for tourists is the possibility of taking a walk along the ocean floor in a rig reminiscent of the days before scuba technology, courtesy of Hartley's Undersea Walk. Divers need no experience as they wear an undersea botanical helmet that allows for normal breathing and dry hair. The trips give you the time to walk slowly among the fish and the reefs without having to swim. Half-day or full-day charters are available.
There are any number of activities for visitors who want to do more than just lie around: cycling, tennis, cricket, horse riding, golf and other activities are available on land, along with attractions like casinos, restaurants, spas, bars and clubs. Offshore, you can enjoy exhilarating pastimes like windsurfing, snorkeling, deep sea fishing, parasailing and scuba diving. For those with an interest in the historical or a simple love of pirate lore, the Pirate Museum takes visitors on an interactive tour through the heart of downtown Nassau, bringing them back to 1716 where they will board a replica of the pirate ship 'Revenge' and enter the world of bloodthirsty pirates. It is a must for all who are up for a swashbuckling good time. The museum has a gift shop with all manner of pirate booty!
Friendly locals, as well as comfortable, sunny weather and a well-established tourism industry, make these activities and sights all the more appealing and accessible. Add numerous resorts, restaurants, shops and markets to the mix and it becomes alluringly obvious why the Bahamas are the perfect beach-holiday destination.
Map of Bahamas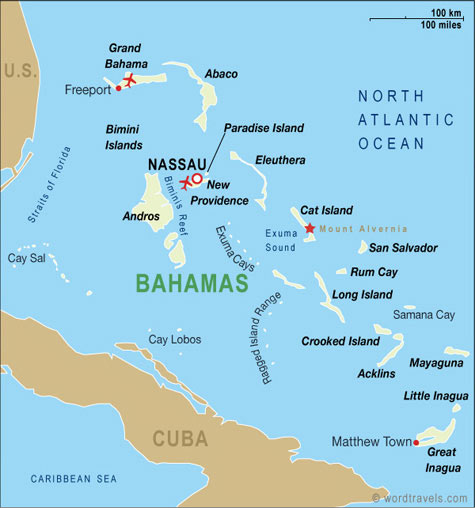 Travel Guide powered by www.wordtravels.com, copyright © Globe Media Ltd. All rights reserved. By its very nature much of the information in this guide is subject to change at short notice and travellers are urged to verify information on which they're relying with the relevant authorities. Globe Media and UNIGLOBE Travel does not accept any responsibility for any loss or inconvenience to any person as a result of information contained above.