General
Money
Entry Requirements
Health & safety
Weather
Embassies
Etiquette
Public Holidays
Attractions
Map
---
Introduction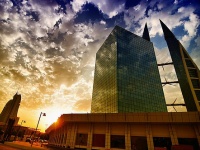 Bahrain before sunset ©Harold Heindell Tejada
Sophisticated, modern and cosmopolitan Bahrain, a kingdom of 33 islands in the Arabian Gulf, is welcoming an increasing number of international tourists who come to experience the country's fascinating blend of eastern and western cultures. Manama, on the main island, boasts excellent hotels, restaurants, shopping malls, an intriguing souq (bazaar) and all the other facilities visitors need for a great holiday. In addition, there are decent beaches, perennially hot and sunny weather, English is spoken and understood everywhere, and the kingdom has the remnants of more than 5,000 years of civilisation to be explored. Its future as a popular holiday destination for westerners seems assured.
Back in the mists of time Bahrain was attached to the Arabian Peninsula. Nature separated it from the mainland, but man has now rejoined it with a 16-mile (25km) long causeway linking it to Saudi Arabia. During construction of the causeway and a new road network, the islands' archaeological significance came to light with the discovery of thousands of burial mounds dating from the third millennium BC, part of the well-ordered ancient city of Dilmun that existed where a forest of skyscrapers now reaches for the sky.
Throughout its history Bahrain has been prosperous, first on the strength of its good position for trade and fishing, and the abundance and quality of the pearls found in its waters, and more latterly because of its oil resources.
Though the government is less stable than in years past, Bahrain is still growing as a popular tourist destination in the Middle East. A visit to Bahrain, whether on business or pleasure, is an interesting, relaxing and rewarding experience.
Communications
The international direct dialling code for Bahrain is +973. There are no city or area codes. Public phone booths were once widely available, some accepting phone cards and some coins, but are slowly being removed due to lack of use. Mobile phone coverage is good. Internet is available at most of the larger hotels in Manama.
Emergencies
999 (General Emergencies)
Languages Spoken
Arabic is the official language in Bahrain, although English is widely understood and is used by most businesses.
Duty Free
Travellers to Bahrain over 18 years do not have to pay duty on 400 cigarettes, 50 cigars and 250g tobacco (in open packets); perfume up to 237ml; 1 litre alcoholic liquor and 6 cans of beer for non-Muslim passengers only; and gifts to the value of BD 250.
Electricity
Electrical current in Bahrain is 230 volts, 50Hz. UK-style three-pin plugs are used.
Climate Info
Bahrain weather is generally warm and fairly dry. The most pleasant time of year in Bahrain is during spring or autumn when sunshine is virtually guaranteed, along with warm temperatures tempered by soft breezes. Summers can be very hot and humid, though the humidity is modified at the end of the season when a dry northwesterly wind blows, known locally as the 'Al Barah'. Winter is cooler and influenced by low-pressure systems, which bring rainfall. Average rainfall is low, but most of it falls in winter.
Passport
All persons who wish to enter Bahrain need a visa, except citizens of the Gulf Cooperation Council (Kuwait, Oman, Qatar, Saudi Arabia, United Arab Emirates). Visas are relatively easy to obtain on arrival if holding sufficient funds, but not all nationalities qualify for visas on arrival. A passport valid for duration of stay is required, but it is recommended that passports be valid for at least six months beyond intended travel. Visitors also require tickets or documentation for return or onward travel. Passengers who have visited or transited through Guinea, Liberia, Nigeria or Sierra Leone within the last 21 days will be refused entry in to the country.
Entry Requirements
Canadian
citizens require a valid passport and an eVisa, obtainable via the internet (www.evisa.gov.bh) prior to their visit, or a one month tourist or business visa obtainable on arrival. A two week extension is possible.
show more ...
Health
No vaccinations are required for visitors to Bahrain, but a hepatitis A vaccination is recommended. Medical facilities are good in the main cities, but health insurance is recommended because visitors must pay for treatment. There are many well-stocked pharmacies in the country. Water is deemed clean and safe by the authorities, but visitors usually prefer to drink bottled water, which is widely available.
Safety
Although the crime rate in Bahrain is relatively low, visitors should be aware that along with other states in the Gulf region, the country is at risk of indiscriminate terrorist attacks by Al Qaeda on Western interests. Visitors are advised to be vigilant and avoid public demonstrations. Around 10,000 British nationals live in Bahrain, and thousands more visit each year. The vast majority of visits are trouble free.
Emergency Phone Number
999 (General Emergencies)
* For current safety alerts, please visit
Foreign travel advice - GOV.UK
or
Travel.State.Gov
Money
The official currency is the Bahraini Dinar (BHD). The Bahraini Dinar is linked to the US Dollar at a rate of US$1=BD 0.376. Money can be exchanged at bureaux de change, commercial banks in Manama or at money changers operating in souqs. ATMs are available in larger towns. Credit cards are widely accepted.
Exchange Rate
Not available.
Embassies of Bahrain
Embassy of Bahrain, Washington DC, United States: +1 202 342 1111.
Embassy of Bahrain, London, United Kingdom (also responsible for Ireland): +44 020 7201 9170.
Foreign Embassies in Bahrain
United States Embassy, Manama: +973 1724 2700.
British Embassy, Manama: +973 1757 4100.
Canadian Embassy, Riyadh, Saudi Arabia (also responsible for Bahrain): +966 1 488 2288.
Australian Embassy, Riyadh, Saudi Arabia (also responsible for Bahrain): +966 11 250 0900.
South African Embassy, Riyadh, Saudi Arabia (also responsible for Bahrain): +966 1 442 9716.
Irish Embassy, Riyadh, Saudi Arabia (also responsible for Bahrain): +966 1 488 2300.
New Zealand Embassy, Riyadh, Saudi Arabia (also responsible for Bahrain): +966 1 488 7988.
Customers
Although it is a liberal state, Bahrain is an Islamic country and many locals find scanty clothing and immoderate public behaviour offensive. Visitors should dress and act respectfully. Religious and social sensitivities should be observed and respected, especially during religious festivals. Foreigners are not expected to fast during the holy month of Ramadan, but it is considered extremely inconsiderate to eat, drink or smoke in public during this time. Homosexuality is illegal.
Business
Bahrain is generally more liberal than its Arab neighbours, but businesswomen should nevertheless ensure that they wear conservative clothing and men are expected to wear smart suits and ties. Bahrainis prefer to do business with those whom they have a personal relationship with so a letter of introduction from someone they know is appreciated. English is used as the language of business, but expect prolonged small talk and personal enquiries before sitting down to do business, as building a trustworthy relationship is important; never rush a deal, and high-pressure sales tactics are frowned upon. Impatience has no place, so plenty of time should be allowed for decision-making.
For meetings, punctuality is important and business cards are routinely handed out to everyone, using both hands and preferably with the Arabic translation on the back of the card face up. It is important to study a received card for a while before putting it away. Formal titles should be used, however you may address people by their first name (ei: Mr Adam). Business hours are Sunday to Thursday 7am to 2pm. Most businesses take a break in the afternoon between 1pm and 3pm, but are open later in the evening. During the holy month of Ramadan working hours are reduced.
Tipping
Most restaurants and hotels in Bahrain add a service charge of 10-15% to their bills. However, you may leave a tip at your discretion. Taxi drivers expect a 10% tip and porters will be happy with about 100 fils per item of baggage.
Public Holidays in Bahrain
| | | |
| --- | --- | --- |
| | 2017 | 2018 |
| New Years Day | 1 Jan | 1 Jan |
| Labour Day | 1 May | 1 May |
| Eid al-Fitr (end of Ramadan) | 26 Jun | 15 Jun |
| Eid al-Adha (Feast of the Sacrifice) | 2 Sep | 22 Aug |
| Muharram (Islamic New Year) | 22 Sep | 12 Sep |
| Ashoora | 22 Oct | 22 Oct |
| National Day | 16 Dec | 16 Dec |
| Prophets Birthday | 1 Dec | 21 Nov |
Overview
There is plenty to do and see in Bahrain, a country which has a rich history dating back 5000 years, from the ancient Dilmun period through the Islamic era. The country offers many beautiful and ancient forts which have been meticulously restored and opened to the public, although a lack of signs and general promotion by the country's tourist industry sometimes makes finding these sites difficult. Among these is the Bahrain Fort, located roughly two miles (4km) from Manama along the coast of Bahrain, and being one of the largest and most historically significant forts in the country, it has been listed as a World Heritage Site.
For something different, why not visit the Jebel Al Dukhan hill, the highest point in Bahrain, named the 'Mountain of Smoke' because of the haze which surrounds it on hot days, to truly experience the beautiful and surreal landscapes of the desert. And while you are in the area, one must surely make a detour to the mysterious Tree of Life, an anciet tree of roughly 400 years standing alone in the desert. These true spectacles of nature, along with the rich culture and history of Bahrain make the nation an intriguing place to visit, with plenty of attractions to keep you busy on your trip to this desert nation.
Map of Bahrain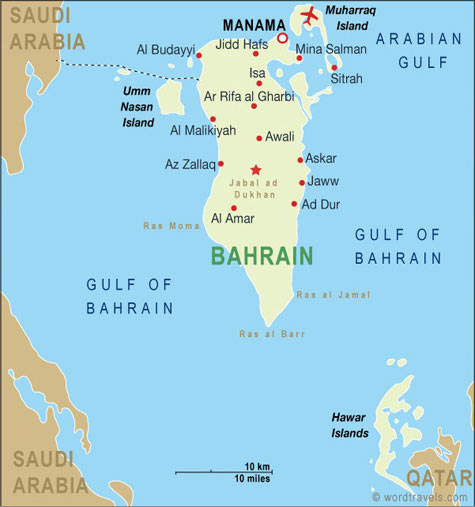 Travel Guide powered by www.wordtravels.com, copyright © Globe Media Ltd. All rights reserved. By its very nature much of the information in this guide is subject to change at short notice and travellers are urged to verify information on which they're relying with the relevant authorities. Globe Media and UNIGLOBE Travel does not accept any responsibility for any loss or inconvenience to any person as a result of information contained above.