General
Money
Entry Requirements
Health & safety
Weather
Embassies
Etiquette
Public Holidays
Attractions
Map
---
Introduction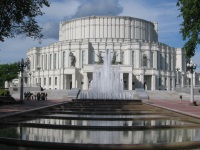 The Opera and Ballet Theatre of Minsk, Belarus ©Gruszecki
Despite being landlocked, Belarus is a country apart from its continental neighbours, having stoutly resisted the integration into Europe and embrace of capitalism shown by other former Eastern bloc countries. While such isolationism has its negative side - the tyrannical rule of its president and its stringent visa requirements foremost among them - Belarus' Soviet-era atmosphere and relative isolation are also its primary attractions.
Not many visitors include Belarus in their summer vacation plans, but those that do get to experience a portion of Europe almost entirely free of consumerist trappings, litter and advertising. Moreover, foreign investment is discouraged and private enterprise is virtually non-existent, which results in a country that has evolved little in the last 20 years, providing visitors with a sense of time standing still. There is no doubt that in many ways life in Belarus is hard for the populace, and the country has suffered more than its fair share of misery in its history, including losing more than two million of its people (particularly Jews) during the Nazi occupation of World War II. In 1986 Belarus suffered the fall-out from the Chernobyl nuclear power plant accident just across its border in neighbouring Ukraine. And yet there is much that is bright and beautiful in the culture and natural attractions of Belarus. Beyond the clean Stalinist lines of its capital, Minsk, the tiny towns and villages of Belarus are living museums of medieval life, and the national parks contain mysterious forests, murky bogs and swamps, thousands of smooth lakes, and a fascinating array of unspoilt eco-systems, fauna and flora.
Visitors are encouraged to enjoy the great outdoors in the Vitebsk Region, where there are almost 50 designated tourist routes involving hiking, cycling, boating and plenty of chances for hunting and fishing. Hotels and health spas offer rest and relaxation and there is even a calendar of art and music festivals in the region.
Belarus is a destination that rewards those seeking an original travel experience, with genuinely welcoming people, pristine nature and traditional villages, all spiced up with interesting glimpses into a Soviet past that appears to live on in the country's isolated present.
Communications
The international dialling code for Belarus is +375. To dial out on an international call dial 8, wait for the tone, then dial 10 followed by the country code, area code and number you are calling (e.g. 8-10 44 for the UK). Payphones are widely available but many cannot be used to call internationally. Payphones operate on special cards, sold at post offices and newspaper kiosks. There are several mobile network operators in Belarus, at least two of which operate GSM networks. Coverage is good in the major towns and along the highways, but generally not available in rural areas. Mobile phones may be rented from local service providers. The internet can be accessed from a network of state run cybercafés, and some private cafes, in the major towns.
Emergencies
Emergencies: 103 (medical), 102 (police). Note that operators may not speak English.
Languages Spoken
Russian and Belarusian are both official languages, with the majority speaking Russian.
Duty Free
The duty free allowance for visitors entering Belarus is 3 litres of alcoholic beverages, 200 cigarettes or 250g of tobacco products, a reasonable quantity of perfume for personal use and goods up to the value of US$1,500.
Electricity
Electrical current is 220 volts, 50Hz. European two-prong plugs with circular pins are in use. Schuko plugs are also in use.
Climate Info
Belarus has a temperate continental climate, with cold, snowy winters and warm, pleasant summers. Humidity and precipitation is generally high all year round. Expect rain in summer, or snow in winter, every couple of days. In the north of the country winters are more extreme, with the temperature often plummeting well below zero.
The warm summer months between May and September are considered the best time to visit Belarus, and especially Minsk. Summer temperatures stay pleasant, seldom rising above 77°F (25°C). Travellers should be sure to pack a jacket or umbrella, however, as summers in Belarus are rainy, especially in June and August.
Winter temperatures in Belarus often drop below zero, and there is typically snow from December to April.
Passport
Valid passports and visas are required to visit Belarus. We recommend that passports are valid for six months after departure from destination. Visitors from countries where there is no Belarussian consulate or embassy may obtain a tourist visa on arrival at Minsk Airport, but it is strongly recommended that an effort is made to obtain a visa prior to arrival. Visas are only issued on the basis of invitation from hotels, tour companies or Belarussian citizens. All visitors have to buy health insurance on arrival. Foreigners not staying at a hotel must register with the authorities on arrival and such registration must be entered on their visa. Hotels automatically register their guests.
Entry Requirements
Canadian
citizens need a passport and a visa to enter Belarus. However, Canadian citizens are exempt from obtaining a visa if their stay is less than five days.
show more ...
Health
Vaccinations are recommended for hepatitis A and hepatitis B, but no vaccinations are required for entry to Belarus. The main health risks associated with visiting Belarus are tick-borne encephalitis (for long-term travellers who intend foot-slogging through the forests), measles (occasional outbreaks occur) and diphtheria, so travellers should ensure they are vaccinated against these diseases if they are considered at risk. There have also been cases of human rabies infection in the rural areas, identified as originating with bites from foxes, raccoon, dogs and cats. Visitors should not drink unpurified tap water, unpasteurised milk or consume undercooked food. Medical care is limited and essential medications are frequently not available. Medical facilities lack modern equipment. The best equipped are private clinics, which are available in Minsk. Doctors and hospitals expect payment in cash. Travel health insurance with air evacuation cover is highly recommended.
Safety
Most visits to Belarus are trouble free. The crime rate is very low; however, precautions should be taken against mugging, pick-pocketing and theft from vehicles or hotel rooms. There have been instances of theft from travellers on sleeper trains between Warsaw and Moscow.
Emergency Phone Number
Emergencies: 103 (medical), 102 (police). Note that operators may not speak English.
* For current safety alerts, please visit
Foreign travel advice - GOV.UK
or
Travel.State.Gov
Money
The currency is the Belarussian ruble (BYR), which is equal to 100 kopeks. As of 2016, coins have been introduced due to redonomination, the first in the country's history. Currency can be exchanged at banks and official bureaux de change in Minsk and the larger towns. US Dollars and Euros are preferred and some currencies may not be accepted. Exchange offices may reject old/damaged notes and it is advisable to keep all receipts for exchange transactions as these may be required on departure, or when re-converting your leftover rubles. Mastercard and Visa are accepted at the larger hotels and tourist restaurants, but other cards, like American Express and Discovery, may not be accepted at all. ATMs are widely accessible in major towns and banking hours are weekdays from 9am to 5pm.
Exchange Rate
Not available.
Embassies of Belarus
Embassy of Belarus, Washington DC, United States: +1 202 986 1606.
Embassy of Belarus, London, United Kingdom (also responsible for Ireland): +44 (0)20 7937 3288.
Embassy of Belarus, Ottawa, Canada: +1 613 233 9994.
Embassy of Belarus, Pretoria, South Africa: +27 (0)12 430 7709.
Foreign Embassies in Belarus
United States Embassy, Minsk: +375 17 210 1283.
British Embassy, Minsk: +375 17 229 8200.
Canadian Embassy, Moscow, Russia (also responsible for Belarus): + 7 (495) 925 6000.
Australian Embassy, Moscow, Russia (also responsible for Belarus): +7 495 956 6070.
South African Embassy, Moscow, Russia (also responsible for Belarus): +7 495 926 1177.
Irish Embassy, Vilnius, Lithuania (also responsible for Belarus): +370 5 262 9460.
New Zealand Embassy, Moscow, Russia (also responsible for Belarus): +7 495 956 3579.
Customers
While visiting Belarus, do not take photographs of government buildings, military installations or uniformed officials. Be aware that jaywalkers are heavily fined. Whistling inside a building is considered bad luck.
Business
Business appointments in Belarus should be made well in advance through a local third party with a good reputation and connections. When meeting, address people with their surnames and a brief handshake. Meetings are usually formal, and negotiations can be protracted. A great deal of concessionary bargaining is expected. Bureaucracy and legal matters in Belarus are complicated so it is best to hire local professionals to assist. Dates in Belarus are written with the day first, then the month and then the year.
Tipping
Tipping in Belarus is not as common as in many other countries, but it is adequate to round up the bill or taxi fare, and a 10 percent tip for excellent service will not go amiss.
Public Holidays in Belarus
Travel Guide powered by www.wordtravels.com, copyright © Globe Media Ltd. All rights reserved. By its very nature much of the information in this guide is subject to change at short notice and travellers are urged to verify information on which they're relying with the relevant authorities. Globe Media and UNIGLOBE Travel does not accept any responsibility for any loss or inconvenience to any person as a result of information contained above.