General
Money
Entry Requirements
Health & safety
Weather
Embassies
Etiquette
Public Holidays
Attractions
Map
---
Introduction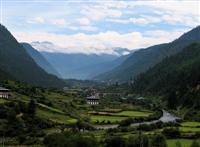 The Haa Valley ©Greenmnm69
Imagine a land hidden from the world for centuries, a pristine natural environment free of pollution and crime, guided by an official policy known as Gross National Happiness.
Welcome to Bhutan, known to its people as - Land of the Thunder Dragon. Situated in the remote Himalayan mountains, with India and China its only neighbours, Bhutan is one of 10 biodiversity hotspots and the only remaining Mahayana Buddhist kingdom.
The scenic majesty of its soaring mountains and pristine valleys, coupled with the vibrancy of its cultural life, makes Bhutan one of the last undiscovered destinations; an adventure to feed the soul and enrich the senses.
Bhutan's iconic sight is Tiger's Nest Monastery, built into a cliff face 2,950 feet (900m) above the ground near the city of Paro. Another key attraction is Trongsa Dzong, the ancestral home of the royal family. Trekking and mountain biking are popular attractions too, as are the many Buddhist festivals that bring out the extroverted side of these famously friendly people.
It is at times a wonderfully strange place: the walls of many buildings are emblazoned with drawings of giant penises - an invocation of good luck and fertility. All new structures must follow the ancient style and people are obliged by law to wear traditional dress in public. Monks have broadband access, and cigarette sales are illegal. And, uniquely, 70 percent of the land is owned by women as inheritance is matrilineal.
Bhutan remained closed to the outside world until the 1960s when its borders slowly began opening. Tourism is based on a high value, low volume principle in a bid to avoid the destructive effects of mass tourism suffered by Nepal and India. Visitors must spend a minimum of USD200 per day on a pre-determined itinerary, a strong deterrence for budget travellers. Therefore, visiting Bhutan is much easier through a registered tour operator.
Under the guidance of the current monarch, the splendidly named King Jigme Khesar Namgyal Wangchuck, Bhutan is slowly changing as its economy matures and its fledgling government engages more with the world. Improved communications and widespread internet access is affecting the younger generation and exposing them to the exciting though uncertain world beyond the borders of this, the last Shangri-La.
Communications
The international dialling code for Bhutan is +975. The outgoing code is 00 followed by the relevant country code (e.g. 0044 for the United Kingdom). There is extensive mobile phone coverage, which is more reliable and widespread than the landline network. Internet access is available in all main towns and hotels.
Emergencies
Fire: 110, Police: 113, Ambulance: 112
Languages Spoken
Dzongkha is the official language, and various Tibetan dialects are spoken. English has recently become the language of instruction in schools but is only spoken fluently by guides and tourist industry professionals.
Duty Free
Travellers to Bhutan may bring with them up to 200 cigarettes/30 cigars, one litre of liquor, and goods for personal use. Guns and ammunition, narcotics, antiques and wildlife products are prohibited.
Electricity
Electrical current is 230 volts (50Hz). European round pin attachment plugs and three-pin rectangular plugs are in use.
Climate Info
Bhutan's climate is as varied as its landscape: in the southern plains the climate is tropical, while the central valleys are cool. The Himalayas have severe winters and mild summers. The monsoon season is from June to August. In general the best time to visit is spring (March to May), and autumn (late September to late November) when there are many Buddhist festivals.
Passport
Bhutan has an unusual but fairly simple process for admitting visitors: Bhutanese embassies abroad cannot issue visas, instead you must apply for your visa in advance through a registered tour operator. The visa should be applied for at least 12 weeks before intended travel at which time your tour operator will confirm with you directly with a faxed or emailed copy of the successful application. The actual visa is then stamped into your passport on arrival. It is wise to travel with at least two passport photographs.
Note that the Government of Bhutan refuses entry to people wishing to visit the country for mountaineering, publicity and other research activities. All visitors are required to book with a registered tour operator in Bhutan, which can be done directly through a travel agent abroad. All visitors must hold confirmed return or onward tickets, all documents required for next destination, and USD 200 per day of stay.
Entry Requirements
Canadians
must hold a passport valid six months beyond arrival date. A visa is required and must be applied for in advance through a tour operator.
show more ...
Health
Ensure you have adequate health insurance that includes the facility for emergency repatriation. The most significant health risks for travellers are water-borne parasites from unclean drinking water and altitude sickness resulting from exposure to high altitudes. Health care standards are relatively high. For locals all health services are free, and both western and traditional medicine is practiced side by side. In 2004 Bhutan became the first country in the world to entirely ban the sale of cigarettes. Hospitals and clinics are located throughout the country, with excellent facilities available in the capital, Thimpu.
Safety
Bhutan is one of the safest destinations on the planet. There is virtually no crime or violence.
Emergency Phone Number
Fire: 110, Police: 113, Ambulance: 112
* For current safety alerts, please visit
Foreign travel advice - GOV.UK
or
Travel.State.Gov
Money
The local currency is the Ngultrumbut subdivided into 100 Chetrums. The currency is pegged to the Indian rupee on scale of 1:1. The Ngultrumbut was only introduced in 1974 before which the country had no currency, relying on a system of bartering to acquire goods. US Dollars and Travellers Cheques can be exchanged at banks and large hotels. Visa and Mastercard are not widely accepted.
Exchange Rate
Not available.
Embassies of Bhutan
Bhutan Embassy, New York City, United States: +1 (202) 682 2268/2312.
Foreign Embassies in Bhutan
Customers
Bhutan is a traditional Buddhist society. Dress conservatively when visiting religious sites, avoid public displays of affection, and never climb or sit on a statue. Do not take photographs within temples unless permission has been granted to do so. Avoid pointing at people or religious icons with your finger; this is considered very rude. Smoking is banned in all public places including restaurants and bars. Betel nut is chewed throughout the day by young and old alike and has become an integral part of Bhutanese society. The royal family is revered and deeply respected; avoid any disparaging remarks or gestures. Mountains are considered to be the abode of the gods and hence any recreational activities therein are disallowed.
Tipping
Tipping is not expected in restaurants as your meal would have been prepaid by your tour agency. On treks it is usual to tip the cook, his assistant and any porters. Ask your guide for advice. If you hire a driver tip him at the end of your trip. Bhutanese tradition is that one typically refuses a tip the first time it is offered but accepts it the second time.
Public Holidays in Bhutan
Travel Guide powered by www.wordtravels.com, copyright © Globe Media Ltd. All rights reserved. By its very nature much of the information in this guide is subject to change at short notice and travellers are urged to verify information on which they're relying with the relevant authorities. Globe Media and UNIGLOBE Travel does not accept any responsibility for any loss or inconvenience to any person as a result of information contained above.