General
Money
Entry Requirements
Health & safety
Weather
Embassies
Etiquette
Public Holidays
Attractions
Map
---
Introduction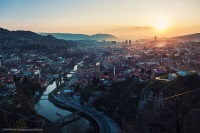 Sarajevo ©Michal Huniewicz
Bosnia and Herzegovina is a small, heart-shaped country in southeastern Europe steeped in history, with everything from Roman annexation and Slav invasion to around 500 years of Ottoman empire playing a major role in its past. More recently, in the 1990s Bosnia and Herzegovina gained independence from socialist Yugoslavia in a violent upheaval that the country has now emerged from. Its tumultuous background has furnished Bosnia and Herzegovina with a culturally diverse and surprisingly hospitable population.
Travellers can enjoy the rich history of the capital city Sarajevo or the warm and sunny Mediterranean climate of Neum, a resort town on the Adriatic coast. Other attractions to draw visitors are Medugorje, the Catholic pilgrimage site where visions of the Virgin Mary were reported in the 1980s, and the Kravica Waterfalls near Ljubuski. Bosnia and Herzegovina also offers great city breaks, winter sports and eco-adventures, in fact it is primarily in eco-tourism that the country is beginning to make its name.
As it proudly establishes itself as a new and exciting tourist destination, visiting Bosnia and Herzegovina should prove to be a remarkable and fulfilling vacation experience for those willing to explore the road less travelled on their European holidays.
Communications
The international access code for Bosnia and Herzegovina is +387. The outgoing code is 00 followed by the relevant country code (e.g. 0044 for the United Kingdom). Public phones, cell phone reception and internet connections are available in most places, with internet cafés located in the main towns.
Emergencies
124 (Ambulance); 123 (Fire); 122 (Police)
Languages Spoken
Bosnian, Croatian and Serbian are the official languages. English and German are also widely spoken and understood.
Duty Free
Travellers may import 200 cigarettes, 100 cigarillos or 250g of tobacco, 1 litre of spirits over 22 percent and 2 litres of wine, 60ml of perfume and gifts to the value of US$ 113 without incurring customs duty.
Electricity
220 volts, 50Hz. European-style two-pin plugs are standard.
Climate Info
The best time to visit Bosnia and Herzegovina is from May to October, when it is warmer and drier. Winters are very cold and often there is a lot of rain, snow and wind. The climates are different for each province, with Bosnia experiencing much higher rainfall than Herzegovina. Average temperatures in Sarajevo range from 31ºF (-1ºC) in January to 66ºF (19ºC) in July.
Passport
Travellers are advised to hold return or onward tickets, all documents required for their next destination, and sufficient funds, as well as a valid passport. It is recommended that passports be valid for six months after departure from destination. Visa requirements vary depending on nationality.
Entry Requirements
Canadians
require a passport valid for at least 90 days following the departure date from Bosnia and Herzegovina. A visa is required for visits exceeding 90 days.
show more ...
Health
While there are no serious health risks in Bosnia and Herzegovina, Hepatitis A and B vaccinations are recommended, as well as measles, mumps and rubella (MMR) vaccinations. A typhoid vaccination is also advisable for travellers who may eat or drink outside the main restaurants and hotels. Travellers should take out comprehensive medical insurance.
Safety
Most visits to Bosnia and Herzegovina are trouble free but there is an underlying threat from terrorism and attacks could occur in places frequented by travellers. Take normal precautions to avoid mugging, bag-snatching and pick-pocketing. Travellers are urged to avoid public demonstrations.
Emergency Phone Number
124 (Ambulance); 123 (Fire); 122 (Police)
* For current safety alerts, please visit
Foreign travel advice - GOV.UK
or
Travel.State.Gov
Money
The currency in Bosnia and Herzegovina is the Konvertibilna Marka (BAM), comprised of 100 pfeninga. Some Euro notes (but not coins) are accepted. The Euro and US Dollar are the preferred foreign currencies. Credit cards are not always accepted but ATMs are available in the major cities. Banking hours are from Monday to Friday, 8am to 7pm.
Exchange Rate
Not available.
Embassies of Bosnia and Herzegovina
Bosnia and Herzegovina Embassy, Washington DC, United States: +1 202 337 1500.
Bosnia and Herzegovina Embassy, London, United Kingdom (also responsible for Ireland): +44 (0)20 7373 0867.
Bosnia and Herzegovina Embassy, Ottawa, Canada: +1 613 236 0028.
Bosnia and Herzegovina Embassy, Canberra, Australia (also responsible for New Zealand): +61 (0)2 6232 4646.
Foreign Embassies in Bosnia and Herzegovina
United States Embassy, Sarajevo: +387 33 704 000.
British Embassy, Sarajevo: +387 33 282 200.
Honorary Consulate of Australia, Sarajevo: +387 (0) 33 206 167.
South African Embassy, Athens, Greece (also responsible for Bosnia and Herzegovina): +30 210 610 6645.
Embassy of Ireland, Ljubljana, Slovenia (also responsible for Bosnia and Herzegovina): +386 (0)1 300 8970.
New Zealand Embassy, Rome, Italy (also responsible for Bosnia and Herzegovina): +39 06 853 7501.
Customers
The local people observe very traditional hosting etiquette, often offering guests cigarettes, coffee and sweets. The war and politics are not generally welcome topics of conversation, and such subjects should be broached with caution. Alcohol should not be consumed in the company of Muslims.
Business
Business is conducted in quite a formal manner and shaking hands is a common greeting. Business cards are required and translation facilities are available on request. Business hours are generally 8am to 5pm, Monday to Friday. Government offices tend to close earlier.
Tipping
Tipping in bars and restaurants is expected, usually five to 10 percent of the total bill.
Public Holidays in Bosnia and Herzegovina
Travel Guide powered by www.wordtravels.com, copyright © Globe Media Ltd. All rights reserved. By its very nature much of the information in this guide is subject to change at short notice and travellers are urged to verify information on which they're relying with the relevant authorities. Globe Media and UNIGLOBE Travel does not accept any responsibility for any loss or inconvenience to any person as a result of information contained above.