General
Money
Entry Requirements
Health & safety
Weather
Embassies
Etiquette
Public Holidays
Attractions
Map
---
Introduction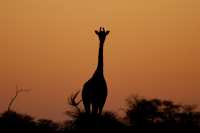 Giraffe ©Justin Jensen
The Republic of Botswana is a landlocked country constituted by a vast plateau that provides a natural habitat for a huge variety of African wildlife. This scenic wonderland draws thousands of tourists from around the world throughout the year. Most visitors arrive under the auspices of expensive safari-package operators.
At the time that it gained Independence in 1966, Botswana was counted among the ten poorest nations on earth. A dramatic turnaround came just a few years later when a treasure-trove of diamonds was discovered. Now the country is the third largest producer of diamonds in the world and Botswana is enjoying a growth rate and economic buoyancy unparalleled in Africa.
The country is bordered by South Africa in the south and southeast; Zambia and Zimbabwe in the northeast; and Namibia in the north and west. It is the northwest corner of the country that is the most sought-after by wildlife enthusiasts because it is here that the Okavango River drains inland from Angola to form the Okavango Delta - the largest inland delta in the world - which provides sustenance to a rich profusion of wildlife. The delta is extremely beautiful, big sky country with spectacular scenery across grassy plains and limpid lagoons. The Moremi Wildlife Reserve, covering 700 square miles (1,812 sq km) in the northeast corner of the Okavango Delta, is the ultimate African safari destination.
Communications
The international access code for Botswana is +267. The outgoing code is 00 followed by the relevant country code (e.g. 0027 for South Africa). Gaborone's area code is 31, 35, 36 or 39; there is no NDD prefix for calling within Botswana. Mobile phones operate on a GSM 900 network and are limited to urban areas; most North American cell phones will not work. Internet cafes are available in Gaborone and Maun.
Emergencies
Emergencies: 999 (Police), 911 (Medical Rescue), 997 (Ambulance), 998 (Fire).
Languages Spoken
English is the official language but Setswana is the most spoken language.
Duty Free
Travellers to Botswana over the age of 18 can enter the country with 400 cigarettes; 50 cigars or 250g of tobacco; 2 litres of wine and 1 litre of alcoholic beverages; 50ml of perfume and 250ml of eau de toilette without incurring customs duty. Gifts and personal goods to the value of P500 can also be imported without incurring customs duty.
Electricity
230 volts, 50Hz. Round three-pin plugs are used.
Climate Info
Botswana weather is generally quite enjoyable. The hottest time of year in Botswana is also the wettest. The rainy season occurs in summer between October and April. Dry and cool weather, with cold and often frosty nights, occurs between May and September, when the average daytime temperature is a pleasant 77ºF (25ºC). The months between April and October are ideal for tourists in terms of weather and game viewing. This is the time when the wildlife is most prolific and easily spotted around the natural watering holes and dams.
Passport
All visitors require return or onward tickets and sufficient funds to cover their stay in Botswana. Visas are generally not required for stays of under 90 days. NOTE: It is highly recommended to have six months' validity remaining on your passport, as border agents occasionally apply different guidelines to those stated.
Entry Requirements
Canadian
nationals require a passport valid for at least six months from date of arrival, but do not require a visa for stays of up to 90 days.
show more ...
Health
Malaria is a particular risk in Botswana between November and June in the northern parts of the country. Visitors who are camping or walking in the bush should be cautious of tick bites. There are no compulsory vaccinations, but a yellow fever vaccination certificate is required from travellers over one year of age coming from infected countries. Occasional outbreaks of anthrax occur among wild animals, and visitors to affected areas should seek local advice and not touch dead animal carcasses.
Botswana has a good public health system, but facilities are limited outside urban areas. Health insurance for visitors is vital. Tap water in towns is safe to drink, and all foodstuffs are safe to consume.
Safety
The majority of visits to Botswana are trouble-free, but visitors should be aware of the increasing incidence of crime, particularly armed robbery and rape, in the main towns. Wildlife and livestock make driving hazardous, so driving at night should be avoided.
Emergency Phone Number
Emergencies: 999 (Police), 911 (Medical Rescue), 997 (Ambulance), 998 (Fire).
* For current safety alerts, please visit
Foreign travel advice - GOV.UK
or
Travel.State.Gov
Money
The unit of currency is the Botswana Pula (BWP), which is divided into 100 Thebe. The word 'Pula' means rain and 'Thebe' means shield. Major credit cards are widely accepted, and foreign currency is accepted at most large hotels and lodges. There are banks and bureaux de change in all the main towns, as well as ATM machines.
Exchange Rate
Not available.
Embassies of Botswana
Botswana Embassy, Washington DC, United States: +1 202 244 4990 (also responsible for Canada).
Botswana High Commission, London, United Kingdom (also responsible for Ireland): +44 20 7499 0031.
Botswana High Commission, Canberra, Australia (also responsible for New Zealand): +61 2 6290 7500.
Botswana High Commission, Pretoria, South Africa: +27 12 430 9640.
Foreign Embassies in Botswana
United States Embassy, Gaborone: +267 395 3982.
British High Commission, Gaborone: +267 395 2841.
Consulate of Canada, Gaborone: +267 390 4411.
Australian High Commission, Pretoria, South Africa (also responsible for Botswana): +27 12 423 6000.
South African High Commission, Gaborone: +267 390 4800/1/2.
Irish Honorary Consul, Gaborone: +267 390 5807.
New Zealand High Commission, Pretoria, South Africa (also responsible for Botswana): +27 12 435 9000
Customers
Homosexuality is illegal. Taking photos or videos near government or military buildings is prohibited, and permission should always be sought before taking photos of local people.
Business
Business is fairly relaxed in Botswana and dress is generally smart casual. Handshakes begin and end meetings, which are usually held in private. Women are often viewed with a certain amount of sexism, but will be politely treated. Office hours are usually 8am to 5pm Monday to Friday, or 7.30am to 4.30pm Monday to Friday between October and April.
Tipping
Tipping is expected in tourist hotels and restaurants. Many automatically add a service charge, but where not, a 10 to 15 percent tip is appreciated. Taxi drivers, porters and golf caddies should also be tipped a relative amount. Tour guides, trackers and game rangers rely largely on tips for their income and should be payed accordingly.
Public Holidays in Botswana
Overview
Wildlife is Botswana's main draw and game reserves compose nearly one-fifth of the country's territory. In these parks you will find lions, cheetahs, crocodiles, hippos, elephants, antelope, wild dogs, and hundreds of species of birds. Visitors can take safaris and stay in lodges running the gamut from inexpensive dorms for backpackers to five-star, luxury private lodges with your own driver and guide.
Among southern Africa's most impressive and popular wildlife destinations is the Okavango Delta where the Okavango River widens into the world's largest inland delta. Lying in the middle of the arid Kalahari, the swamps & water channels attract animals from thousands of kilometers around and triples in size during floods in July and August. Nearby Chobe National Park has a large population of elephants and it is also easy to spot many of Africa's well-known species, especially zebras and lions. The bleak salt pans of Makgadikgadi Pans National Park attracts a large number and variety of birds year-round. Other great game parks include Nxai Pan National Park, Mokolodi Nature Reserve and Gemsbok National Park.
Unfortunately, most of the native tribes in Botswana only dress in traditional outfits and perform rituals for tourists. Nevertheless, for the culture-cravers, the villages of D'Kar and Xai-Xai have many offerings, including arts, crafts, and the opportunity to participate in various rituals, while Tsodilo Hills contain one of the largest collections of ancient rock art on the continent.
Map of Botswana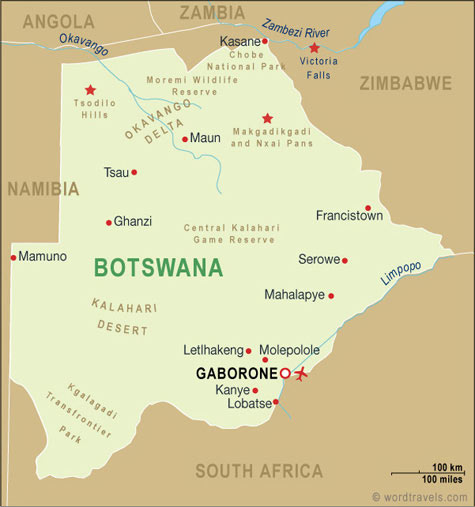 Travel Guide powered by www.wordtravels.com, copyright © Globe Media Ltd. All rights reserved. By its very nature much of the information in this guide is subject to change at short notice and travellers are urged to verify information on which they're relying with the relevant authorities. Globe Media and UNIGLOBE Travel does not accept any responsibility for any loss or inconvenience to any person as a result of information contained above.