General
Money
Entry Requirements
Health & safety
Weather
Embassies
Etiquette
Public Holidays
Attractions
Map
---
Introduction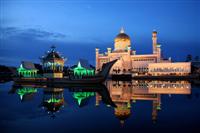 Sultan Omar Ali Saifuddin Mosque at dusk ©Sam Garza
Despite its modest size the sultanate of Brunei Darussalam has a huge wealth of both natural resources and worthwhile tourist attractions. Few people consider this tiny nation at the top of Borneo to be a destination in its own right but those that do are rewarded by one of the safest, most environmentally pristine countries in Asia. The majority of visitors, however, experience Brunei either as a passenger en route elsewhere or a business traveller taking advantage of its burgeoning role as a regional economic hub.
Brunei's culture is shaped by its Malay majority and deeply entrenched Islamic traditions, bound together by the sultanate's uninterrupted 600-year royal heritage. Citizens enjoy one of the world's highest standards of living with free healthcare, education,and housing thanks to the largesse of the Sultan, who is the sole beneficiary of the country's oil reserves.
Located on the north tip of the island of Borneo, the country is divided into two unconnected halves: 97 percent of the population live in the larger western half where the modern capital Bandar Seri Begawan (BSB) is located, while an estimated 15,000 people live in the predominantly rural and mountainous eastern half. Adventurous travellers are drawn to the natural splendour and adrenalin charged sporting activities of this region, most of which is virgin rainforest.
Visitors to BSB can enjoy architectural treasures such as the Sultan Omar Ali Saifuddien Mosque, the fascinating traditional water villages, and the Sultan's palace, Istana Nurul Iman, which is the world's largest palace still in use. BSB also has some worthwhile beaches, most notably Jerudon which has gorgeous white sands and a child-friendly amusement park to one side of it.
Communications
The international country dialling code for Brunei is +673. The outgoing code is 00, followed by the relevant country code (e.g. 0044 for the United Kingdom). City/area codes are in use e.g. 2 for Bandar Seri Begawan. Mobile phone GSM 900 and 3G 2100 networks operate throughout the country. High speed internet access is widely available in the main towns and large hotels.
Emergencies
Emergencies: 993 (Police); 991 (Ambulance); 995 (Fire)
Languages Spoken
The official language of the Sultanate is Malay although English is spoken widely and is the medium of instruction in secondary and tertiary education.
Duty Free
Travellers over the age of 17 may import the following into Brunei without having to pay customs duty: 2 bottles of alcoholic spirit (maximum total of 2 litres) and 12 cans of beer/lager (by non-Muslims and for personal consumption only); 60ml of perfume and 250ml eau de toilette. Duty is charged on all tobacco products. It is strictly prohibited to import firearms, drugs and pornography. The penalty for trafficking drugs is death while possession of any quantity of drugs carries a mandatory 20-year jail sentence. All medication must be declared and relevant prescriptions presented. Curiously there is also a strict ban on entering the country in possession of amulets or lucky charms made from bullets.
Electricity
Electrical current is 220 - 240 volts, 50Hz. Plugs are of the three-pin, rectangular blade type, commonly referred to as the British three-pin plug.
Climate Info
Brunei has a distinctly tropical climate with year-round hot weather and high humidity. Uniquely for the region, Brunei has two monsoon seasons with heavy rainfall from October to February and from May to June. Rain showers tend to be heavy but short-lived. Over March and April rainfall drops to nearly nothing, and drought conditions characterise the coastal areas; temperatures have been known to rise extremely high, making this an uncomfortable time to visit. From September to January, conditions can also be uncomfortably hot and humid. The best time to visit is June to September, but travellers should avoid visiting Brunei during Ramadan, as many businesses are closed.
Passport
Travellers must have all documents necessary for their next destination and return air tickets as well as sufficient funds for stay. Passports must be valid at least six months beyond arrival date. Visa requirements vary from country to country.
Entry Requirements
Canadian
passport holders require a passport valid for at least six months after arrival, but a visa is not necessary for stays of up to 14 days.
show more ...
Health
Travellers arriving from infected areas are required to produce proof of a yellow fever vaccination, and vaccinations may be recommended for hepatitis A and hepatitis B, though these are not required. Health concerns will depend on whether or not you are traveling to the remote areas of the Sultanate. In Bandar Seri Begawan and the large towns the tap water is safe to drink and world-class medical facilities are available. However, if you are exploring the remote wilderness you should drink bottled water only and consider additional vaccinations for typhoid, tetanus, rabies and Japanese encephalitis, depending on duration of visit and planned activities. Dengue fever outbreaks and other mosquito-borne diseases are common. Take precautions against mosquito bites including using insect repellent at all times. Frequently there is a smoke haze across some parts of Brunei, typically from July to October, which may cause respiratory problems. You are strongly advised to take out comprehensive medical insurance that includes the option of emergency repatriation.
Safety
Brunei ranks as one of the safest countries in the world. Violent crime against people or property is virtually unheard of and penalties for such offences are severe; however, there are occasional incidents of petty crime against travellers, and tourists should take care of their belongings. Protests and street demonstrations should be avoided. Although the risk of indiscriminate terrorist attacks exists globally, Brunei is considered to have a low terrorism risk.
Emergency Phone Number
Emergencies: 993 (Police); 991 (Ambulance); 995 (Fire)
* For current safety alerts, please visit
Foreign travel advice - GOV.UK
or
Travel.State.Gov
Money
The official currency is the Brunei Dollar (BND), divided into 100 cents. The Brunei Dollar is pegged to the Singaporean Dollar which is accepted as legal tender throughout Brunei.
All major credit cards are accepted in larger hotels, restaurants and shops. Cash is best advised for smaller establishments and when transacting in remote areas. ATMs are widespread especially at major banks which are concentrated along Jalan Sultan in the capital. Money can also be converted at the informal moneychangers that operate from booths at most transport hubs. If you choose to use this channel ensure you shop around for the best rate.
Exchange Rate
Not available.
Embassies of Brunei
Brunei Embassy, Washington DC, United States: +1 202 237 1838
Brunei Embassy, London, United Kingdom: +44 20 7581 0521
Brunei Embassy, Ottawa, Canada: +1 613 234 5656
Brunei Embassy, Canberra, Australia: +61 2 6285 4500
Foreign Embassies in Brunei
United States Embassy, Brunei: +673 2 384 616
British Embassy, Brunei: +673 2 222 231
Canadian Embassy, Brunei: + 673 2 220 043
Australian High Comission, Brunei: +673 2 229 435
Customers
It is considered rude to show the soles of your feet when seated opposite a person, so avoid crossing your legs. When pointing or passing something use your right hand. If you need to gesticulate, use the thumb of your right hand with the other fingers remaining closed. Greet business associates with a handshake, although not if they are members of the opposite sex. When making small talk, be cautious about making comments regarding local issues, especially those pertaining to the royal family.
Business
Dress smartly for business meetings; a suit and tie is expected. Office hours are typically Monday to Thursday 8am to 5pm, and Saturdays 8am to 12pm. Shortened office hours operate during the fasting month of Ramadan. Greet business associates with a handshake, although not members of the opposite sex.
Tipping
A 10 percent service charge is normally included in all hotel, taxi, bar and restaurant bills, and further tipping is not necessary.
Public Holidays in Brunei
Travel Guide powered by www.wordtravels.com, copyright © Globe Media Ltd. All rights reserved. By its very nature much of the information in this guide is subject to change at short notice and travellers are urged to verify information on which they're relying with the relevant authorities. Globe Media and UNIGLOBE Travel does not accept any responsibility for any loss or inconvenience to any person as a result of information contained above.