General
Money
Entry Requirements
Health & safety
Weather
Embassies
Etiquette
Public Holidays
Attractions
Map
---
Introduction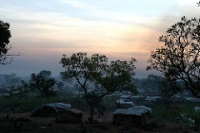 Central African Republic ©Pierre Holtz
A former French colony, the landlocked territory of the Central African Republic (CAR) borders Chad, Sudan, South Sudan, the Democratic Republic of the Congo, the Republic of the Congo, and Cameroon. With a history of turmoil and ongoing internal conflict, the Central African Republic is not currently considered a safe travel destination. Years of tyranny under various corrupt regimes have rendered CAR one of the poorest countries in the world, and it has been destabilised by military coups and civil unrest. The British Foreign Office, and many other travel authorities, advise against touristic travel to the Central African Republic. Travellers should check the advice of their national government and the political situation in CAR before visiting.
The state of almost-constant turmoil in CAR, however, cannot completely disguise the attractions of the country, which include welcoming locals, breathtaking natural splendour and amazing wildlife. Although few travellers visit CAR, those that do will discover a beautiful albeit poverty-stricken country with virtually no tourist infrastructure. Most foreign visitors stick to Bangui, the capital city, but the adventurous sometimes choose to travel to see gorillas or elephants in the Dzanga-Sangha National Park, or to visit the Toutoubou Falls near Berbera.
The climate is generally wet from May to November and drier from November to April, although the dry season lasts a bit longer in the south.
Communications
Communications systems remain a bit chaotic in the Central African Republic. Mobile phone usage is on the rise and roaming agreements exist with a few international mobile phone companies, but coverage is generally limited to Bangui. It is possible to get internet access in most cities and there are usually some internet cafes to make use of. The international dialling code is +236; the country does not use city codes.
Emergencies
117 (General Emergency Helpline)
Languages Spoken
Some 70 languages are spoken in CAR, but French and Sango are the official languages.
Duty Free
Travellers to the Central African Republic are allowed the following: five bottles of alcohol and five bottles of perfume. Men may import up to 1,000 cigarettes or cigarillos/250 cigars/2kg of tobacco, while women may only bring cigarettes. Firearms must be declared. All animal skins and diamonds must be declared on departure.
Electricity
Electrical outlets in the Central African Republic usually supply electricity is 220, 50Hz. European two-pin plugs with round pins are standard.
Climate Info
The Central African Republic has a tropical climate with hot temperatures and humidity year-round, but there are regional variations. The north has a drier, hotter climate, while the more tropical south and the western highlands experience cooler temperatures. The Central African Republic has two wet and two dry seasons, but there is not much variation in temperature throughout the year. The heaviest rain arrives between May and June, and again between October and November, although in the south it can rain at any time of year. The north is semi-arid (the northeast is desert) and receives only about half the amount of precipitation as the south annually. The average annual temperatures in Bangui range from 70°F to 84°F (21°C to 29°C) in July and August, and from 70°F to 93°F (21°C to 34°C) in February. Between December and March the Harmattan - a hot, dry, dust-laden wind that blows in from the Sahara Desert - affects the north of the Central African Republic. The south is prone to flooding during the rainy seasons. The Central African Republic is currently a war zone and a dangerous destination, but the best time to visit the country weather-wise is in the dry season, between December and March.
Passport
All documents must be valid on arrival. Visitors of 15 years and older not holding return/onward ticket require a deposit of between XAF 15,000 - and XAF 250,000.
Entry Requirements
Canadian
citizens require both a passport and a visa. All documents must be valid on arrival. Visitors of 15 years and older not holding return/onward ticket require a deposit of between XAF 15,000 - and XAF 250,000.
show more ...
Health
Malaria is a problem all over the Central African Republic and some form of prophylaxis is recommended for travel to all areas. A yellow fever vaccination is required for entry into CAR, for all travellers over nine months of age. Vaccinations are recommended for hepatitis A, hepatitis B, typhoid and meningococcus. It is also recommended that travellers be up to date on vaccinations for polio, MMR (measles, mumps, rubella) and tetanus-diphtheria. Those who will be spending a lot of time outdoors and may be at risk of animal bites should consider a rabies vaccination.
Cholera is one of the country's biggest health threats. Travellers should not drink tap water unless it has been boiled, filtered or chemically disinfected, and should avoid ice in beverages. Meals should be eaten while still hot and fruit and vegetables that have not been cooked or peeled should be avoided.
Medical facilities are extremely limited in the CAR; emergency services are unreliable and many medications are not available. Tourists should carry all required medications with them, in their original packaging, accompanied by a signed and dated letter from a doctor detailing what the medications are and why they are needed.
Safety
Travel safety in the Central African Republic is a major concern for all visitors. The country has essentially been a war zone since 2013, and reports of rebel activity, banditry and hostage-taking across the Central African Republic still occur today. The transitional government, established post March 2013, has had little success in establishing law and order, and criminal activity has increased hugely. The British Foreign Office and the US Department of State have warned their citizens against all travel to the country due to the indiscriminate violence, looting and crime which plagues it. The capital, Bangui, remains very dangerous, with a curfew in place from midnight to 4am, and numerous armed patrols and roadblocks in the city. Armed gangs operate in and around the city. Robbery and assault are unfortunately common occurrences. Travellers in the Central African Republic should exercise extreme caution, avoid walking or driving at night, and should carry no valuables. All political gatherings and street protests should be avoided as they are likely to become violent.
Emergency Phone Number
117 (General Emergency Helpline)
* For current safety alerts, please visit
Foreign travel advice - GOV.UK
or
Travel.State.Gov
Money
The Central African CFA franc (XAF) is the official currency of the Central African Republic. It is divided into 100 smaller units called centimes. CAR is largely a cash economy and credit cards are seldom accepted. There are virtually no ATMs in the country. Money can only be easily exchanged in big cities like Bangui and Berberati, and the process can be very expensive.
Exchange Rate
Not available.
Embassies of Central African Republic
Foreign Embassies in Central African Republic
Customers
The population of the Central African Republic is split relatively equally between Muslims and Christians and conservative dress is recommended in all areas, which entails covered thighs and shoulders for women. In rural areas it is customary for people to eat with their hands, but one should never eat, shake hands, or offer someone money with their left hand. Always ask permission before photographing a military or government building.
Business
The Central African Republic's economy has suffered in the recent unrest and it is thus now a poor country. A knowledge of French is essential, and those who can't speak the language fluently should hire an interpreter. Business cards should be in French and English. Meetings tend to be formal and lightweight suits are the norm. Office hours generally run from 7.30am to 3.30pm, Monday to Friday.
Tipping
Small tips are appreciated in the Central African Republic and tips of about 10 percent are customary for waitrons. Small tips are appreciated by hotel service staff.
Public Holidays in Central African Republic
| | | |
| --- | --- | --- |
| | 2017 | 2018 |
| National Prayer Day | 30 Jun | 30 Jun |
| New Years Day | 1 Jan | 1 Jan |
| Anniversary of the Death of Barthélemy Boganda | 29 Mar | 29 Mar |
| Easter Monday | 17 Apr | 2 Apr |
| Independence Day | 13 Aug | 13 Aug |
| Assumption | 15 Aug | 15 Aug |
| All Saints Day | 1 Nov | 1 Nov |
| National Day | 1 Dec | 1 Dec |
| Christmas Day | 25 Dec | 25 Dec |
Travel Guide powered by www.wordtravels.com, copyright © Globe Media Ltd. All rights reserved. By its very nature much of the information in this guide is subject to change at short notice and travellers are urged to verify information on which they're relying with the relevant authorities. Globe Media and UNIGLOBE Travel does not accept any responsibility for any loss or inconvenience to any person as a result of information contained above.