General
Money
Entry Requirements
Health & safety
Weather
Embassies
Etiquette
Public Holidays
Attractions
Map
---
Introduction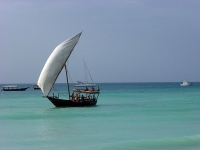 A Dhow off Comoros ©Matt Crypto
The islands of the Comoros do not receive the same attention and approbation as their island neighbours, which is surprising: they offer picture-perfect beaches, turquoise waters hemmed in by coral reefs, fantastic sunsets, and air scented with the tropical perfume of vanilla, nutmeg and ylang-ylang. A history of political instability has left the islands with one of the poorest and most undeveloped economies in the world, and since independence from France in 1975 the political atmosphere on the islands has been volatile, with something like 20 coups, but this instability seldom causes trouble for tourists.
Located almost halfway between the island of Madagascar and Mozambique, off the east coast of Africa, the archipelago constitutes four major islands that were formed by volcanic activity. Three of these islands form the Comoros, while the fourth, Maore (Mayotte), is part of France, choosing to remain under French rule after the other islands voted for independence. This divide in the archipelago has been the cause of many tensions, and despite being administered by France, the Federal Islamic Republic of the Comoros claims Mayotte as its own.
Of the Comoros islands, Ngazidja (Grand Comore) is the largest and the most westerly island, dominated by a large active volcano, Mount Karthala. It is also home to the capital of the Comoros, Moroni, which is a charming town with narrow winding streets in the old Arab Quarter and several beautiful mosques. The sparsely populated island of Mwali (Moheli) is the smallest in the group and the least developed, with pristine tropical forests and secluded beaches. The most spectacular island, the 'pearl of the Indian Ocean', is Nzwani (Anjouan), the archipelago's main producer of perfume essences including jasmine and ylang-ylang, and also the most populated island. Its ancient capital and seaport, Domoni, was a major trading centre in the 15th century along the mercantile routes of the Indian Ocean from Africa to Asia, which became obsolete with the opening of the Suez Canal in 1869.
The cessation of maritime trade, together with the shrinking demand of its major exports and economy mainstays, such as essential oils and spices, has resulted in these 'Perfumed Isles' becoming the 'Forgotten Islands' of the Indian Ocean. But the islands offer a fantastic holiday for those seeking a destination where nature and scenery hold the biggest appeal: there is superb diving in an underwater wonderland of corals and fish, a variety of animal and bird life that is unique to the islands, and diverse terrain from volcanic craters to undisturbed beaches to explore.
Communications
The international dialling code for the Comoros is +269. The outgoing code is 00 followed by the relevant country code (e.g. 0027 for South Africa). International calls made within the country require operator assistance. There is limited cell phone coverage, but this is growing. The Societe Nationale des Telecommunications provides a GSM 900 network. Internet access is scarce. A few hotels provide internet.
Emergencies
17 (Police), 18 (Fire)
Languages Spoken
French, Arabic and Comorian are the official languages.
Duty Free
Passengers of 18 years and older can bring 400 cigarettes or 100 cigars or 500g tobacco, one bottle of alcohol and one bottle of perfume without paying customs duty.
Electricity
Electrical current is 220 volts, 50Hz. Round two-pin plugs are most common.
Climate Info
The Comoros enjoys a tropical climate dominated by two major seasons; a cool dry season between May and October and a warm, humid season between November and April. The rainy season, November to April, sees the highest temperatures, and the most tropical cyclones; the wettest month of the year is January when between 11 and 14 inches (275mm to 375mm) of rain falls. Rainfall and temperature vary from island to island, but generally temperatures average from 78°F to 86°F (26°C to 29°C) in the wet season and about 66°F (19°C) from May to October. The weather in Comoros is fairly pleasant all year, even when it is wet, but for a beach holiday the best time of year to visit Comoros is in the cool, dry season. The best months for missing the heat, humidity and rain are August, September and October.
Passport
Return or onward air tickets and all necessary documents for the next destination are required. We recommend that passports be valid for six months after intended period of travel.
Entry Requirements
Canadians
require a passport valid for at least six months from date of arrival, and a visa to enter the Comoros Islands. Visas can be obtained on arrival for a maximum stay of 45 days.
show more ...
Health
There is a risk of malaria throughout the year, and dengue fever outbreaks occur. Travellers should protect themselves against insect bites as far as possible and take a malaria prophylaxis. No vaccinations are required to visit Comoros but vaccinations for hepatitis A, hepatitis B, and typhoid are recommended. If you are spending a lot of time outdoors where you may be exposed to wild animals then a rabies vaccination might be worthwhile. Visitors should drink bottled or boiled water as a preventative measure. Medical facilities are limited and medications may not be available. Travellers are advised to bring their own personal medical kit, all required medications, and to take out comprehensive travel insurance.
Safety
The islands are relatively crime-free, but visitors should be aware that muggers and pick-pockets will target those who look like they are carrying valuables. It is not advisable to walk around alone at night, particularly in the town centres. Cyclones are possible between January and April, and Le Kartala volcano on Ngazidja is active and erupts periodically. It is advisable to check on the situation before visiting that part of the island. Foreign governments have issued warnings relating to the unstable political situation and it is a good idea to check up on current travel alerts before travel to Comoros. All political demonstrations and street protests should be avoided.
Emergency Phone Number
17 (Police), 18 (Fire)
* For current safety alerts, please visit
Foreign travel advice - GOV.UK
or
Travel.State.Gov
Money
The official currency is the Comoros Franc (KMF), which is divided into 100 centimes. Its value is tied to the Euro and many major tourist establishments accept Euros as payment. In towns, foreign currency can be exchanged at banks on Grande Comore (Ngazidja), but banking facilities are limited on the other islands. Banks are open on weekday mornings only, from 7am to 12pm. The acceptance of credit cards is limited to a few upmarket hotels.
Exchange Rate
Not available.
Embassies of Comoros
Comoros Embassy, New York, United States (also responsible for Canada): +1 212 750 1637.
Foreign Embassies in Comoros
United States Embassy, Antananarivo, Madagascar (also responsible for Comoros): +261 20 23 480 00.
British High Commission, Port Louis, Mauritius (also responsible for Comoros): +230 202 9400.
Canadian High Commission, Dar es Salaam, Tanzania (also responsible for Comoros): +255 22 216 3300.
Australian High Commission, Port Louis, Mauritius (also responsible for Comoros): +230 202 0160.
South African High Commission, Moroni: + 269 7 73 4783.
Customers
The islands of the Comoros are largely Muslim and visitors should respect local traditions and sensitivities, especially during the month of Ramadan. Women in particular are advised to dress conservatively, covering shoulders and legs when away from the beach and their hotels.
Business
The slow pace of island life is a typical aspect of doing business in the Comoros, where nothing happens too quickly or professionally (French Mayotte is more Western in its approach to punctuality and efficiency). Business dress is tidy but fairly casual, although, as it is an Islamic country, women are expected to dress conservatively. Women are traditionally subservient to men and do not generally hold key positions in business in the Comoros, so visiting businesswomen may find that they are not treated with the same respect as their male counterparts. Business is usually conducted in French, and sometimes in Arabic, but few people speak English. Business hours are generally 7:30am to 2:30pm Monday to Thursday (with some businesses staying open to 5:30pm), Fridays until 11am (Islamic holy day), and Saturdays from 7:30am until 12pm. During the holy month of Ramadan very little business is conducted.
Tipping
Tips of 10 percent are appreciated for good service.
Public Holidays in Comoros
| | | |
| --- | --- | --- |
| | 2017 | 2018 |
| Labour Day | 1 May | 1 May |
| Isra and Miraj | 24 Apr | 13 Apr |
| New Years Day | 1 Jan | 1 Jan |
| Eid al-Fitr (End of Ramadan) | 26 Jun | 15 Jun |
| Eid Al-Adha (Feast of Sacrifice) | 2 Sep | 22 Aug |
| Islamic New Year | 22 Sep | 11 Sep |
| Ashura | 1 Oct | 20 Sep |
| Christmas Day | 25 Dec | 25 Dec |
| Birth of the Prophet | 1 Dec | 21 Nov |
Map of Comoros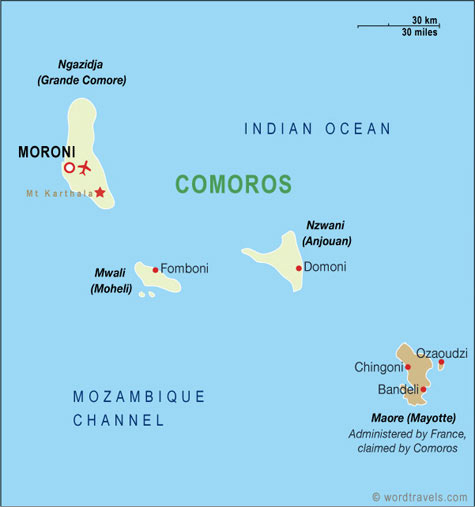 Travel Guide powered by www.wordtravels.com, copyright © Globe Media Ltd. All rights reserved. By its very nature much of the information in this guide is subject to change at short notice and travellers are urged to verify information on which they're relying with the relevant authorities. Globe Media and UNIGLOBE Travel does not accept any responsibility for any loss or inconvenience to any person as a result of information contained above.