General
Money
Entry Requirements
Health & safety
Weather
Embassies
Etiquette
Public Holidays
Attractions
Map
---
Introduction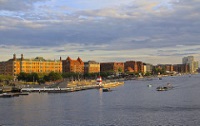 Denmark ©james j8246
Best known for its large dogs and Viking warriors, Denmark is a small, prosperous and highly functional kingdom in northern Europe that is often overlooked by travellers on their 'grand tour', although it has one of the highest standards of living in the world and plenty of charming experiences to offer visitors.
Denmark is almost totally surrounded by water, consisting as it does of the Jutland Peninsula and 482 islands. Its only land border is with Germany. The country's capital city, lovely and lively Copenhagen, occupies the biggest of the offshore islands. With all the water it is not surprising that Denmark is very reliant on shipping and fishing; the country also has an important agricultural sector, though, and is famed in particular for its dairy products. Lovers of butter and cheese will enjoy a taste of Denmark!
Denmark boasts small green farms, blue lakes and white coastal beaches; the rural areas are sprinkled with thatched cottages, castles and windmills across a gentle landscape which lends itself to cycle touring. The cities are modern and bustling, but an air of medieval charm has been preserved in old sections of colourful buildings and cobblestone streets. The country boasts nearly 300 museums, most of the important ones in Copenhagen, as well as the Viking Ship Museum in Roskilde that is devoted to honouring Denmark's bold ancient mariners.
Other notable attractions for travellers include the annual summer music festival in Roskilde, which is one of the largest in Europe; the Tivoli Gardens amusement park which has entertained crowds in Copenhagen since 1843; and one of the world's longest bridges, which spans 10 miles (16km), joining Denmark to Sweden.
The country is compact, with an excellent road and rail transport system, and numerous ferry connections to the myriad offshore islands. It all adds up to a very civilised destination, as sweet and tempting as the rich, flaky pastry treat that the world has come to know as the 'Danish'.
Communications
The international country code for Denmark is +45. There are several GSM mobile telephone networks, which have roaming agreements with most international mobile phone companies. Public phones are widely available for both local and international calls and accept coins and prepaid cards. Internet cafes are available in most urban areas.
Emergencies
112 (General)
Languages Spoken
Danish is the official language, but English is understood and widely used.
Duty Free
Travellers arriving from an EU country with duty-paid goods purchased in an EU country are allowed 800 cigarettes, 400 cigarillos, 200 cigars or 1 kilogram of tobacco, and 10 litres of spirits. Residents of non-EU countries entering from outside the EU with goods purchased in non-EU countries, duty-free in EU countries or on the airplane, ferry or in the airport are allowed 200 cigarettes, 100 cigarillos, 50 cigars or 250 grams of tobacco, as well as 1 litre of spirits or 2 litres of sparkling wine.
Electricity
Electrical current is 230 volts, 50Hz. Round European-style, two-pin plugs are standard.
Climate Info
Despite its northerly situation, the weather in Denmark is not extreme, although its maritime situation and the influence of the Gulf Air Stream does make the climate unstable. Winter weather in Denmark is usually cold and overcast, with the possibility of snowfall between January and March; however, Denmark actually does not get that much snow. Summers (June to August) are relatively warm and sunny. Average temperatures in Copenhagen range from 27°F (-3°C) in midwinter to 72°F (22°C) in mid-summer. Rainy days are common all year round, but the wettest months in Denmark are August, September and October, so anyone planning to travel to Denmark during that time is advised to pack an umbrella. It is worth noting though, that this coastal country can be wet and windy at any time of year. There is not a great variation in temperatures between night and day in Denmark. Winter days get far fewer daylight hours than summer days, which are long. Early summer is the best time to visit Denmark; the month of June is particularly lovely because that is when the days are longest and the weather at its most pleasant.
Passport
The borderless region known as the Schengen Area includes the following countries: Austria, Belgium, Czech Republic, Denmark, Estonia, Finland, France, Germany, Greece, Hungary, Iceland, Italy, Latvia, Liechtenstein, Lithuania, Luxembourg, Malta, The Netherlands, Norway, Poland, Portugal, Slovakia, Slovenia, Spain, Sweden and Switzerland. All these countries issue a standard Schengen visa that has a multiple entry option, and which allows the holder to travel freely within the borders of all the aforementioned countries. Additionally, travellers to Denmark must hold proof of the following: (i) return or onward tickets, with confirmed reservations; (ii) the required documentation for the next destination; (iii) visible means of support (at least USD 30 or DKK 300) per day of stay in Denmark. NOTE: It is highly recommended that your passport has at least six months validity remaining after your intended date of departure from your travel destination. Immigration officials often apply different rules to those stated by travel agents and official sources.
Entry Requirements
Canadian
citizens must have a passport valid for at least three months beyond period of intended stay (the document cannot be more than 10 years old). No visa is required for a stay of up to 90 days in a six-month period.
show more ...
Health
There are no specific health risks in Denmark, and medical facilities are first class. No vaccinations are required. There is a small risk of tick-borne encephalitis in forested or rural areas during summer, and insect protection is advised. Free emergency treatment is available to all foreign visitors at public hospitals, and due to a reciprocal health agreement UK passport holders receive free medical and hospital treatment. To make use of this service, UK nationals should carry a European Health Insurance Card (EHIC).
Safety
Most visits to Denmark are trouble-free, and crime levels are low. During the tourist season, however, opportunistic muggers, pickpockets and bag-snatchers do become active, especially in crowded areas and at train stations and bus stops. Visitors should take precautions to keep personal belongings safe.
Emergency Phone Number
112 (General)
* For current safety alerts, please visit
Foreign travel advice - GOV.UK
or
Travel.State.Gov
Money
Danish currency is the Krone (DKK), made up of 100 ore. ATMs are liberally sprinkled throughout the country, and all major credit cards are widely accepted, especially Visa. Most banks are not open on weekends but Copenhagen has several bureaux de change which stay open late at night, seven days a week.
Exchange Rate
Not available.
Embassies of Denmark
Royal Danish Embassy, Washington DC, United States: +1 202 234 4300.
Royal Danish Embassy, London, United Kingdom: +44 (0)20 7333 0200.
Royal Danish Embassy, Ottawa, Canada: +1 613 562 1811.
Royal Danish Embassy, Canberra, Australia: +61 (0)2 6270 5333.
Royal Danish Embassy, Pretoria, South Africa: +27 (0)12 430 9340.
Royal Danish Embassy, Dublin, Ireland: +353 (0)1 475 6404.
Royal Danish Consulate General, Auckland, New Zealand: +64 (0)9 537 3099.
Foreign Embassies in Denmark
United States Embassy, Copenhagen: +45 3341 7100.
British Embassy, Copenhagen: +45 3544 5200.
Canadian Embassy, Copenhagen: +45 3348 3200.
Australian Embassy, Copenhagen: +45 7026 3676.
South African Embassy, Copenhagen: +45 3918 0155.
Irish Embassy, Copenhagen: +45 35 47 3200.
New Zealand Consulate General, The Hague (also responsible for Denmark): +31 70 346 9324.
Customers
Denmark is an egalitarian society. Women and men are treated equally.
Business
Business in Denmark tends to be conducted in a straightforward manner, though somewhat less formally than in some other parts of Europe. Greetings are made with a handshake (greet women first) and introductions are usually made using one's first name. Business cards are exchanged before or after the meeting. Punctuality is vital and if running even five minutes late be sure to call and apologise. Danes tend to be open-minded and friendly and one can expect some small talk at the start of a meeting on a range of topics. Dress should be smart and neat, without being ostentatious. English is widely spoken and understood. Business hours are usually 9am to 5pm Monday to Friday. In the summer months (June to August) some Danes are on vacation, so check before arranging a business trip.
Tipping
Restaurant and hotel bills are inclusive of service charges, as are taxi fares. Porters usually expect a tip of about DKK 5 per item of baggage. Tipping bathroom attendants is customary, usually around DKK 1 or 2.
Public Holidays in Denmark
| | | |
| --- | --- | --- |
| | 2017 | 2018 |
| Whit Sunday | 4 Jun | 20 May |
| New Years Day | 1 Jan | 1 Jan |
| Good Friday | 14 Apr | 30 Mar |
| Maundy Thursday | 13 Apr | 29 Mar |
| Easter Sunday | 16 Apr | 1 Apr |
| Easter Monday | 17 Apr | 2 Apr |
| General Prayer Day | 12 May | 27 Apr |
| Ascension Day | 25 May | 10 May |
| Constitution Day | 5 Jun | 5 Jun |
| Christmas Eve | 24 Dec | 24 Dec |
| Christmas Day | 25 Dec | 25 Dec |
| Boxing Day | 26 Dec | 26 Dec |
| Whit Monday | 5 Jun | 21 May |
Overview
From the interesting and diverse coastline made up of miles of unspoilt sandy beaches, fjords and small coves, to the lake districts, rolling hills and gentle valleys dotted with windmills, Denmark offers many wonderfully unique sightseeing opportunities. Gazing upon the many old castles, picturesque cobblestoned villages and towns, and quaint traditional architecture, there's no need to guess where Hans Christian Andersen got his inspiration for his world famous fairy tales.
Take a week to cycle through the beech woods in the countryside, spend a day out in the Tivoli Gardens amusement park in Copenhagen, explore the sleepy medieval villages, or jump aboard a ferry to explore the islands and marvel at the awesome bridges, such as the 10-mile (16km) Oresund link to Sweden. With such a huge coastline and emphasis on fishing, sampling some of the fresh seafood in the country is also an absolute must, as is a visit to the Viking Ship Museum that is devoted to honouring Denmark's bold ancient mariners.
Denmark is small and boasts an excellent road and rail transport system, and numerous ferry connections to the myriad offshore islands. Another great way to see the country and get a real feel for it is by bicycle.
From Vikings and large dogs to pastries and dairy, the charming and hospitable kingdom of Denmark offers visitors an exciting and unforgettable experience.
Map of Denmark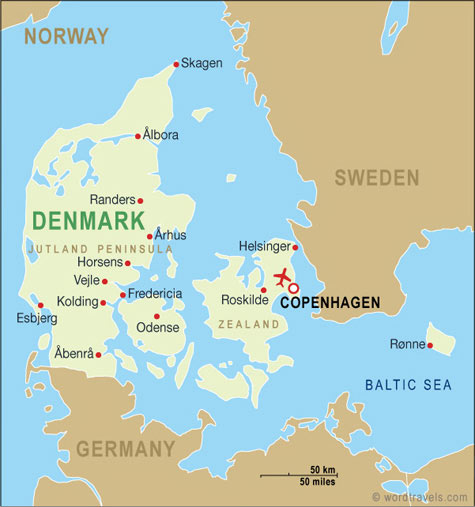 Travel Guide powered by www.wordtravels.com, copyright © Globe Media Ltd. All rights reserved. By its very nature much of the information in this guide is subject to change at short notice and travellers are urged to verify information on which they're relying with the relevant authorities. Globe Media and UNIGLOBE Travel does not accept any responsibility for any loss or inconvenience to any person as a result of information contained above.