General
Money
Entry Requirements
Health & safety
Weather
Embassies
Etiquette
Public Holidays
Attractions
Map
---
Introduction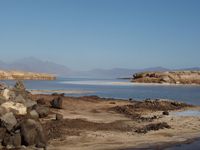 Lake Assal ©Fishercd
Djibouti is a small and easily overlooked country seated on the rim of Africa's horn - a much frequented pit-stop for vessels passing in and out of the Red Sea, but not much ventured into by the average tourist. This is unfortunate because Djibouti has some rare qualities that abundantly reward the intrepid visitor, with plenty of adventure sports to try and unusual landscapes to explore.
Large parts of the country's interior sit within the Afar Depression, a region lying 500 feet (155m) below sea level that is rich in ancient fossils and one of the hottest places on Earth, with temperatures reaching 118°F (48°C). Lake Assal, 75 miles (120km) south of Djibouti City, is the lowest point in Africa and the water steams at an unswimmable 93°F (34°C). The pressure underneath fissures around the lake cause fantastic plumes of steam to hiss out of the surrounding plateau.
Most of the country is desert with no arable land, crops, irrigation or forest. The interior is mountainous in the centre, filtering down to the coastal plain on the east and the arid plateau in the west. Any ventures into the interior have to be conducted in a 4x4 vehicle. If you want to get out of Djibouti City but not travel too far, the beaches at Doralé and Khor-Ambado provide warm waters to swim in and exotic marine life with which to dive. Two thirds of the 700,000 citizens live in the capital of Djibouti City, while the rest live just as residents of the country have for centuries - as nomadic herders.
There is no industry in the city, or the country, but a large informal market economy thrives. For visitors looking to spend a few hours in the city, the Central Market, the Stade du Ville (national stadium), Presidential Palace and Hamouli Mosque are all worthwhile stops. But getting around is not cheap; the lack of infrastructure and regulation means that a taxi may overcharge heavily for a ride. Unlike the country's neighbours Ethiopia and Eritrea, Djibouti enjoys political stability and a relatively safe atmosphere. The British Foreign Office advises against all travel near the border with Eritrea, but otherwise Djibouti is a peaceful and unique land to visit.
Emergencies
17 (Police); 19 (Ambulance); 18 (Fire)
Languages Spoken
Arabic and French are the official languages of Djibouti, but the majority of locals speak either Somali or Afar.
Duty Free
Visitors to Djibouti must declare all currency and firearms on arrival and departure. One litre of alcoholic beverages can be imported into Djibouti without incurring customs duty. Weapons, drugs and pornography are strictly prohibited.
Electricity
Electrical outlets in Djibouti usually supply electricity at 220 volts, and 50Hz. European two-pin plugs with round pins are standard.
Climate Info
Djibouti has an arid climate and is hot year-round with lots of sunshine and not much rain. Most of the country is desert, ranging from the semi-arid to the arid, although the Goda Mountains have a cooler, milder climate than the rest of the country. Between May and September Djibouti is swelteringly hot, with temperatures averaging a whopping 104°F (40°C), and sometimes reaching highs of 113°F (45°C). Humidity levels are also high during this period, adding considerably to the discomfort. The cooler season, which is also the rainy season, runs from mid-October to mid-April, when temperatures average a far more comfortable 77°F (25°C). Rain showers are occasional and not too disruptive to travel - in fact they are refreshing - but some fog and cloud cover should be anticipated during the rainy season. Djibouti gets plenty of sunshine year-round, however, with an average of eight to ten hours of sun every day.
The best time of year to visit Djibouti is in the cooler, rainy season between November and April, as the dry season is uncomfortably hot. The month to avoid is July, which is not only swelteringly hot but also plagued by hot desert winds.
Passport
Nationals of any country can obtain a visa on arrival in Djibouti, for a fee. Visas obtained on arrival are usually valid for up to one month, but immigration officials may grant a longer or shorter stay. It is advisable to arrange a visa in advance as relying on getting one on arrival is risky. All travellers must hold: (i) return or onward tickets; (ii) required entry documentation for their next destination; (iii) sufficient funds to cover their stay in Djibouti or a voucher if travelling in an organised tour. NOTE: It is highly recommended that your passport has at least six months validity remaining after your intended date of departure from your travel destination. Immigration officials often apply different rules to those stated by travel agents and official sources.
Entry Requirements
Canadian
citizens require a passport valid for six months beyond arrival in Djibouti. A visa is required and can be issued on arrival at the airport but it is advisable to arrange a visa prior to travel when possible.
show more ...
Health
Malaria is a problem in Djibouti and some form of prophylaxis is recommended for all travellers in all areas. A yellow fever vaccination is required to enter Djibouti for all travellers arriving from yellow fever areas. Vaccinations are recommended for hepatitis A, hepatitis B and typhoid. Those planning to spend a lot of time outdoors who may be at risk of animal bites should consider a rabies vaccination as well. Visitors should be up to date on vaccinations for polio, MMR (measles, mumps, rubella) and tetanus-diphtheria.
Travellers should not drink tap water in Djibouti unless it has been boiled, filtered or chemically disinfected, and should avoid ice in beverages. Don't eat fruit and vegetables unless they have been cooked or peeled, and eat all cooked meals while still hot.
Medical facilities are extremely limited in Djibouti, even in the capital city, and visitors should ensure that they have comprehensive travel insurance. As the availability of medicine is limited visitors should take along any medication they may need, in its original packaging and accompanied by a signed and dated letter from a doctor detailing what the medicine is and why it is needed.
Safety
The UK Foreign Office advises against all travel to the border area between Eritrea and Djibouti, but otherwise the country is considered comparatively safe. There is an underlying threat of terrorism spilling over from neighbouring countries and some threats have been made by terrorist groups in the region, but no significant terrorist attacks targetting foreigners have occurred. Petty, opportunistic crimes like bag-snatching and pickpocketting are fairly common in Djibouti City and tourists should exercise caution in crowded areas and should not carry valuables. Violent crimes against foreigners are rare. Street protests in the capital are also rare but can become violent when they do occur and should be avoided by visitors. Seaborne travel along the coast of Djibouti is very dangerous as piracy is common.
Emergency Phone Number
17 (Police); 19 (Ambulance); 18 (Fire)
* For current safety alerts, please visit
Foreign travel advice - GOV.UK
or
Travel.State.Gov
Money
The Djiboutian franc (DJF) is the official currency of Djibouti. The franc is divided into 100 centimes. There are several banks in Djibouti City and a few authorised bureaux de change, but credit cards are seldom accepted and there are only a handful of ATMs in the city, which are frequently out of order and can't be relied on. Outside of the capital banking facilities are pretty much nonexistent.
Exchange Rate
Not available.
Embassies of Djibouti
Consulate of Djibouti, Johannesburg, South Africa: +27 (0)11 719 9111.
Foreign Embassies in Djibouti
US Embassy, Djibouti City, Djibouti: +253 (0)21 453 000.
Customers
Customs and culture in Djibouti are reserved and formal: women should maintain modest dress at all times, with their shoulders and thighs covered, and ankle length pants or skirts if visiting a mosque. Always address those older than you with respect.
Tipping
Tips are not always expected in Djibouti, but they are appreciated. Restaurants tend to add a 10 percent service charge to bills, making tipping unnecessary, but waitrons, hotel service staff and taxi drivers will appreciate small amounts for good service.
Public Holidays in Djibouti
Travel Guide powered by www.wordtravels.com, copyright © Globe Media Ltd. All rights reserved. By its very nature much of the information in this guide is subject to change at short notice and travellers are urged to verify information on which they're relying with the relevant authorities. Globe Media and UNIGLOBE Travel does not accept any responsibility for any loss or inconvenience to any person as a result of information contained above.