General
Money
Entry Requirements
Health & safety
Weather
Embassies
Etiquette
Public Holidays
Attractions
Map
---
Introduction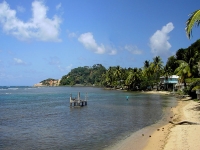 Calibishie, Dominica ©Hans Hillewaert
Dominica was once one of the British Windward Islands, situated between Guadeloupe and Martinique in the Caribbean. Tourism has recently exploded on the island, which is increasingly popular as a stop for cruise ships, particularly since it became the setting for the hit movie franchise Pirates of the Caribbean. Don't come to Dominica for the typical Caribbean sandy beaches, though. The coastline is dramatic and rugged, with steep cliffs plunging into the sea. Never mind, because on this volcanic island nature has traded white powdery beaches for other treasures, like thick forests, magnificent waterfalls and gushing rivers. Offshore there is a wondrous world for scuba divers with diverse sloping reefs, pinnacles, walls and underwater hot springs to explore.
Many of those who come ashore from cruise liners have only a day to take in the delights of Dominica, which is certainly not enough for all the activities and excursions on offer. There is the fascinating 'Boiling Lake' in the Morne Trois Pitons National Park, tubing down the Layou River, snorkelling among the tropical fish at 'Champagne' (where volcanic fissures make the water bubble), hiking through the forest, plunging into the green depths of the Emerald Pool, riding an aerial tram through the rain forest canopy, or watching a live folklore show, to name just a few of the diversions to be enjoyed.
This unspoilt tropical paradise does not offer luxury resorts and high-rise hotels, but is rather designed for those who want to take a break and relax in cliff-top villas, small mountain spas, guesthouses and apartments. At the same time the island is equipped with all the modern conveniences, including good communications infrastructure, banks and numerous restaurants, usually run by local families, in which to sample the delicious local West Indian cuisine. Those brave enough might like to tuck into traditional favourites like stewed opossum, or 'mountain chicken' (which is actually a large frog), which can be washed down with some hearty coconut rum punch.
Communications
The international access code for Dominica is +1, in common with the US, Canada and most of the Caribbean, followed by 767. Telephone services are excellent and there are public telephones. Calling cards can be purchased from a variety of local shops and the post office. A GSM 850/900/1900 network is in operation and unregistered roaming is available for credit card holders. Handsets can be hired. There are internet cafés in Roseau and wifi available at some hotels. The main post office is in Roseau.
Emergencies
Emergencies: 999 (police and ambulance).
Languages Spoken
English is the official language. The local people speak a Creole patois.
Duty Free
Items that may be brought into Dominica without incurring customs duty are 200 cigarettes or 50 cigars, and 2 litres of alcohol. Any other goods or appliances for personal use are allowed.
Electricity
Electrical current is 230 volts, 50Hz. The United Kingdom style plug with three flat pins is used. Round three-pin plugs are also used.
Climate Info
Dominica's tropical climate means there is plenty of sunshine, humidity and heat all year round; the island has an average year-round temperature of 81°F (27°C) and the seasons are not very distinct, with little temperature variation. The hot days are interspersed with an abundance of frequent rain showers. The rain is not all bad though, dampening the often intense heat and nourishing the island's extensive rainforest. It is drier on the coast. The island is very susceptible to tropical storms and hurricanes, usually between June and November.
The jury is out on the best time to visit Dominica: some say the best months are February and May, which are safely out of the hurricane season and experience less rain, but can be very hot and humid; others insist that despite the dangers of hurricanes the best time to holiday in Dominica is between October and December when the days are slightly cooler and less humid (and it is cheaper). It seems that to accommodate both opinions, a December holiday may be ideal. Essentially, Dominica is a year-round holiday destination but most would prefer to avoid the risky hurricane season.
Passport
All visitors require a return or onward ticket, entry documents for their next destination, and sufficient funds to cover their stay in Dominica. As part of the Western Hemisphere Travel Initiative (WHTI), all travellers going between the United States and Canada, Mexico, Bermuda, and the Caribbean region are required to present a passport or other valid travel document to enter or re-enter the United States. If departing from the USA, a valid passport will be required by immigration authorities. A yellow fever vaccination certificate is required, if arriving in Dominca within six days of leaving or transiting through an infected area. NOTE: It is highly recommended that your passport has at least six months validity remaining after your intended date of departure from your travel destination. Immigration officials often apply different rules to those stated by travel agents and official sources.
Entry Requirements
Canadian
citizens require a passport valid upon arrival in Dominica. No visa is required for a stay of up to six months.
show more ...
Health
Hepatitis A and hepatitis B vaccinations are recommended for visitors to Dominica, and a yellow fever vaccination is compulsory for entry for those coming from an infected area. For those travellers who will be eating and drinking outside of hotels and restaurants a typhoid vaccination should be considered. Dengue fever is on the increase and visitors should take precautions against mosquito bites. There is a high prevalence of HIV/AIDS. Medical facilities on the island are limited, so health insurance with evacuation cover is recommended. There is no decompression chamber in Dominica, meaning that scuba divers with decompression illness will need to be treated elsewhere. It is advisable to bring any personal medications you may need with you; make sure you have all the necessary documents from your doctor to get the medication through customs. Food and drinks are safe to consume in hotels and restaurants, but it is preferable to drink bottled water.
Safety
Visits to Dominica are usually trouble-free. There are some instances of petty theft, so it is wise to take sensible precautions with money and valuables.
Emergency Phone Number
Emergencies: 999 (police and ambulance).
* For current safety alerts, please visit
Foreign travel advice - GOV.UK
or
Travel.State.Gov
Money
The official currency of Dominica is the East Caribbean Dollar (XCD), which is fixed to the US Dollar. US Dollars, the Euro and the British Pound are also commonly accepted on the island, but change is usually given in EC Dollars. Money can be exchanged at major hotels and banks. Banks open from 8am to 2pm Monday to Thursday, and 8am to 4pm on Friday. Major credit cards are accepted by most businesses, except small vendors. There are several ATMs attached to banks in the capital, Roseau, which dispense EC Dollars.
Exchange Rate
Not available.
Embassies of Dominica
Embassy of Dominica, Washington DC, United States: +1 202 364 6781.
High Commission of Dominica, London, United Kingdom: +44 20 7370 5194.
Consulate General, Toronto, Canada: +1 416 369 0403
Foreign Embassies in Dominica
United States Embassy, Bridgetown, Barbados (also responsible for Dominica): +1 246 227 4000.
British Consulate, Roseau: +1 767 255 3116.
Canadian Embassy, Bridgetown, Barbados (also responsible for Dominica): +1 246 429 3550.
South African High Commission, Kingston, Jamaica (also responsible for Dominica): +1 876 620 4840.
Customers
The friendly islanders appreciate having their smiles and greetings returned, and prefer to have revealing outfits confined to the beach or poolside. Nudity on beaches is not acceptable, and nor is haggling at the markets. It is an offence to wear camouflage clothing.
Business
Business dress is smart, and meetings are formal. Office hours are Monday to Friday 8am to 4pm with a lunch break between 1pm and 2pm.
Tipping
A 10 percent service charge is usually added by hotels and restaurants, but if it has not been added a discretionary tip of between 10 to 15 percent is acceptable for good service. Taxi drivers do not expect tips.
Public Holidays in Dominica
Travel Guide powered by www.wordtravels.com, copyright © Globe Media Ltd. All rights reserved. By its very nature much of the information in this guide is subject to change at short notice and travellers are urged to verify information on which they're relying with the relevant authorities. Globe Media and UNIGLOBE Travel does not accept any responsibility for any loss or inconvenience to any person as a result of information contained above.