General
Money
Entry Requirements
Health & safety
Weather
Embassies
Etiquette
Public Holidays
Attractions
Map
---
Introduction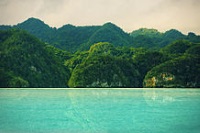 Los Haitises Park ©Anton Bielousov
There are two sides to the Dominican Republic, just like there are two sides of the Caribbean island of Hispaniola, which the Dominican Republic shares with neighbouring Haiti. On one side, tourists languish in luxury inside the confines of the many resort hotels along the beautiful coastline, sipping cocktails under the palm trees and bathing in beautiful blue lagoons.
The other face of the Dominican Republic can be found along the country roads, among the sugar cane, coffee and cocoa bean fields, where people labour in the sun and men play dominoes outside tumble-down shacks. For the local people (there are 8.5 million inhabitants of this well-populated part of Hispaniola), tourism is an important source of income, and the thousands of visitors who come to enjoy the resorts and to explore the Spanish Colonial legacy in this country 'where America began', are warmly welcomed.
The South Coast contains some of the country's bigger cities and national parks. The capital, Santo Domingo, was the first Spanish settlement in the Americas. Christopher Columbus initiated the first European New World settlement here in 1496. His legacy is preserved in the bricks and mortar of the historic old section of Santo Domingo, which has been turned into an entertaining and interesting Colonial 'theme park'.
The other tourist spots in the Dominican Republic are the northern Amber Coast region around Puerta Plata, the beautiful Samana Peninsula, and the resort communities of the east coast, where stretches of pristine tropical beach have been bought and developed into all-inclusive resorts. However, those who take the trouble to explore a little behind the scenes will find plenty of unspoilt tropical paradise off the beaten track in the Dominican Republic, and locals ready and willing to offer warm hospitality.
Communications
The international access code for the Dominican Republic is +1, as with the US, Canada and most of the Caribbean, followed by 809 or 829. The outgoing code is 011 followed by the relevant country code (e.g. 01144 for the UK) but this is not required for calling North America. Local mobile phone operators use GSM networks and have roaming agreements with most major international operators. Direct international calls can be made from numerous telecommunications centres located in all towns and cities. Internet cafes are available in the main towns and resorts.
Emergencies
911 (General Emergency Helpline)
Languages Spoken
Spanish is the official language, but English is spoken in the main tourist centres.
Duty Free
Travellers to the Dominican Republic over 16 years do not have to pay duty on 200 cigarettes or 1 box cigars; 1 bottle of alcohol, unopened and maximum of 2 litres; and up to 2 bottles of perfume for personal use. All animal products are prohibited.
Electricity
Electrical current is 120 volts, 60Hz. American-style two-pin flat blade plugs are standard.
Climate Info
The Dominican Republic is hot and tropical, with little seasonal variation in temperatures, which average about 77°F (25°C). Seasons can, however, be determined by rainfall, with October to April being the rainy season on the north coast, while May to November is the wettest month in the south of the country. The driest area is the west. Cooler temperatures and less humidity are generally experienced between November and April, while the mountainous interior is always cooler than the rest of the country.
Hurricanes occur on average once every two years on the island, most striking the south of the country and most happening in August and September. The busiest time of year to visit the Dominican Republic is between December and April when North Americans take a tropical break from their winters, and from June to September, which coincides with European summer holidays.
Passport
In lieu of visas, Tourist Cards can be issued on-arrival to certain nationals, at a cost of USD 10 for a stay of 30 days. Extensions are possible. A return or onward ticket is required by all visitors, as well as the travel documentation needed for their next destination. As part of the Western Hemisphere Travel Initiative (WHTI), all travellers going between the United States and Canada, Mexico, Bermuda, and the Caribbean region are required to present a passport or other valid travel document to enter or re-enter the United States. If departing from the USA, a valid passport will be required by immigration authorities.
NOTE: It is highly recommended that your passport has at least six months validity remaining after your intended date of departure from your travel destination. Immigration officials often apply different rules to those stated by travel agents and official sources.
Entry Requirements
Canadian
citizens must have a passport valid for period of intended stay in the Dominican Republic. A visa is not required, provided that visitors obtain a Tourist Card on arrival; these are generally valid for 30 days but can be extended.
show more ...
Health
No vaccination certificates are required but precautions are recommended against Hepatitis A, typhoid, rabies and polio for those who plan to spend time outside the main tourist resort areas. There is a malaria risk throughout the year. Between May and September there is a risk of dengue fever, which is contracted from mosquitoes that bite during the day. It is advisable to use mosquito repellent. Travellers should be aware of the high prevalence of the HIV/AIDS virus in the Dominican Republic and take the relevant precautions. Water should be regarded as being potentially contaminated in undeveloped areas; bottled water is available. Some species of fish, including tropical reef fish, may be poisonous to eat even when well cooked. There are good hospitals and other private medical facilities located in Puerto Plata, Santiago and Santo Domingo, but outside of these cities facilities are limited, and staff are unlikely to understand English. Most resorts have doctors that can treat minor medical complaints. Health insurance, including provision for medical evacuation, is recommended.
Safety
Due to the recent unrest in neighbouring Haiti and the ongoing unpredictability of the security situation, it is inadvisable to travel across the border to Haiti. There is a low terrorism risk and incidences of violent crime are infrequent. Visitors should take normal precautions against petty crime, however. The Dominican Republic is vulnerable to hurricanes from June to November.
Emergency Phone Number
911 (General Emergency Helpline)
* For current safety alerts, please visit
Foreign travel advice - GOV.UK
or
Travel.State.Gov
Money
The currency is the Dominican Republic Peso (DOP), divided into 100 centavos. Many of the hotels and restaurants in the main tourist destinations display their prices in US dollars as well as in Dominican Pesos, as US dollars are widely accepted and some places will also accept Euros. The peso cannot be exchanged outside of the Dominican Republic. Major currencies can be converted into pesos at Central Bank approved bureaux; only a small percentage of the pesos bought can be re-converted and this only if the original receipts are produced, so it is best not to buy more pesos than you are likely to need.
Major credit cards are accepted everywhere, but a commission is usually charged and it is recommended that you only use your credit card at your hotel as fraud incidents have been reported. The best exchange rates are paid on US dollars in cash and are best exchanged at exchange bureaux (casas de cambio). Banking hours are Monday to Friday, 8.30am to 4.30pm; some banks also open on Saturdays. ATMs are widespread.
Exchange Rate
Not available.
Embassies of Dominican Republic
Embassy of the Dominican Republic, Washington DC, United States: +1 202 332 6280.
Embassy of the Dominican Republic, London, United Kingdom: +44 (0)20 7727 6285.
Embassy of the Dominican Republic, Ottawa, Canada: +1 613 569 9893.
Consulate-General of the Dominican Republic, Sydney, Australia: +61 (0)2 9363 5891.
Foreign Embassies in Dominican Republic
United States Embassy, Santo Domingo: +1 809 221 2171.
British Embassy, Santo Domingo: +1 809 472 7111.
Canadian Embassy, Santo Domingo: +1 809 685 1136.
Australian High Commission, Port of Spain, Trinidad and Tobago (also responsible for Dominican Republic): +1 868 628 0695.
South African Embassy, Havana, Cuba (also responsible for Dominican Republic): +53 (0)7 204 9671.
Customers
Being polite to others and having respect for elders is integral and is expected from visitors. If taking a photograph of a local, one should ask permission first and then offer a gift afterwards. Dominicans take care in their appearance and form judgements based on what people wear; they are likely to look down on tourists that are unkempt or wear clothes that are too revealing.
Business
Santo Domingo is the centre of business in the Dominican Republic. Good working relationships are vital and trust is an integral part of doing business in the Dominican Republic; knowing the right people is half the battle won. Appearances are considered important and therefore dressing smartly is advised. Meetings are initially rather formal and a polite greeting accompanied by a handshake is common; expect small talk. Business cards are usually exchanged on introduction. Punctuality is important. Although English is widely spoken and understood, it is still useful to have all business material printed in English and Spanish. It is important to be polite and courteous at all times. Business hours are usually 8am to 12pm and 2pm to 6pm Monday to Friday.
Tipping
Hotels and restaurants generally include a 10 percent service charge as well as tax, but additional tips should be given for good service as often the charge does not go to the staff who provided the service. Waiters usually receive 10 percent extra for good service. For other services including taxi drivers, tipping is discretionary depending on the service provided.
Public Holidays in Dominican Republic
| | | |
| --- | --- | --- |
| | 2017 | 2018 |
| New Years Day | 1 Jan | 1 Jan |
| Epiphany | 6 Jan | 6 Jan |
| Lady of Altagracia Day | 21 Jan | 21 Jan |
| Duarte Day | 30 Jan | 29 Jan |
| Independence Day | 27 Feb | 27 Feb |
| Good Friday | 14 Apr | 30 Mar |
| Labour Day | 1 May | 1 May |
| Corpus Christi | 15 Jun | 31 May |
| Restoration Day | 16 Aug | 16 Aug |
| Lady of Mercedes Day | 24 Sep | 24 Sep |
| Constitution Day | 6 Nov | 5 Nov |
| Christmas Day | 25 Dec | 25 Dec |
Overview
The Dominican Republic is renowned as an affordable beach destination brimming with package tourists and enticing all-inclusive resorts. But the country is also a captivating blend of culture, history, and stunning natural beauty. The main tourist magnets are the areas around Puerto Plata, Punta Cana, La Romana, and Samaná. However, the country's cultural jewel is the capital, Santo Domingo, a UNESCO World Heritage Site.
In addition to well-developed beach resorts and world-class golf courses, the Dominican Republic is home to vast coral reefs, waterfalls, jungles, secluded islands, pine forests, and the highest peaks in the Caribbean. Thanks to these diverse ecosystems, recreational opportunities abound. Adventure seekers head to the mountains to raft the white waters of the Río Yaque del Norte. The rugged alpine terrain also lures hikers and bikers with its many mountain trails. Along the coast, water lovers can snorkel, dive, kayak, kite board, sail, and surf. Blessed with this abundance of attractions and activities, no wonder visitors flock here from around the world.
Travel Guide powered by www.wordtravels.com, copyright © Globe Media Ltd. All rights reserved. By its very nature much of the information in this guide is subject to change at short notice and travellers are urged to verify information on which they're relying with the relevant authorities. Globe Media and UNIGLOBE Travel does not accept any responsibility for any loss or inconvenience to any person as a result of information contained above.