General
Money
Entry Requirements
Health & safety
Weather
Embassies
Etiquette
Public Holidays
Attractions
Map
---
Introduction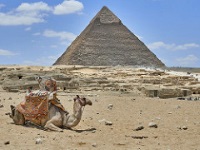 Egypt ©Edgardo W. Olivera
Egypt is synonymous with Pharaohs, pyramids, temples and antiquities. Through this ancient and arid land flows the Nile, a mighty river which has shaped civilizations for centuries. Egypt is claimed to be the oldest tourist destination on earth: Greek and Roman travellers arrived as far back as 430 BC to marvel at some of the very sights that make it a beloved tourist destination today. The magnificence of the painted Valley of the Kings, exquisite temples, and the pyramids were all sought-after objects of admiration in these long-gone days, and many were already 2,500 years old!
With desert landscapes and dry, rugged mountains that reach to the sea, dusty cities full of exotic sounds and smells, and green strips of agricultural land snaking along the banks of the Nile, Egypt has something to offer travellers from all walks of life: spectacular diving in the Red Sea; unique desert experiences, whether on the back of a camel to Mount Sinai or on a jeep safari to the inner oases; the colour and chaos of Cairo and its markets; and felucca cruises on the Nile River, are just some of the exotic attractions awaiting visitors. Egypt promises an unforgettable experience of history and relaxation - a mixture of discovery and pleasure.
Communications
The international access code for Egypt is +20. There are high surcharges on international calls from hotels; it is cheaper to phone long-distance from the 24-hour Post, Telephone and Telegraph (PTT) offices that are available in the major cities. For international directory phone enquiries dial 140. The local mobile phone operators use GSM 900 networks and have roaming agreements with all major operators. Internet cafes are available in the main tourist areas.
Emergencies
122 (Police); 126 (Tourist Police); 123 (Ambulance)
Languages Spoken
Arabic is the official language although English and French are widely spoken, especially in the tourist areas.
Duty Free
Travellers over 18 arriving in Egypt do not have to pay customs duty on 200 cigarettes or 25 cigars or 200g tobacco; alcoholic beverages up to 2 litres; and perfume for personal use. The import and export of local currency is limited to EGP 5,000. Banned items include firearms, cotton and drugs.
Electricity
Electrical current is 220 volts, 50Hz. European-style two-pin plugs are standard.
Climate Info
With the small exception of its strip of Mediterranean coastline, the whole of Egypt has an arid desert climate. The weather is constantly hot and dry and there are only two seasons: summer brings blistering heat between May and October, and the mild, warm winter stretches from November to April. As is typical of desert climates, it tends to get cold at night in Egypt, whatever the season, so be sure to bring something warmer for the evenings. Egypt has a low annual rainfall and the majority of rain falls in the coastal region. It hardly ever rains during the summer months. A phenomenon of Egypt's climate is the hot wind that blows across the country, known internationally as the sirocco and to Egyptians as the khamsin. These desert sandstorms usually arrive in April but occasionally occur in March and May. They can continue for days and cause temperatures to rise dramatically as well as cause damage to crops and buildings.
The best time to travel to Egypt is during the mid-winter, between December and February, when temperatures range comfortably from 68°F to 79°F (20 to 26°C). If you are keen to visit in summer then the best city to spend time in is Alexandria as it has cooler summer temperatures then the rest of the country.
Passport
A yellow fever vaccination certificate is required to enter Egypt, if arriving within six days after leaving or transiting through infected areas. The wives and children of Egyptian men and the children of Egyptian women born after 25 July 2004, are exempt from visa requirements upon presentation of a birth certificate, passport or National ID Card of the relative.
NOTE: Persons without a valid yellow fever certificate, if one is required, will be subject to quarantine. It is highly recommended that your passport has at least six months validity remaining after your intended date of departure from your travel destination. Immigration officials often apply different rules to those stated by travel agents and official sources.
NOTE: Passangers travelling from Guinea, Liberia or Sierra Leone will be screened on arrival for Ebola, and will be subject to quarrantine if the disease is suspected.
Entry Requirements
Canadian
citizens must have a passport valid for six months beyond the period of intended stay in Egypt. A visa is required, except for tourists arriving at Sharm El Sheik (SSH), Saint Catherine (SKV) or Taba (TCP) airports, and staying in the Sinai resort area for up to 15 days. Visas can be obtained on arrival, for a maximum stay of 30 days, and for a fee starting from USD 25.
show more ...
Health
A yellow fever vaccination certificate is required for entry into Egypt from travellers over one year of age coming from infected areas. No other vaccinations are required but vaccinations are commonly recommended for hepatitis A, hepatitis B and typhoid. Travellers to Egypt should come prepared to beat the heat with a high factor sunblock and drink plenty of water to combat dehydration. Tap water in the main cities and towns is normally chlorinated but it is still advisable to drink only bottled water or tap water that has been boiled or filtered. Visitors should only eat thoroughly cooked food and fruits they have peeled themselves to prevent travellers' diarrhoea. The waters of the Nile are contaminated and should not be consumed.
Medical treatment can be expensive and standards vary so comprehensive travel health insurance is strongly advised, including evacuation insurance. Medical facilities are generally adequate for routine ailments in the big cities and main tourist areas but outside of the main centres medical facilities can be very basic in Egypt.
Safety
The US Department of State and the British Foreign Office advise caution when travelling to Egypt, as there is a high treat from terrorism. All travel is advised against in North Sinai. All but essential travel is advised against in South Sinai; however the area within the Sharm el Sheikh perimeter barrier (including the airport, Sharm el Maya, Hadaba, Naama Bay, Sharks Bay and Nabq) is protected by enhanced security measures and has experienced little violence. The resort areas in Hurghada have similar measures in place, although isolated incidents in non-tourist areas have been reported. Other areas under travel advisories include the border with Libya and swathes of Egypt's western desert (west of Cairo and the Nile Valley). Travellers should stay up to date on travel warnings and advisories.
Terrorist attacks have been ongoing, with several bombings taking place in Cairo and other regions in the last few years. Attacks against tourists have been reported.
Demonstrations are common near foreign embassies and around Tahrir Square in Cairo, and in other cities, including Alexandria. There have been incidents of foreigners, including British Nationals, being targeted and attacked during protests. There have also been reports of sexual assaults on women during demonstrations. Tourists are advised to avoid all street protests and gatherings and not to attempt to cross road blocks.
Visitors to markets and major tourist sites will experience a fair amount of hassle from touts and are advised not to carry more money on them than needed as petty crime is a concern. Women should be extra cautious when travelling alone as incidents of harassment and sexual assault are not uncommon; women should be particularly alert when visiting spas and doing other tourist related activities, and should be careful to dress conservatively. Racism towards black and Asian people is prevalent and considered acceptable. Egypt also has a poor train safety record with several fatal accidents each year.
Emergency Phone Number
122 (Police); 126 (Tourist Police); 123 (Ambulance)
* For current safety alerts, please visit
Foreign travel advice - GOV.UK
or
Travel.State.Gov
Money
The unit of currency is the Egyptian Pound (EGP), which is divided into 100 piastres. Most credit cards are accepted in major hotels and restaurants. Banks are usually closed on Friday and Saturday, but private exchange bureaux, called 'Forex', are open daily and banks in major hotels are open 24 hours. Cairo branches of the Egyptian British Bank and Banque Misr now have ATMs available that accept Visa, MasterCard and Cirrus and are quite common in the main tourist areas.
Exchange Rate
Not available.
Embassies of Egypt
Egyptian Embassy, Washington DC, United States: +1 202 895 5400.
Egyptian Embassy, London, United Kingdom: +44 (0)20 7235 9777.
Egyptian Embassy, Ottawa, Canada: +1 613 234 4931.
Egyptian Embassy, Canberra, Australia (also responsible for New Zealand): +61 (0)2 6273 4437.
Egyptian Embassy, Pretoria, South Africa: +27 (0)12 343 1590.
Egyptian Embassy, Dublin, Ireland: +353 (0)1 660 6566.
Foreign Embassies in Egypt
United States Embassy, Cairo: +20 (0)2 2797 3300.
British Embassy, Cairo: +20 (0)2 2791 6000.
Canadian Embassy, Cairo: +20 (0)2 2461 2200.
Australian Embassy, Cairo: +20 (0)2 2770 6600.
South African Embassy, Cairo: +20 (0)2 2535 3000.
Irish Embassy, Cairo: +20 (0)2 2728 7100.
New Zealand Embassy, Cairo: +20 (0)2 2461 6000.
Customers
Egypt is a conservative society and visitors should respect local customs and sensitivities. Homosexuality is solemnly frowned upon and homosexual acts are illegal. Public displays of affection are frowned upon. Religious customs should be recognised, particularly during the month of Ramadan when eating, drinking and smoking during daylight hours is forbidden by Islam; during Ramadan travellers should be discreet in public places or choose to partake in the custom themselves. Travellers to Egypt should dress modestly (women's clothes should cover the legs and upper arms). Photography of military institutions is prohibited and the Suez Canal counts as a military institution; Egyptians can be sensitive about any photography of infrastructure and it is best to ask for permission if in any doubt.
Business
Egyptians are friendly and approachable at work, and personal relationships are very important when conducting business. Business is usually conducted formally in Egypt; however, meetings may not take place in private and it is normal for them to be interrupted with other matters. Punctuality is important for visitors doing business, though don't be surprised if your contact is late or postpones the meeting. Be patient. Dress should be formal and conservative; suits and ties are standard and women should dress modestly. Women may encounter some sexism in the business world. Most Egyptians are Muslim and therefore one should be mindful of Islamic customs. English is widely spoken and understood, although attempting to speak some basic Arabic will be highly appreciated. The normal working week runs from Sunday to Thursday. Business hours vary, but in the private sector it is usually 9am to 5pm and in the public sector 8am to 3pm. Avoid scheduling business trips during the month of Ramadan as working hours are minimised during the holiday period and many key players will not be available.
Tipping
Tipping is known as 'baksheesh' and some small change is expected for most services, though small change can be hard to come by. 'Baksheesh' can be a useful practice in order to gain entry to seemingly inaccessible places, or for extra services - a small tip can open doors, literally. A service charge is added to most restaurant and hotel bills but a tip of about five percent is normally given directly to the waiter. Taxi drivers are tipped about 10 percent.
Public Holidays in Egypt
| | | |
| --- | --- | --- |
| | 2017 | 2018 |
| Coptic Christmas Day | 7 Jan | 7 Jan |
| Shem El Nessim (Spring Festival) | 17 Apr | 9 Apr |
| Sinai Liberation Day | 25 Apr | 25 Apr |
| Labour Day | 1 May | 1 May |
| National Day | 23 Jul | 23 Jul |
| Eid al-Fitr (end of Ramadan) | 26 Jun | 15 Jun |
| Armed Forces Day | 6 Oct | 6 Oct |
| Eid al-Adha (Feast of the Sacrifice) | 2 Sep | 22 Aug |
| Islamic New Year | 22 Sep | 12 Sep |
| Birth of the Prophet | 1 Dec | 21 Nov |
Overview
When considering things to see and do on vacation, the mere mention of Egypt conjures images of mummies, pharaohs and enormous ancient monuments; the country is a treasure trove for historical sightseeing. Even if visitors have seen the most famous attractions, like the Pyramids of Giza, the Nile Valley's West Bank, the statue of Ramses II, the Temple of Karnak, or the impressive Asfour crystals, this magical and ancient country always has more to offer. The sheer amount of ancient landmarks remaining in Egypt ensures that lovers of antiquity should never run out of things to see.
Exploring the Sinai Peninsula and the Red Sea is fascinating historically and culturally, to say nothing of the scenic splendour of the region, and there are fantastic diving opportunities. There are also various holiday resorts in Egypt that offer guests a rewarding seaside holiday. The Egyptian beaches are stunning and many tourists come for relaxing beach breaks as well as historical sightseeing. It is best to check travel advisories for Sinai, however, as there has been unrest in the region in recent years.
The country's attractions can be seen year round, but Egypt can get very hot from June to August and trips should be planned accordingly. There are various means of transport and tours offered to most of the popular tourist attractions so getting around while sightseeing is not difficult.
If you've ever dreamt of being an explorer or archaeologist, uncovering a world of ancient legend, then Egypt's many attractions will definitely satisfy your desire for adventure.
Map of Egypt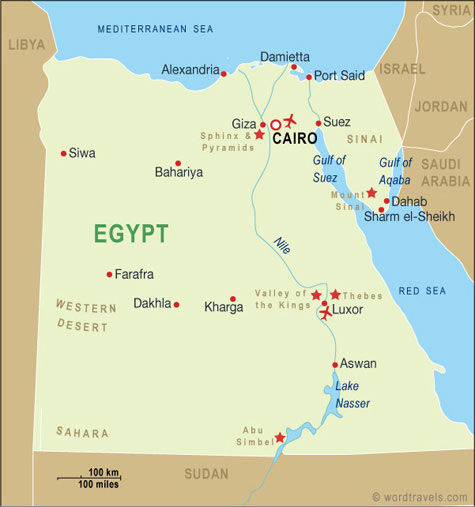 Travel Guide powered by www.wordtravels.com, copyright © Globe Media Ltd. All rights reserved. By its very nature much of the information in this guide is subject to change at short notice and travellers are urged to verify information on which they're relying with the relevant authorities. Globe Media and UNIGLOBE Travel does not accept any responsibility for any loss or inconvenience to any person as a result of information contained above.