General
Money
Entry Requirements
Health & safety
Weather
Embassies
Etiquette
Public Holidays
Attractions
Map
---
Introduction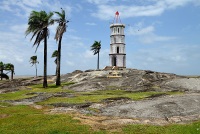 Kourou ©Cayambe
On the north coast of South America, French Guiana is part of the French Republic and visitors to this region can experience a world of foreign cultures, sights and cuisine. The capital city of French Guiana is Cayenne, a very picturesque holiday destination, and the Center Spatial Guyanais (Space Centre) in the city of Kourou is another popular attraction.
French Guiana is a tiny country covered in dense rainforest. Eco-tourism is a growing industry, with visitors trekking from other countries to see leatherback turtles lay eggs at Awala-Yalimpopo, spot exotic birds on the savannahs of Kaw, and watch capuchin monkeys lying along the Sentier Molokoi de Cacao trail. Island holidays in French Guiana are also popular, especially the lovely Îles du Salut, which has a somber history as a penal colony.
French Guiana was originally inhabited by indigenous Americans and settled by the French in the 17th century. Today it is administered by a French representative based in Cayenne. As part of the European Union, the currency used in French Guiana is the Euro, and the main industries are fishing, gold mining and timber, while eco-tourism is a growing enterprise.
The French Guiana population of 221,500 is made up of various ethnicities, the majority being Guianese Creole, Maroon, Amerindian and French. Most people in French Guiana inhabit the coastal areas, which are more developed. While French is the official language, Creole is widely spoken. The main religion is Roman Catholic but the Maroons and Amerindians have their own religions.
Communications
The international access code for French Guiana is +594. The outgoing code is 00 followed by the relevant country code (e.g. 0044 for the United Kingdom).
Emergencies
112 (General Emergency Helpline)
Languages Spoken
The official language is French, and Guianese Creole is widely spoken.
Duty Free
Visitors to French Guiana may import the following without incurring duty: 1,000 cigarettes, one bottle of liquor, and an amount of perfume, film, and gifts reasonable for personal use.
Electricity
The electric current is 220 volts, 50Hz. Round two- or three-prong plugs are used.
Passport
All visitors to French Guiana must hold an onward or return ticket and valid travel documentation for their next destination; as well as sufficient funds to cover their stay in the country, or a lodging certificate. Schengen Visas are also valid for French Guiana, provided they are endorsed "also valid for French Guiana." A yellow fever vaccination certificate is required to enter French Guiana. NOTE: It is highly recommended that your passport has at least six months validity remaining after your intended date of departure from your travel destination. Immigration officials often apply different rules to those stated by travel agents and official sources.
Entry Requirements
Canadian
citizens must have a passport that is valid for the period of intended stay in French Guiana. No visa is required for a stay of up to three months.
show more ...
Money
The French Guiana currency is the Euro (EUR).
Exchange Rate
Not available.
Embassies of French Guiana
Foreign Embassies in French Guiana
Customers
Social mores and etiquette in French Guiana reflect its colonial history. European values permeate French Guianese society, and western travellers - if they ignore the heat - should feel just at home as they would in one of the metropoles.
Public Holidays in French Guiana
| | | |
| --- | --- | --- |
| | 2017 | 2018 |
| New Years Day | 1 Jan | 1 Jan |
| Ash Wednesday | 1 Mar | 14 Feb |
| Easter Monday | 17 Apr | 2 Apr |
| Labour Day | 1 May | 1 May |
| Victory Day | 8 May | 8 May |
| Ascension Day | 25 May | 10 May |
| Whit Monday | 5 Jun | 21 May |
| Abolition of Slavery | 10 Jun | 10 Jun |
| Bastille Day | 14 Jul | 14 Jul |
| Assumption | 15 Aug | 15 Aug |
| All Saints Day | 1 Nov | 1 Nov |
| Armistice Day | 11 Nov | 11 Nov |
| Christmas Day | 25 Dec | 25 Dec |
| Good Friday | 14 Apr | 30 Mar |
Travel Guide powered by www.wordtravels.com, copyright © Globe Media Ltd. All rights reserved. By its very nature much of the information in this guide is subject to change at short notice and travellers are urged to verify information on which they're relying with the relevant authorities. Globe Media and UNIGLOBE Travel does not accept any responsibility for any loss or inconvenience to any person as a result of information contained above.