General
Money
Entry Requirements
Health & safety
Weather
Embassies
Etiquette
Public Holidays
Attractions
Map
---
Introduction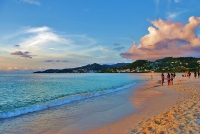 Grand Anse Beach, Grenada ©Varun Kapoor
Born from the seafloor in a sequence of violent volcanic eruptions, Grenada is a tropical, three-island state, 90 miles (145km) north of Venezuela. Part of the Lesser Antilles chain, the country consists of the main island of Grenada and its neighbouring constituencies, Carriacou and Petite Martinique.
Boasting lush soils and a rolling mountainous interior, breathtaking waterfalls gush down from the centre to meet the sea and hikes through verdant jungle make for a truly memorable Grenada nature experience. Couple that with unblemished beaches reminiscent of those found in glossy travel magazines, billowing sails criss-crossing an azure coastline, a low-key lifestyle and unrivalled diving sites such as 'Bianca C' and you've got one of the most overlooked tropical havens in the Caribbean.
Heady fragrances of nutmeg and clove and a warm-hearted reception greet visitors to the friendly capital of the 'Spice Island', St. George's. The red tiled roofs, Georgian architecture and central spice market make it one of the Caribbean's most charming centres, complemented by a picturesque natural harbour. Sun-worshippers can choose from 45 beautiful beaches, the most popular being the two-mile (3km) long Grand Anse Beach, or seek out one of the many secluded beaches a little further afield.
Initially inhabited by Kalinago settlers from the Amazonian basin in South America, Grenada later became an unwilling station of European expansion, the effects of which are evident in the people, architecture and cuisine of the modern nation. First invaded by the Spanish in violent slave raids, the resident Kalinago were then largely wiped out by French colonialists who exploited the land for large-scale sugar cane plantations and brought slaves in from West Africa to work them. Britain succeeded France and only in 1974 did Grenada gain independence from the British.
Grenada is a poor country but the friendly disposition of the locals, the vibrant afro-carib culture and joyful calypso music and dancing tradition, and the picturesque tropical location more than make up for the lack of infrastructure. Grenada has long been a favourite port of call for yachties, divers and holidaymakers alike, offering some of the best scuba diving in the Caribbean, with coral gardens, an underwater volcano and the largest underwater shipwreck in the region, not to mention the alluring homemade Caribbean cuisine and lip smacking seafood.
Communications
The international dialling code for Grenada is +1 473. The outgoing code is 011 followed by the relevant country code (e.g. 01144 for the UK). No area codes are in use. Roaming services are available to all AMPS compatible cellular phones. Coin operated public phones and card phones for international calls are widely available. Prepaid cards can be bought at Cable & Wireless offices and agents or at the Board of Tourism office in St. George's. Internet cafés are common, especially in the main centres.
Emergencies
Emergencies: 911 (Police and Fire)
Languages Spoken
English is the official language and is widely spoken, but Grenadian Creole is considered the main language of the island.
Duty Free
Travellers are allowed to import 200 cigarettes or 50 cigars or 225g of tobacco, 1 litre of wine or spirits and perfume for personal use without paying customs duty. Illegal drugs, arms and ammunition are prohibited.
Electricity
Electrical current is 220 - 240 volts, 50Hz. British three-prong plugs (Type G) are in use.
Climate Info
Grenada enjoys a tropical climate with an average year-round temperature of 80ºF (26ºC). Grenada's weather is divided across two main seasons, determined by rainfall rather than temperature. The dry season falls between January and May, when showers are few and sporadic and the land is cooled by northeast trade winds. This is the ideal weather for visitors. The rainy season is June to December when conditions are hot and humid and short bursts of heavy rainfall frequently occur. Conditions are humid along the coast but become considerably cooler and wetter toward the mountainous interior. Grenada lies on the edge of the hurricane belt and hurricane season normally runs from June to November.
Passport
All foreign passengers to Grenada must hold onward or return tickets, and all necessary travel documentation for their next destination. Visa extensions are possible, and can be obtained at the Immigration Authorities Office in Grenada. As part of the Western Hemisphere Travel Initiative (WHTI), all travellers going between the United States, and Canada, Mexico, Bermuda, or the Caribbean region, are required to present a passport or other valid travel documents to enter or re-enter the United States. Note that if departing from the USA, a valid passport will be required by immigration authorities. Also note that a yellow fever vaccination certificate is required to enter Grenada, if arriving in the country within six days of leaving or transiting through an infected area. NOTE: It is highly recommended that your passport has at least six months validity remaining after your intended date of departure from your travel destination. Immigration officials often apply different rules to those stated by travel agents and official sources.
Entry Requirements
Canadian
citizens must have a passport that is valid upon arrival in Grenada. No visa is required for a stay of up to three months.
show more ...
Health
Dengue fever is common in Latin America and the Caribbean and cases have been reported in Grenada. A yellow fever vaccination certificate is required from travellers over one year of age coming from countries with risk of yellow fever transmission. Travellers should also consider vaccinations for hepatitis A and hepatitis B, and those planning to eat outside of hotels and restaurants may want to get a typhoid vaccination. Good medical care is available in the urban areas of Grenada but most doctors and hospitals expect payment in cash, regardless of travel health insurance. Grenada doesn't have a decompression chamber for divers; the nearest decompression chambers are in Tobago and Barbados, 30 minutes away by air ambulance. The water in Grenada is clean and safe to drink.
Safety
Most visits to Grenada are trouble-free. Petty crime is prevalent so travellers should be vigilant and shouldn't carry their travel documents or large amounts of cash or jewellery on them. Isolated areas, including beaches, should be avoided after dark.
Emergency Phone Number
Emergencies: 911 (Police and Fire)
* For current safety alerts, please visit
Foreign travel advice - GOV.UK
or
Travel.State.Gov
Money
The official currency of Grenada is the Eastern Caribbean dollar (XCD), which is divided into 100 cents. The Eastern Caribbean dollar is tied to the US dollar at USD 1 = XCD 2.70. ATM machines are available at most banks and major credit cards are accepted at most hotels, car rental companies and shops. Many establishments will accept payment in US dollars, giving change in the local currency. Banking hours are Monday to Friday from 8am to 3pm.
Exchange Rate
Not available.
Embassies of Grenada
Grenada Embassy, Washington DC, United States: +1 202 265 2561.
Grenada High Commission, London, United Kingdom: +44 (0)20 7385 4415.
Consulate General of Grenada, Toronto, Canada: +1 416 595 1343.
Honorary Consulate of Grenada, Johannesburg, South Africa: +27 (0)83 461 6559.
Foreign Embassies in Grenada
United States Embassy, St. George's: +1 473 444 1173.
British High Commission, Bridgetown, Barbados (also responsible for Grenada): +1 246 430 7800.
High Commission of Canada, Bridgetown, Barbados (also responsible for Grenada): +1 246 429 3550.
Australian High Commission, Port of Spain, Trinidad and Tobago (also responsible for Grenada): +1 868 822 5450.
South African High Commission, Port of Spain, Trinidad and Tobago (also responsible for Grenada): +1 868 622 9869.
Customers
Some homosexual acts are illegal in Grenada and gay couples should avoid displays of public affection. It is also an offence to wear camouflage clothing and there are severe penalties for all drug offences.
Business
When conducting business in Grenada, dress should be formal and meetings should be arranged in advance. Business cards are usually exchanged at meetings and English is widely spoken in business circles. Business hours are 8am to 4pm Monday to Friday. Many offices are closed between 12pm and 1pm for lunch.
Tipping
Tipping is common in Grenada and many hospitality industry professionals largely rely on tips for a living. Crew of sailing charters should be tipped 10 to 15 percent of the total cost. If a service charge is not included on a restaurant bill a 10 percent tip is customary. Bellhops usually receive about US$1 per bag, and taxi drivers usually receive 10 to 15 percent of the fare.
Public Holidays in Grenada
Travel Guide powered by www.wordtravels.com, copyright © Globe Media Ltd. All rights reserved. By its very nature much of the information in this guide is subject to change at short notice and travellers are urged to verify information on which they're relying with the relevant authorities. Globe Media and UNIGLOBE Travel does not accept any responsibility for any loss or inconvenience to any person as a result of information contained above.