General
Money
Entry Requirements
Health & safety
Weather
Embassies
Etiquette
Public Holidays
Attractions
Map
---
Introduction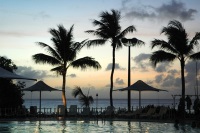 Sunset on Guam ©Yuki Yaginuma
Guam is an increasingly popular travel hub in the South Pacific. The island offers lush tropical jungles that bump up against sandy white beaches largely undiscovered by Western tourists. Although it is Micronesia's largest and most populous island, Guam is still small enough to explore in a day or two, and its resorts and attractions are ensuring that it becomes more and more popular as a Pacific holiday destination.
The island is an unincorporated US territory, and although US accents abound, traditional Guam culture is a unique blend of Spanish, Micronesian, Asian and Western influences. The original inhabitants, the Chamorros, have inhabited the island for over 4,000 years, surviving occupation by Spain and the United States.
Many tourists in Guam base themselves in the city of Tumon Bay, which offers a number of resorts and a wealth of duty-free shopping. However, the real attractions of Guam lie in the less densely inhabited areas of the island. Southern Guam is home to many traditional Chamorros villages, and here you'll have a better chance of experiencing local culture than in the more cosmopolitan cities. The village of Talofofo is a worthwhile stop, as much for the spectacular two-tier waterfall as the village culture. Northern Guam is largely occupied by the US military's Andersen Base, but if you venture that way you'll discover the pristine beaches of Ritidian Point. Popular activities in Guam centre on the ocean, and include scuba diving, reef fishing, surfing, wind surfing, jet skiing, kayaking, boat trips and even submarine rides.
Central Guam is more developed and contains the capital city of Hagatna (formerly called Agana), which retains reminders of the island's colonial history in the pretty Spanish architecture alongside less cultural attractions like one of the world's largest K-marts. Both Hagatna and Tumon Bay offer an array of nightclubs, shops and restaurants. Nearby, the War in the Pacific National Historical Park is a must-see for World War II history buffs.
Emergencies
Medical emergency: 911. Crisis hotline: 647 8833.
Languages Spoken
English and Chamorro are the official languages of Guam.
Electricity
Electricity in Guam is 110/120 volts, 60Hz. Two-prong, flat-blade plugs are standard.
Climate Info
Guam has a tropical marine climate, and remains hot and humid year-round with an average temperature between 86°F (30°C) and 76°F (24°C). The rainy season occurs between July and November, and there is a greater risk of typhoons in October and November. Guam is located in the area of the Pacific known as Typhoon Alley, and is hit by a serious storm roughly once every eight years. The dry season in Guam is from December to June. There is little variation in temperature throughout the year and Guam is generally hot and humid. The heat is pleasantly moderated by trade winds. The summer months of May and June are the warmest and December is the coolest month in Guam.
Guam is a year-round destination and visitors can often barely distinguish the difference between the wet and dry seasons. The best time to visit Guam is between December and June to miss the worst of the heat and humidity and to avoid typhoon season. It does still rain in the dry season but much less than during the rest of the year. Travel during the wet season can also be very pleasant though, and it is slightly cheaper.
Passport
As an unincorporated US territory, entry requirements for Guam tend to follow US guidelines. All visitors to Guam must hold return or onward tickets, documents required for their next destination, and sufficient funds to cover their stay (US visitors are exempt). In some cases an ESTA (Electronic System for Travel Authroization) is required to enter the country visa-free. Passports must be valid for the intended period of stay. It is recommended to have six months' validity remaining on your passport whenever travelling. Immigration officials may apply different standards than the official policy.
Entry Requirements
Canadian
citizens require a passport valid for period of intended stay. No visa is required if travelling from the US mainland.
show more ...
Health
Although no vaccinations are required for travel to Guam hepatitis A and hepatitis B vaccinations are recommended for all travellers; a typhoid vaccination is recommended for those who plan to eat and drink outside of major restaurants and hotels; a Japanese encephalitis vaccination is recommended for those planning to spend time in rural areas or outdoors; an MMR (measles, mumps, rubella) vaccination is recommended if not previously given; and revaccination for tetanus-diphtheria is recommended every 10 years.
Do not drink tap water in Guam unless it has been boiled, filtered or chemically disinfected, and don't have ice in your drinks. Avoid food from street vendors and raw or undercooked meat and fish. Make sure fruit is peeled. There are medical facilities available on the island but for life-threatening injuries or diseases you may well need to be transferred overseas to receive treatment; comprehensive travel insurance is recommended. It is best to bring along any medication you require, with a signed and dated letter from your doctor detailing the medication you need and why.
Safety
Generally trips to Guam are trouble free but travellers should take precautions to protect themselves against petty theft and pickpocketting. Make sure you have duplicate copies of your travel documents and don't carry all your valuables in one pocket or bag. Make use of hotel safes and don't display conspicuous wealth.
Terrorism is a problem all over the world and as Guam is an unincorporated US territory the same threats apply to Guam as to the United States. However, the island has no travel alerts for terrorism and is generally considered safe.
Emergency Phone Number
Medical emergency: 911. Crisis hotline: 647 8833.
* For current safety alerts, please visit
Foreign travel advice - GOV.UK
or
Travel.State.Gov
Money
The US Dollar (USD) is the official currency in Guam. It is possible to exchange major currencies at airports and banks and there are ATMs on the island which can be found at the airports, in shopping malls and at some hotels. Major credit cards are widely accepted.
Exchange Rate
Not available.
Embassies of Guam
Foreign Embassies in Guam
Customers
The urban population of Guam is diverse and generally accepting; however, modest clothing is always good etiquette. The native Chamorro people are predominantly Catholic, and respect for the elderly and authority figures is crucial.
Travel Guide powered by www.wordtravels.com, copyright © Globe Media Ltd. All rights reserved. By its very nature much of the information in this guide is subject to change at short notice and travellers are urged to verify information on which they're relying with the relevant authorities. Globe Media and UNIGLOBE Travel does not accept any responsibility for any loss or inconvenience to any person as a result of information contained above.