General
Money
Entry Requirements
Health & safety
Weather
Embassies
Etiquette
Public Holidays
Attractions
Map
---
Introduction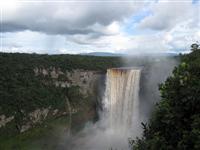 Kaieteur Falls ©Stefan Krasowski
Guyana is a fascinating, friendly and lush tropical destination that draws adventure travellers and nature lovers in increasing numbers.
One of South America's smallest countries, Guyana is situated on its northeast coast, and bordered by Suriname to the southeast, Venezuela to the west, Brazil to the south and the Atlantic ocean to the west. Travellers to Guyana will find that it is quite unlike any other country on the continent. For one, it is the only English-speaking nation, a legacy of its time as a British colony when it was known as British Guiana. It also has a distinctly Creole culture, and enjoys cricket as the national sport, making this a more Caribbean destination than its neighbours.
The capital Georgetown is famous for its 19th-century wooden houses on stilts, and its gently decaying colonial architecture. Inland, however, Guyana takes on the tropical jungle and Amazonian character of a true South American country. Here you will find ample trekking, biking and other eco-tourism activities in the hilly plains around the Pakaraima mountains and a multitude of rivers to raft on and fish in. This region is also home to some 120 Amerindian tribes that still live in relative isolation to the more developed settlements along the coastline. The country's star attraction though has to be the incredible Kaieteur Falls - five times higher than Niagara and, thanks to its lush rainforest location, immeasurably more impressive. The spectacular Kaieteur Falls is the world's highest free-flowing waterfall with a sheer drop of 741 feet (226m), and is 822 feet (251m) high.
Guyana is truly a fascinating destination that hasn't allowed its corrupt and chaotic politicians get in the way of its many tourist offerings. For those who visit little Guyana, the experience lives long in memory.
Languages Spoken
English is the official language in Guyana, but the vast majority of the population speaks Guyanese Creole.
Duty Free
Travellers to Guyana over the age of 16 may import up to 200 cigarettes, 50 cigars or 227g of tobacco. 758ml of wine, 758ml of spirits and an amount of perfume reasonable for personal use is also allowed for import.
Electricity
Electrical current is 240 volts, 60Hz. American two-pin plugs are generally used.
Passport
All foreign passengers to Guyana must hold return/onward tickets, the necessary travel documentation for their next destination, and proof of sufficient funds to cover their stay in the county. Those without return/onward tickets may be required to deposit funds, as a security (with the amount depending on their country of origin). Ensure you have checked and travel with the necessary documentation required in order to obtain a visa on arrival prior to your trip to Guyana. A yellow fever vaccination certificate is required, if arriving in Guyana within 6 days after leaving or transiting through any yellow fever risk area. Passengers without valid a yellow fever vaccination certificate - if required - will not be allowed to disembark. NOTE: It is highly recommended that your passport has at least six months validity remaining after your intended date of departure from your travel destination. Immigration officials often apply different rules to those stated by travel agents and official sources.
Entry Requirements
Canadian
citizens must have a passport that is valid for six months beyond the period of intended stay in Guyana. No visa is required for touristic stays of up to three months. Passengers with confirmation of a pre-arranged business, employment or student visa can pay for and obtain a visa on arrival.
show more ...
Health
There are no vaccination requirements for Guyana, but those who plan to travel in areas outside the main cities should consider vaccinations for yellow fever, hepatitis A, and typhoid. Some airlines travelling to Guyana will insist on a yellow fever certificate before boarding the plane, and travellers are advised to check with their airline before travel. There is a risk of malaria, particularly in jungle areas, but prophylaxis is not necessary for travel to all areas. Medical advice should be sought at least three weeks prior to departure. Insect protection measures are vital to avoid both malaria and dengue fever, which is on the increase. Tap water should not be drunk, but bottled drinking water is available. Public hospitals suffer from a shortage of basic supplies, as do private hospitals and clinics. Health insurance is essential.
* For current safety alerts, please visit
Foreign travel advice - GOV.UK
or
Travel.State.Gov
Money
The Guyanese dollar (GYD) is the currency used in Guyana. Cash can be exchanged in hotels, banks and cambios (businesses that specialise in exchanging). Cambios normally offer the best exchange rate. Ask your tour leader for help in finding the best cambios to use. Credit cards are not widely accepted. Most major hotels and some restaurants will accept credit cards. US Dollars are best to bring for exchange. ATMs are not easily found in Guyana.
Exchange Rate
Not available.
Embassies of Guyana
Foreign Embassies in Guyana
Customers
Guyanese society is generally quite laid-back and accepting, and western travellers should not be unduly worried about 'clashing' with the social mores and customs that they will find in Guyana. Note that the Guyanese favour a frank, direct communication style, and that public displays of affection or anger are common. Note also that in Guyana, it is actually considered rude not to use your car's hooter when passing another vehicle, travelling through an intersection, or driving past pedestrians.
Public Holidays in Guyana
Travel Guide powered by www.wordtravels.com, copyright © Globe Media Ltd. All rights reserved. By its very nature much of the information in this guide is subject to change at short notice and travellers are urged to verify information on which they're relying with the relevant authorities. Globe Media and UNIGLOBE Travel does not accept any responsibility for any loss or inconvenience to any person as a result of information contained above.