General
Money
Entry Requirements
Health & safety
Weather
Embassies
Etiquette
Public Holidays
Attractions
Map
---
Introduction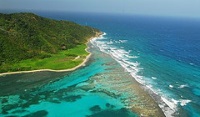 Honduras ©Denise Clarke
Exuding an air of paradise with its exotic palm-fringed beaches, clear turquoise waters, majestic mountains, verdant jungles and beguiling Mayan ruins, the laid back way of life and relative obscurity to the tourist market makes Honduras an ideal holiday getaway for those who enjoy getting off the beaten track.
Honduras has all the right ingredients for a tourist hotspot; pristine beaches, great hotels and a rich cultural history. Despite this, the country has scarcely registered on the Western radar in the past, other than its 15 minutes of fame in 1998 when it was ravaged by Hurricane Mitch. These days it is enjoying a boom in popularity as a relatively unknown, unspoilt and undeveloped destination, recognised for its Ecotourism opportunities, affordable scuba diving, mountain treks and river rafting, as well as its appeal to the rich and famous eager to escape the prying eye of the paparazzi.
Toucans pose alongside orchids in the humid cloud forests and mountains, while banana plantations cover the rest of the aptly named 'Banana Republic', famous for its banana cake, banana pancakes, fried plantain and banana chips. Many ancient Mayan and Lenca ruins can be found hidden away from civilisation in lush jungle landscapes, ready to enchant the most seasoned of travellers. One of the country's most breathtaking Mayan archaeological sites is the Copan Ruins, a UNESCO World Heritage Site set in a verdant valley in the far western region of Honduras, reminiscent of something out of an Indiana Jones movie.
In contrast to the wild beauty of nature, Honduras has a number of cities where you will find many modern amenities, including Tegucigalpa, San Pedro Sula, and La Ceiba. And colonial towns like Gracias and Comayagua have scenic examples of Spanish architecture including forts and castles.
The once-thriving port of Trujillo has an intriguing pirate history and exquisite tropical beaches, while the region known as the Mosquito Coast, which extends towards the Nicaraguan border, is the largest tract of tropical rainforest north of the Amazon and is one of the most popular spots in the world for ecotourism. The country also boasts 373 miles (600km) of Caribbean white sand beaches, and the offshore Bay Islands such as Utila, Roatan and Guanaja are an extremely popular destination, particularly for divers and snorkellers. There is plenty more to discover in this exciting country, however, and the warmth and hospitality of the Honduran locals is bound to lure first time visitors back time and time again.
Communications
The international access code for Honduras is +504. The outgoing code is 00, followed by the relevant country code (e.g. 0044 for the United Kingdom). City/area codes are not in use. Roaming agreements exist with international mobile phone companies and coverage is generally good along the coast and around major towns. Internet cafes are common and can be found in major towns.
Emergencies
Emergencies: 119 (Police); 195 (Ambulance).
Languages Spoken
Spanish is the official language although English is often spoken in the Bay Islands.
Duty Free
Travellers over 18 years do not have to pay customs duty on 200 cigarettes or 100 cigars or 450g of tobacco, two bottles of alcoholic beverages, a reasonable amount of perfume for personal use and gifts up to a total value of US$1,000.
Electricity
Electrical current is 110 volts, 60Hz. Flat blade attachment plugs and flat blades with round grounding pin are in use.
Climate Info
Honduras's climate is hot and humid almost all year round. The coast is hot and tropical while the mountainous area is slightly cooler. The north coast is prone to a very hot climate and experiences rain throughout the year. The dry season runs from November to April and the wet season from May to October. The Caribbean coast experiences heavy rain from September to February. Average annual temperatures hover around 90°F (32°C). Hurricane season runs from June to November and landslides, mudslides and flooding may occur.
Passport
All foreign passengers to Honduras must hold onward/return tickets, and all necessary travel documentation for their next destination. Visa extensions can be obtained from the Immigration Office, for a fee that varies between USD 10 and USD 50. Note that travellers under 21 years of age are considered to be minors. NOTE: It is highly recommended that your passport has at least six months validity remaining after your intended date of departure from your travel destination. Immigration officials often apply different rules to those stated by travel agents and official sources.
Entry Requirements
Canadian
citizens must have a passport that is valid for at least three months beyond the date of their arrival in Honduras. No visa is required.
show more ...
Health
Mosquito-borne illnesses are an ongoing health problem in Honduras. All travellers are advised to take mosquito repellent to prevent illnesses such as malaria and dengue fever, as well as to protect from annoying mosquito and sand fly bites. It is strongly recommended that routine vaccinations are up to date. Tap water is not safe to drink but bottles or bags of purified water a readily available. Honduras regularly suffers from severe air pollution, which can aggravate or lead to respiratory problems. For divers, there is a hyperbaric decompression chamber on Roatan. State hospitals are under-funded and travellers should use private hospitals where possible. Health insurance is recommended.
Safety
Political demonstrations in Honduras can sometimes be disruptive to traffic, but are generally announced in advance and are peaceful. Travellers should avoid areas where demonstrations are taking place and should stay informed by following the local news and consulting hotel personnel and tour guides. Incidents of crime, including carjacking along roads in Honduras is common. There have been frequent incidents of highway robbery on a number of roads. Petty crime is common in urban areas and tourist spots. Travellers should always carry a photocopy of their passport for identification purposes. It is not advisable to walk around town after dark.
Emergency Phone Number
Emergencies: 119 (Police); 195 (Ambulance).
* For current safety alerts, please visit
Foreign travel advice - GOV.UK
or
Travel.State.Gov
Money
The currency in Honduras is the Lempira (HNL), which is subdivided into 100 centavos. Denominations are 10, 20 and 50 centavos. It is best to travel on the US Dollar as it is the more favourable exchange currency, but banks in larger cities will occasionally exchange Euros and Canadian Dollars. American Express, MasterCard and Visa are widely accepted in Honduras. ATMs are widely available.
Exchange Rate
Not available.
Embassies of Honduras
Embassy of Honduras, Washington DC, United States: +1 202 966 7702.
Embassy of Honduras, London, United Kingdom: +44 (0)20 7486 4880.
Embassy of Honduras, Montreal, Canada: +1 514 937 2194.
Embassy of Honduras, Sydney, Australia +61 (0)2 9247 1730.
Foreign Embassies in Honduras
American Embassy, Tegucigalpa: +504 236 9320.
British Honorary Consulate, Tegucigalpa: +504 237 6577.
Canadian Embassy, San José, Costa Rica (also responsible for Honduras): +506 2242 4400.
Australian Embassy, Mexico City, Mexico (also responsible for Honduras): +52 055 110 12200.
South African Embassy, San Pedro Sula: +504 552 4702.
Customers
There is a strong Spanish influence in Honduras. Beachwear and shorts should not be worn away from the beach or poolside. Men are required to wear dinner jackets for formal social occasions. A common and appropriate greeting for men and women is a handshake.
Business
When conducting business in Honduras, appointments are necessary and should be made two weeks in advance. Visitors are expected to be punctual, though meetings may not start on time. Business travellers should allow plenty of time for socialising and should not rush getting straight down to business, as Hondurans place importance on establishing personal contact. Business is male dominated but since 2005 women now make up 47 percent of the labour force. Business suits or jackets for men and dresses and skirts for women are customary. Though some businesspeople speak English, correspondence should be in Spanish. Business hours are Monday to Friday from 8am to 5pm with an hour or two taken over lunch.
Tipping
A service charge of 10 percent is usually added to bills at restaurants in Honduras, but anything extra is for good service. It is customary to tip hotel bellboys and cleaning staff for good service.
Public Holidays in Honduras
Travel Guide powered by www.wordtravels.com, copyright © Globe Media Ltd. All rights reserved. By its very nature much of the information in this guide is subject to change at short notice and travellers are urged to verify information on which they're relying with the relevant authorities. Globe Media and UNIGLOBE Travel does not accept any responsibility for any loss or inconvenience to any person as a result of information contained above.