General
Money
Entry Requirements
Health & safety
Weather
Embassies
Etiquette
Public Holidays
Attractions
Map
---
Introduction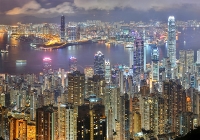 Hong Kong Skyline ©Jim Trodel
Hong Kong perches on the edge of mainland China, occupying a unique position as a territory straddling two worlds. Since the handover in 1997 Hong Kong has become a 'Special Administrative Region of China', no longer a subject of British colonial sovereignty, though much of Britain's cultural and economic influence is still evident. In Hong Kong past and present seem to fuse to create a capitalist utopia embedded within the world's largest Communist country.
Hong Kong offers a dense concentration of shops and shopping malls with a cross-pollinated cosmopolitan culture that embraces Nepalese and British cuisines with equal enthusiasm. It is the perfect gateway for travellers to Southeast Asia and China, providing a smooth transition from west to east. As one of the key economies of the Pacific Rim, Hong Kong Island showcases a gleaming landscape of skyscrapers and boasts highly developed transport infrastructure that makes getting around a dream.
Hong Kong consists of four sections: Kowloon, Hong Kong Island, the New Territories and the Outlying Islands. Kowloon and the New Territories form part of the Chinese mainland to the north of Victoria Harbour. Hong Kong Island, containing the central business hub, lies on the southern side of the harbour facing Kowloon. The Outlying Islands area consists of 234 islands.
Communications
The international access code for Hong Kong is +852. The outgoing code depends on what network is used: 001 for PCCW, 0080 for Hutchinson and 009 for New World. City codes within Hong Kong are not required. The local mobile phone operators use GSM networks and have roaming agreements with most international operators. Mobile phones can also be rented on arrival at the international airport. Internet cafes are widely available, and access is free at many coffee shops, shopping malls, MRT stations and public libraries in town.
Emergencies
999 (General Emergency)
Languages Spoken
The official languages in Hong Kong are English and Cantonese. The other main language is Mandarin.
Duty Free
There are no restrictions on the import and export of local or foreign currency. Travellers to Hong Kong over the age of 18 years do not have to pay duty on 1 litre of spirits and a reasonable amount of wine or any other form of alcohol containing less than 30% of alcohol; 19 cigarettes or 1 cigar or 25g of tobacco.
Electricity
Electrical current is 220 volts, 50Hz. The UK-style three-pin plugs are standard.
Climate Info
The climate of Hong Kong is sub-tropical, with hot humid summers and cool dry winters. Monsoon winds blow in from the north between September and March, and from the south between April and August. The winter months of January and February are generally wet and cold, while in the height of summer it is hot and humidity is very high. From June to September (the peak summer months) temperatures average 86°F (30ºC) with 95 percent humidity. Some rain and humidity can be expected throughout the year. Even during the height of summer it is worth bringing some warm clothing to combat the fierce air conditioning in shops and offices. The best time of year to travel to Hong Kong is in the mild autumn months of October and November when the temperatures are pleasant. It is generally considered a year-round destination though, particularly as the city's indoor attractions - like shopping facilities - are some of Hong Kong's main attractions. As the Hong Kong streets are known to get dirty, especially when it is wet, it is advisable to wear dark shoes when exploring the city, and always to have an umbrella handy.
Passport
All foreign visitors to Hong Kong must be in possession of onward or return tickets (except when in transit to mainland China or Macao), the necessary travel documentation for their next destination, and proof of sufficient funds to cover their stay in the country. Note that admission and/or transit will be refused to any national holding a passport issued by Kiribati, and endorsed "N-Kiribati" or "Investor". NOTE: It is highly recommended that your passport has at least six months validity remaining after your intended date of departure from your travel destination. Immigration officials often apply different rules to those stated by travel agents and official sources.
Entry Requirements
Canadian
citizens must have a passport that is valid for at least one month beyond the period of intended stay in Hong Kong. No visa is required for stays of up to three months.
show more ...
Health
There are no specific health risks associated with travel to Hong Kong. Food and water are generally safe, although visitors should consider only drinking bottled water for the first few days of their stay. Vaccinations are recommended for hepatitis A and influenza. Take precautions against mosquito bites, as there is a slight risk of Dengue fever. Outbreaks of Hand, Foot and Mouth Disease are reported annually. Hong Kong's health facilities are first class, but expect to pay cash. High quality medical care is widely available but comprehensive medical insurance is recommended to cover expenses.
Safety
Hong Kong is considered a safe travel destination, although caution should always be exercised when travelling. Pickpockets are likely to target unsuspecting tourists so one should minimise this risk through vigilance and by leaving valuables locked up in hotel safes when possible. Be wary of accepting drinks from strangers, as reports of spiked drinks are on the increase. Robbers have recently targeted walkers in Hong Kong's Country Parks so it is advisable to stay on marked trails and not to carry large amounts of cash or credit cards. All street protests and political gatherings should be avoided.
The typhoon season is usually between April and October, and the heavy rains may cause flooding and landslides.
Emergency Phone Number
999 (General Emergency)
* For current safety alerts, please visit
Foreign travel advice - GOV.UK
or
Travel.State.Gov
Money
The unit of currency is the Hong Kong Dollar (HKD); which is divided into 100 cents. Major banks are open from 9am to 4.30pm Monday to Friday, and 9am to 12.30pm on Saturday. Banks and money changers charge commission, as do hotels that provide exchange services. All major credit cards are accepted and ATMs are widely distributed.
Exchange Rate
Not available.
Embassies of Hong Kong
Chinese Embassy, Washington DC, United States: +1 202 495 2266.
Chinese Embassy, London, United Kingdom: +44 (0)20 7299 4049.
Chinese Embassy, Ottawa, Canada: +1 613 789 3434.
Chinese Embassy, Canberra, Australia: +61 (0)2 6273 4780.
Chinese Embassy, Pretoria, South Africa: +27 (0)12 431 6500.
Chinese Embassy, Dublin, Ireland: +353 (0)1 269 1707.
Chinese Embassy, Wellington, New Zealand: +64 (0)4 4749631.
Foreign Embassies in Hong Kong
United States Consulate-General, Hong Kong: +852 2523 9011.
British Consulate-General, Hong Kong: +852 2901 3000.
Canadian Consulate-General, Hong Kong: +852 2810 4700.
Australian Consulate-General, Hong Kong: +852 2827 8881.
South African Consulate-General, Hong Kong: +852 2577 3279.
Honorary Irish Consulate, Hong Kong: +852 2527 4897.
New Zealand Consulate-General, Hong Kong: +852 2525 5044.
Customers
Littering and spitting are illegal in Hong Kong and will incur spot fines. In Hong Kong the concept of 'face' is very important; avoid causing someone to 'lose face' by publicly insulting them or contradicting them in front of others as this is considered very impolite. The Chinese have great respect for hierarchical relationships.
Business
Despite its close proximity to China, Hong Kong's business culture is worlds apart. There tends to be a heavy British influence on business culture in Hong Kong. However, one typically Asian aspect is the concept of saving face. Saving face represents an awareness of positive appearances and perceptions of other people or companies. Bad news should never be presented in front of others and keeping ones cool is vital. Open displays of emotion, such as anger and irritation, are frowned upon, as is causing embarrassment to another person.
Business culture in Hong Kong is quite conservative. Dress styles are formal and deference to senior members of companies is vital. Business suits are usually in dark colours. Avoid wearing bright ties, or blue or white coloured clothes, as these colours are associated with mourning. When greeting business associates, either shake hands or, if no handshake is offered, bowing is appropriate. Respect for personal space is important and physical contact should be avoided. Gifts are given during introductions, but never opened in front of the giver. Timepieces as gifts are inappropriate as they are associated with death. The business languages in Hong Kong are both Mandarin and English. Tone should always be even and measured and cultural sensitivity and etiquette are vital.
When tea is served at a business meeting never sip from your cup until your host has taken his first sip. Business in Hong Kong is conducted efficiently and formally and punctuality is vital. It is advised to allow for sufficient travel time before meetings considering the high traffic congestion. If you are tardy, effusive and repeated apologies are in order, regardless of whether you caused the delay. It is customary to exchange business cards (printed in English on one side and Cantonese on the other) at the start of a meeting, along with a handshake. Business cards should be given and received using both hands, with the Cantonese side facing the recipient, and should be treated with respect. It is common to greet the more senior person first. Business entertainment is usually in the form of a lunch or dinner that is organised by the hosting partner. Food is also usually ordered and paid for by the host. Finally, the phrase 'have you eaten,' is a subtle form of greeting which generally means 'are you well.' Business hours run from 9am to 5pm during the week and 9am to 1pm on Saturdays.
Tipping
A 10 percent service charge is usually added to restaurant bills in Hong Kong, but waiters will still expect some loose change in addition to this. If no service charge is included, a 10 percent tip is expected. Taxi fares are rounded up to the nearest dollar (usually automatically by the driver).
Public Holidays in Hong Kong
| | | |
| --- | --- | --- |
| | 2017 | 2018 |
| Dragon Boat Festival | 30 May | 18 Jun |
| Easter Saturday | 15 Apr | 31 Mar |
| New Years Day | 1 Jan | 1 Jan |
| Chinese New Year | 28 Jan | 16 Feb |
| Good Friday | 14 Apr | 30 Mar |
| Easter Monday | 17 Apr | 2 Apr |
| Labour Day | 1 May | 1 May |
| Special Administrative Region Establishment Day | 1 Jul | 1 Jul |
| Ching Ming Festival | 4 Apr | 5 Apr |
| Birthday of the Buddha | 3 May | 22 May |
| National Day | 1 Oct | 1 Oct |
| Christmas Day | 25 Dec | 25 Dec |
| Boxing Day | 26 Dec | 26 Dec |
| Chung Yeung Festival | 28 Oct | 17 Oct |
| Day after Mid-Autumn Festival | 5 Oct | 25 Sep |
Overview
The attractions of Hong Kong are often thought to revolve exclusively around the brightly lit, energetic metropolis of the city. What is forgotten is that the area known under the cumbersome name of the Hong Kong Special Administrative Region, extends beyond the vibrant streets of the city proper into pleasant island areas of great aesthetic and cultural interest.
In all likelihood, however, your Hong Kong journey will begin in the urban part of the region, which is easily accessible from the airport. This is a city where east meets west: the architecture is either a curious mix of modern western buildings with oriental trimmings or an out-and-out juxtaposition which sees a temple structure stand opposite a lofty skyscraper. You can visit the Science Museum or the Museum of History, and moments later take in the banking district of Statue Square or the Wong Tai Sin Temple. Such is the mismatched wonder of Hong Kong.
Getting around is relatively easy. Tourists are advised to pick up an Octopus Card, which stores credit that can be used on any form of transport, including ferries, as well as at restaurants and stores.
Out of town, Hong Kong offers numerous underrated natural charms. The Dragon's Back Ridge just behind the city (and to the south) offers exciting views of more than 200 Hong Kong islands. You can visit waterfalls and old towns along the route. Over the ridge, the Shek O Beach provides respite from the city atmosphere. The Ping Shan Heritage Trail, to the northwest, tracks past old face brick homes and forts, abandoned towns from the agricultural age of the region, and up into the impressive heights.
Map of Hong Kong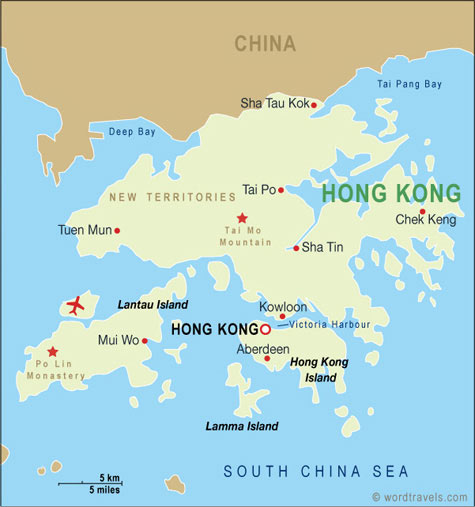 Travel Guide powered by www.wordtravels.com, copyright © Globe Media Ltd. All rights reserved. By its very nature much of the information in this guide is subject to change at short notice and travellers are urged to verify information on which they're relying with the relevant authorities. Globe Media and UNIGLOBE Travel does not accept any responsibility for any loss or inconvenience to any person as a result of information contained above.