General
Money
Entry Requirements
Health & safety
Weather
Embassies
Etiquette
Public Holidays
Attractions
Map
---
Introduction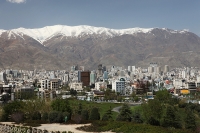 Tehran in April ©ninara
Brimming with ancient cities, ruins, and magnificent mosques and museums, Iran has over 5,000 years worth of history to explore. It is an ideal destination for culture seekers and offers some of the world's most ancient wonders. As a former part of the Persian Empire, it is a centre of early civilization.
Originally called Persia, Iran was one of the first countries to be occupied by the early Islamic armies that emerged from Arabia in the seventh century and thus, it is also a centre for early Islamic history and culture.
Although tourism is on the rise, some areas are still not considered to be safe; this includes the country's borders with Afghanistan, Iraq and Pakistan, the province of Sistan-Baluchistan, as well as the cities of Bam and Jask, and areas to the east of these cities. Outside of these regions, however, the Iranian tourism industry is growing, especially since the British Foreign Office has lifted its warning against tourist travel and has made efforts in 2015 to reestablish an embassy in Iran.
This culturally-rich country has something to offer everyone with plenty of sightseeing choices, wonderful shopping and exciting cuisine. For the more adventurous, Iran offers desert trekking, rock climbing and a few ski resorts all at affordable prices. The mountains bordering the Caspian Sea are covered in deciduous forest, and the brown forest soils found along the coasts of the Caspian Sea and the Persian Gulf are used extensively for farming, making for a richly diverse landscape. In addition, business travel is increasingly common and the country is extremely rich in mineral resources, especially petroleum and natural gas.
Communications
The international dialling code for Iran is +98. The outgoing code is 00 followed by the relevant country code (e.g. 0044 for the United Kingdom). Internet cafes are found in major cities and public telephones accept coins and/or telephone cards. Although roaming is compatible with some international mobile service providers, it is far cheaper to buy a SIM card in Iran for the period of your stay.
Emergencies
115 (Ambulance); 125 (Fire); 110 (Police)
Languages Spoken
The official language of Iran is Persian, also known as Farsi. English is mostly spoken and understood by businessmen.
Duty Free
Duty free allowances for visitors to Iran include 200 cigarettes (or the equivalent in tobacco products) and a reasonable amount of perfume/cologne for personal use. Alcohol is prohibited. All cameras and currency should be declared upon arrival. Medication should be in its original packaging with a signed letter from your doctor explaning your condition and the need for said medication.
Electricity
Electrical current is 230 volts, 50Hz. Round two-pin plugs are standard (Plug types C and F).
Climate Info
Spring and autumn are the best times to travel to Iran as the weather is not as hot as in June and July when the country scorches with occasional heavy rains. July is the hottest month with temperatures soaring to between 95ºF - 104ºF (35ºC - 40ºC). Autumn starts in September and is usually sunny, turning cold and damp by November.
Winter lasts from December through March and can include substantial snowfall depending on the region. January and February can be bitterly cold with temperatures plummeting to 32ºF to 23ºF (0ºC to -5ºC) though days can be mild in the southern parts of the country.
Passport
Visitors require a passport (must be valid at least six months after period of intended stay). Visitors must hold return or onward ticket, all documents required for next destination and sufficient funds. Some nationalities requiring a visa can obtain it on arrival provided the visit is for tourist purposes, is for a maximum of 30 days, and that the passanger meets the specific requirements dictated by the Iranian government (the fee is between 50 - 150 EUR, subject to passenger nationality). 14 day visas for business travel (fee of 30 USD) are also available for purchase upon arrival, granted the passanger holds an invitation letter issued by a government agency that has been issued no more than two days prior to arrival.
All visitors must report to the police within eight days of arrival. Visitors should be aware that if their passport contains an Israeli stamp, or any evidence of an intended or past visit to Israel, entry into Iran may be refused even if in possession of a valid visa. All non-Iranian reporters, journalists, photographers and cameramen require a visa. Admission will be refused to women not wearing Islamic head cover, scarf, long sleeves or stockings. It is highly recommended that passports have at least six months validity remaining after your intended date of departure from your travel destination. Immigration officials often apply different rules to those stated by travel agents and official sources.
Entry Requirements
Canadian
nationals require a passport that is valid six months beyond their intended stay. Visa required. All foreigners entering Iran must report to the police within 8 days after arrival.
show more ...
Health
There are a few health risks to consider when travelling to Iran. Basic vaccinations recommended for all travellers include MMR (measles-mumps-rubella) updates, as well as polio, typhoid, hepatitis A and B, varicella and annual flu vaccines. Those intending to engage with animals or those going to rural areas should consider a rabies vaccine. Malaria is a risk in some parts of the country, and cholera outbreaks occur. Yellow fever certificates are required for those arriving from an infected country in Africa or the Americas. Do not drink tap water, including ice in drinks, and food precautions should be taken. Healthcare in the cities of Iran is good, but is generally insufficient in rural areas. Travellers are advised to have full medical insurance and to consult with their medical practitioner prior to travel.
Safety
While there have been no major bombings since 2008, travellers should exercise safety precautions throughout Iran and pay attention to media warnings and cautions, especially while in the country. In the south-eastern region, Westerners have been victims of criminal gangs often involved in the smuggling of drugs and other contraband. Crime is relatively low in the cities, but there have been an increasing number of robberies by young men on motorbikes who snatch items from pedestrians.
Anti-Western sentiment among certain elements of the population has resulted in violent demonstrations outside foreign representations based in the country, such as those against the British Embassy in 2011. However, in 2015 the British Foreign Office rescinded its warning against tourist travel in Iran and has since made efforts to reesablish a British Embassy in Iran. Travellers are advised to avoid demonstrations and large public gatherings. Travel within 60 miles (100km) of the Afghanistan border, six miles (10km) of the Iraq border, and 30 miles (50km) of the border of Pakistan is considered unsafe.
Dual Citizens should carefully consider their journey to Iran because the government has been known to detain American-Iranian and British-Iranian citizens in particular, refusing to acknowledge dual citizenship. It is best to avoid all political activity and some travellers could be profiled because of their political affiliations in their home country.
Emergency Phone Number
115 (Ambulance); 125 (Fire); 110 (Police)
* For current safety alerts, please visit
Foreign travel advice - GOV.UK
or
Travel.State.Gov
Money
The unit of currency is the Iranian Rial (IRR) which is divided into 100 dinar, but the Toman is used by Iranians today as the equivalent of ten Rial. Most Iranians state the value of things in Toman instead of Rial. Prices are most often marked in Toman, with 1,000 or 1,000,000 Toman equivalent to 10,000 or 10,000,000 Rial respectively. It is best to travel with US Dollars, which can be exchanged upon arrival in the airport or banks in big cities or at street rate at street outlets. An increasing number of mid-range hotels and all top-end establishments accept Visa and MasterCard. Some of the more expensive Iranian hotels charge in US Dollars.
Exchange Rate
Not available.
Embassies of Iran
Embassy of Pakistan, Washington DC, United States of America (Interest section for Iran): +1 202 965 4990.
Embassy of Iran, London, United Kingdom: + 44 (0) 207 225 4208 or + 44 (0) 207 225 4222.
Embassy of Iran, Canberra, Australia: +61 (02) 6290 7000.
Embassy of Iran, Pretoria, South Africa: +27 (0)87 945 1307 or +27 (0)87945 0851.
Embassy of Iran, Dublin, Ireland: +353 (0)1 288 5881.
Embassy of Iran, Wellington, New Zealand: +64 4 386 2976.
Foreign Embassies in Iran
Embassy of Switzerland, Tehran (also accredited for US citizens): +98 21 2254 2178.
Swedish Embassy, Tehran, Iran (Emergency assistance for UK nationals): +98 21 2371 2200.
Australian Embassy, Tehran, Iran: +98 21 8386 3666.
South African Embassy, Tehran, Iran: +98 21 2270 2866.
Embassy of Ireland, Ankara, Turkey (assistance for Iran): +90 312 459 1000.
New Zealand Embassy, Tehran, Iran: +98 (0)21 2612 2175.
Customers
Because Iran is predominantly Islamic, dress is extremely conservative and travellers should take care not to offend codes of dress and behaviour, particularly during the holy month of Ramadan. During this time, foreigners are not expected to fast, but must refrain from eating, drinking, smoking and chewing gum in public. It is always best to err on the side of caution; behaviour that would be regarded as innocuous elsewhere can lead to serious trouble in Iran. The possession and consumption of alcohol and drugs is strictly forbidden.
Contact between non-familial members of the opposite sex is forbidden and punishable by law; its best to follow the lead of locals and its easy to remain respectful of these traditions with this in mind. Female visitors from the age of nine years old and up should wear headscarves in public, cover arms and legs and wear loose fitting clothing and male visitors are expected to dress modestly. They should also avoid looking into men's eyes too much, as this could easily be interpreted as an attempt to seduce.
Iranians are incredibly hospitable and guests should expect to be offered plenty of food and drink when visiting- although it is not necessary to keep eating food, it is important to accept some. It is customary for a guest to bring a small gift to their host; sweets, pastries, tea or other such gifts are always appreciated.
Travellers should be aware that homosexuality and adultery are crimes in Islam and are punishable by flogging and even death. Unmarried couples of the opposite sex travelling together should be discreet in public. Photography near military and other government installations is strictly prohibited; if caught taking photos or with photos, travellers may be detained and face serious criminal charges, including espionage, which carries the death penalty.
Business
Many Iranian businesspersons speak English, but a translator will save both time and money should English language communication prove difficult. Here, business is based on the ability to effectively create personal relationships; clear plans and presentation are also essential. Iranians are polite and conservative in their manner and the same respect is expected in return.
Exchanging business cards is normally restricted to senior business figures and it is advisable to have, in Farsi, a translation of details on the alternate side. Appointments should be made and punctuality is expected for business meetings, but visitors may be kept waiting by local businesspersons or government officials. Dress is formal and conservative and though Iranians do not wear ties, it is not negative for foreigners to do so. Women should dress modestly and cover their hair.
Business gifts are quite acceptable and the same hospitality found in Iranian homes extends into the business environment. The concept of separating work and family is not rigid in Iran and in fact, many businesses are family run. Hence, familial value systems may enter the work place. In other words, it is important to consult your legal department as to the boundaries of your relationships with potential partners, including the giving and receiving of gifts and bureaucratic favours- a common currency in Iran.
Friday is the Muslim holy day when everything is closed, and most businesses also close on Thursday; prayer times are also observed throughout the workday. During Ramadan, business hours may be shortened.
Tipping
Although there are many circumstances where a small tip is expected, it is unlikely that a waiter will be hovering around expectantly after delivering the bill. It's worth remembering that helpful Iranians probably deserve some extra appreciation to supplement their meagre wages. In most cases, tipping is an optional reward for good service. Fares in private taxis are always negotiable.
Public Holidays in Iran
| | | |
| --- | --- | --- |
| | 2017 | 2018 |
| Martyrdom of Imam Reza | 18 Nov | 9 Nov |
| Martyrdom of Fatima | 2 Mar | 19 Feb |
| Revolution Day | 11 Feb | 11 Feb |
| Oil Nationalization Day | 19 Mar | TBA |
| Persian New Year | 21 Mar | TBA |
| Islamic Republic Day | 1 Apr | TBA |
| Nature Day | 2 Apr | TBA 2018 |
| Birthday of Imam Ali | 10 Apr | 30 Mar |
| Prophets Ascension | 24 Apr | 13 Apr |
| Anniversary of Khomeinis Death | 4 Jun | TBA |
| Revolt of Khordad 15 | 5 Jun | TBA |
| Imam Mahdis Birthday | 12 May | 1 May |
| Martyrdom of Imam Ali | 16 Jun | 5 Jun |
| Eid-e-Fetr | 26 Jun | 15 Jun |
| Martyrdom of Imam Sadeq | 20 Jul | 9 Jul |
| Eid-e-Ghorban | 2 Sep | 22 Aug |
| Eid-al-Ghadir | 10 Sep | 30 Aug |
| Tassoua | 30 Sep | 20 Sep |
| Ashura | 1 Oct | 21 Sep |
| Arbaeen | 10 Nov | 31 Oct |
| Birthday of Muhammad and Imam Sadeq | 6 Dec | 26 Nov |
Travel Guide powered by www.wordtravels.com, copyright © Globe Media Ltd. All rights reserved. By its very nature much of the information in this guide is subject to change at short notice and travellers are urged to verify information on which they're relying with the relevant authorities. Globe Media and UNIGLOBE Travel does not accept any responsibility for any loss or inconvenience to any person as a result of information contained above.