General
Money
Entry Requirements
Health & safety
Weather
Embassies
Etiquette
Public Holidays
Attractions
Map
---
Introduction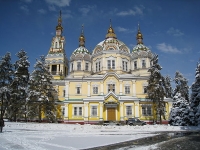 Zenkov Cathedral in Almaty ©Andyrejoices
Kazakhstan is the ninth largest country in the world and the largest landlocked country in the world, with a landmass that nearly eclipses Western Europe. Although little visited by outsiders, its rich cultural history speaks to its diverse demographics and, bordered by Russia, China, Kyrgyzstan, Uzbekistan and Turkmenistan, Kazakhstan's magnificent natural landscape has become home to many people from neighbouring nations; a friendly and hospitable, but reserved society.
Kazakhstan was formerly a Soviet Republic, but gained independence in 1991 after the dissolution of the Soviet Union, becoming the last nation to leave the Union. The rugged terrain of the country boasts diverse natural beauty, ranging from the arid, treeless steppes of the centre to the snow-capped peaks and glaciers of the Tian Shan mountain range, down to the canyons, turquoise lakes and alpine meadows of the Almaty area.
Rich in natural resources such as oil, natural gas and minerals, Kazakhstan has huge economic potential. Although there is still widespread poverty in the country, and unemployment and inflation are rife, oil exports have caused massive economic growth in recent years.
Astana is the capital of Kazakhstan and is one of the main commercial hubs, home to many major government organisations and foreign businesses. Leafy Almaty, situated in the fertile fruit-producing region in the southeast is the former capital of Kazakhstan and is the largest city in the country. Famed for its beautiful architecture, grand ballet and opera houses, public sculptures and market stalls, Almaty is the cultural centre of Kazakhstan and well worth a visit.
Other sights and activities in Kazakhstan include skiing, visiting the Baikonur Cosmodrome (the prominent spaceport launch site), bird watching in Korgalzhyn, and visiting one of the country's striking nature reserves where visitors can see animals like bears, ibex and raptors.
Communications
The international dialling code for Kazakhstan is +7. The city code for Astana is 7172. Roaming agreements exist with most international mobile phone companies and reception is good around the main cities. There are internet cafes in most towns and cities but they tend to be expensive; mobile internet is a good alternative.
Emergencies
102 (Police); 103 (Ambulance)
Languages Spoken
Kazakh, spoken by about 65 percent of the population, is the state language and Russian is an official language used for business, administration and cross-cultural communication.
Duty Free
The following goods may be imported into Kazakhstan without incurring customs duty: 200 cigarettes or 200g of tobacco products; three litres of alcoholic beverages; a reasonable quantity of perfume for personal use and gifts to the value of US$500 for personal use only. On entering the country, tourists must complete a customs declaration form, which must be retained until departure. This allows the import of articles intended for personal use, including currency and valuables, which must be registered on the declaration form. They must be exported at the end of the stay. Customs inspections can be long and thorough. It is advisable to keep receipts for items bought in Kazakhstan in order to avoid difficulties on departure.
Electricity
Electrical current is 220 volts, 50Hz. The European round two-pin plugs are standard (Type C & F).
Climate Info
The lack of moderating bodies of water make Kazakhstan's climate extremely continental and very dry. Seasonal temperatures are polarised and vary depending on the region. The best time to visit Kazakhstan is in spring (April to June) or autumn (September to October) when temperatures are mild. In spring the desert comes into flower and autumn is harvest time, when market tables are laden with freshly picked fruit.
Average winter temperatures during the day are 3°F to -1°F (-16°C to -18°C) in the far north and about 21°F (-6°C) in the south; summer temperatures average 70°F (21°C) in the north and 81°F (27°C) in the south. Snow starts to fall around November and the mountain passes fill with snow until April, sometimes even May. Climbers are advised to visit in summer when the mountain temperatures are at their best.
Passport
Most foreign passengers require a visa to enter Kazakhstan. Holders of a letter of invitation (issued by either an organisation or a national of Kazakhstan) can obtain a single-entry visa on arrival, for a stay of up to one month, provided that (i) the visa is pre-arranged by The Ministry of Foreign Affairs; and (ii) they are arriving at Aktau, Almaty, Astana, Atyrau or Uralsk airports. The visa fee is approximately USD 80. Additionally, foreign visitors holding tourist visas (i) must be in possession of hotel vouchers covering their period of stay in Kazakhstan, and (ii) if staying longer than 90 days in Kazakhstan, must register themselves at the OVIR (Upravlenie Passportno Visovoi Raboty Registration Office)- it is best to confirm (ii) with your travel agent. Failure to do so will result in penalties upon departure. OVIR offices can be found in large cities in Kazakhstan. Note that if visitors are holding a transit visa, it is also required that they hold onward tickets, and the necessary travel documentation for their next destination. A yellow fever vaccination certificate is required to enter Kazakhstan, if arriving within six days of leaving or transiting through an infected area. NOTE: It is highly recommended that your passport has at least six months validity remaining after your intended date of departure from your travel destination. Immigration officials often apply different rules to those stated by travel agents and official sources.
Entry Requirements
Canadian
citizens must have a passport that is valid for at least six months beyond the period of intended stay in Kazakhstan. A visa is required for stays longer than 30 days.
show more ...
Health
All travellers arriving from a yellow fever area are required to have a certificate of inoculation. It is recommended that travellers to Kazakhstan immunise themselves against hepatitis A and B, typhoid and update their MMR (mumps-measles-rubella) vaccines. Medical care in Kazakhstan is extremely limited and shortages of essential medical supplies are common, so take along your own set of essentials. Doctors and hospitals will expect payment in cash, regardless of travel health insurance. Blood screening is inadequate and HIV/AIDS is a risk due to contaminated blood or inadequate sterilization of instruments and needles. Make sure to have an updated and signed letter from your physician, providing detailed information on what medications you carry and why you need them.
Safety
The general rules of safety in Kazakhstan are the same as in any other developing country. There are the normal risks of pickpockets and petty crime, and travellers are advised to be cautious of corrupt police. Travellers are advised to be cautious at night in and around clubs and bars. Kazakhstan is generally a very friendly country and foreigners are respected. However, following attacks by Islamic extremists in 2012 in western Kazakhstan, the US government advises western travellers to be vigilant.
Emergency Phone Number
102 (Police); 103 (Ambulance)
* For current safety alerts, please visit
Foreign travel advice - GOV.UK
or
Travel.State.Gov
Money
The official currency is the Kazakhstani Tenge (KZT), which is divided into 100 tiyin. ATMs are generally accessible in Kazakhstan, with major European and international credit cards, such as Diners Club and Visa, accepted in central hotels, shops and restaurants.
Exchange Rate
Not available.
Embassies of Kazakhstan
Kazakhstan Embassy, Washington DC, United States: +1 202 232 5488.
Kazakhstan Embassy, London, United Kingdom (also responsible for Ireland): +44(0)207 925 1757
Kazakhstan Embassy, Toronto, Canada: +1 613 695 8055
Kazakhstan Embassy, Singapore (also responsible for Australia): +65 6536 6100.
Kazakhstan Embassy, Pretoria, South Africa: +27 12 460 0086.
Kazakhstan Embassy, Singapore (also responsible for New Zealand): +65 6536 6100.
Foreign Embassies in Kazakhstan
United States Embassy, Astana: +7 (7172) 70 21 00.
British Embassy, Astana: +7 (7172) 556 200.
Canadian Embassy, Astana (also provides limited assistance to Australia): +7 (7172) 475 577.
South African Embassy, Astana: + 7 (717) 925 326/7/8 OR 925 326/28
Irish Embassy, Moscow, Russia (also responsible for Kazakhstan): +7 (495) 937 5911.
New Zealand Embassy, Moscow, Russia (also responsible for Kazakhstan): +7 (495) 956 3579.
Customers
Kazakh people are known for their hospitality, respect for elders, as well as a peaceful and tolerant nature. Generosity and cordial behaviour are common in both social and business fields. Standards of dress and behaviour are conservative and travellers should take care not to offend. Greetings between opposite genders should remain verbal and same sex friends may shake hands, or if very close, greet one another with a hug.
Possession and use of drugs is illegal and if found guilty, could bring about a lengthy prison sentence. Same sex couples are discouraged from openly showing their affection, because, while same-sex relations are legal, cultural norms prohibit and even actively discriminate against homosexuality.
Business
An experienced and proficient interpreter can be of great assistance at business meetings. Kazakhstan's hierarchal social structure translates into the business environment, so high ranking officials and partners will wish to meet with their equals. It is customary to shake hands and call people by their first names and last names at business meetings, as well as at informal gatherings and small talk commonly precedes any business negotiations.
Business attire is generally a suit and tie for men, and a suit or business dress for women; even at informal gatherings formal attire is often expected. The respective parties often give small gifts (pens, company logo pins or books) at the end of an initial meeting as a token of appreciation. Business cards are widely distributed, with Russian and English translations. Many people in Kazakhstan are Muslim and therefore often take breaks from work during the day for prayer; so consider prayer times when scheduling meetings.
Tipping
Tipping is not customary in Kazakhstan, as a service charge is included in hotel and restaurant bills, however, as more tourists arrive tipping is becoming more common. There is also a fixed charge on taxi and railway transport, so many taxi drivers won't take tips unless travellers insist repeatedly.
Public Holidays in Kazakhstan
| | | |
| --- | --- | --- |
| | 2017 | 2018 |
| New Years Holiday | 1 Jan | 1 Jan |
| Orthodox Christmas | 7 Jan | 7 Jan |
| International Womens Day | 8 Mar | 8 Mar |
| Nauryz Holiday | 21 Mar | 21 Mar |
| Unity Day | 1 May | 1 May |
| Defenders Day | 7 May | 7 May |
| Victory Day | 9 May | 9 May |
| Capital City Day | 6 Jul | 6 Jul |
| Constitution Day | 30 Aug | 30 Aug |
| Kurban Bairam (Feast of Sacrifice) | 2 Sep | 22 Aug |
| First President Day | 1 Dec | 1 Dec |
| Independence Day | 16 Dec | 16 Dec |
Travel Guide powered by www.wordtravels.com, copyright © Globe Media Ltd. All rights reserved. By its very nature much of the information in this guide is subject to change at short notice and travellers are urged to verify information on which they're relying with the relevant authorities. Globe Media and UNIGLOBE Travel does not accept any responsibility for any loss or inconvenience to any person as a result of information contained above.