General
Money
Entry Requirements
Health & safety
Weather
Embassies
Etiquette
Public Holidays
Attractions
Map
---
Introduction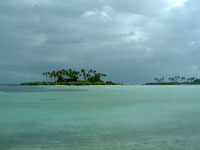 Kiribati Atoll ©luigig
Known to many under British rule as the Gilbert Islands, Kiribati (pronounced ) seems to be a tiny nation in the central tropical Pacific Ocean, but its 33 atolls, mostly surrounding turquoise lagoons and barely rising above the surrounding ocean, span a whopping 1.4 million square miles (3.5 million sq km). First sighted by British and American ships in the late 18th and early 19th-centuries, the main chain of islands was named the Gilbert Islands in 1820 after a British captain who crossed the archipelago en route to China in 1788.
Only two thirds of the islands are actually inhabited and, interestingly, uninhabited Caroline Island was the first place in the world to usher in the millennium, giving Kiribati much needed publicity and a helping hand onto the world's stage. The increased number of tourists in the past decade is proof of this.
Kiribati's islands offer a multitude of fascinating and exquisite tourist attractions. Christmas Island, located in the southern part of the Line Islands, is a bird-watcher's paradise and is an important breeding habitat for the seabirds that flock there to swoon over the surface tropical fish, squid and tuna. Common sightings include the Wedge-tailed, Christmas, and Audubon's Shearwaters, as well as the Masked, Brown, and Red-footed Boobies. What's more, the clear turquoise waters teem with the unique biodiversity found off the shores of the Kiribati islands, considered to be one of the few genuinely unspoiled and largely unexplored underwater sanctuaries remaining in the world.
Touists come here to sunbathe on one of the countless sandy white beaches, sip on an exotic cocktail and watch other beach goers partake in volleyball, surfing, kayaking and jet skiing, but there is also so much more to Kiribati. Those who visit this small and interesting country simply love what it has to offer.
Languages Spoken
The official language is I-Kiribati, but English is widely understood.
Duty Free
Visitors to Kiribati may import the following goods duty-free: 200 cigarettes or 225g of tobocco and an mount of perfume reasonable for personal use. Those 21 and older may bring one litre of spirits and one litre of wine.
Electricity
Electrical current is 240 volts, 50Hz. Three-pin power outlets are standard.
Passport
All foreign passengers to Kiribati must hold proof of return/onward tickets (or sufficient funds to purchase them), and proof of sufficient funds to cover their expenses while in the country. Generally, visa-exempt visitors are granted an initial stay of 30 days. An extension of stay is possible, provided that it does not exceed four months in any calendar year. Note that a yellow fever vaccination certificate is required to enter Kiribati, if arriving within six days of leaving or transiting through an infected area. NOTE: It is highly recommended that your passport has at least six months validity remaining after your intended date of departure from your travel destination. Immigration officials often apply different rules to those stated by travel agents and official sources.
Entry Requirements
Canadian
citizens must have a passport that is valid upon their arrival in Kiribati. A visa is not required for stays of up to 30 days.
show more ...
Health
Kiribati offers limited health facilities and any serious injury or illness is likely to require evacuation by air. Comprehensive health and travel insurance is therefore recommended.
A Yellow Fever vaccination is required for those arriving from infected areas, and vaccinations are also recommended for Typhoid, hepatitis A and hepatitis B.
* For current safety alerts, please visit
Foreign travel advice - GOV.UK
or
Travel.State.Gov
Exchange Rate
Not available.
Embassies of Kiribati
Foreign Embassies in Kiribati
Customers
Travellers to Kiribati will encounter a strange mix of informality and rigidity in terms of social mores and customs. Generally, Kiribati boasts a relatively classless society, where people are known by their first names, and talk freely and good-humouredly with one another. However, despite this general conviviality, there are certain codes of behaviour that are strictly observed. In all aspects of social life, modesty and humility are considered desirable traits - direct eye contact is not often made, women are expected to dress conservatively, and aggressive or confrontational behaviour is heavily frowned upon. Travellers to Kiribati should note that the top of one's head is considered a sacred, deeply personal area. Under no circumstances should you touch someone on the top of their head (unless invited to do so), and if you are walking past someone who is lying down, give them a wide berth to ensure that you don't cause offence.
Public Holidays in Kiribati
Travel Guide powered by www.wordtravels.com, copyright © Globe Media Ltd. All rights reserved. By its very nature much of the information in this guide is subject to change at short notice and travellers are urged to verify information on which they're relying with the relevant authorities. Globe Media and UNIGLOBE Travel does not accept any responsibility for any loss or inconvenience to any person as a result of information contained above.