General
Money
Entry Requirements
Health & safety
Weather
Embassies
Etiquette
Public Holidays
Attractions
Map
---
Introduction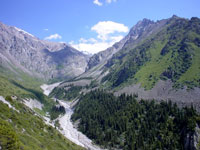 Ala-Archa Canyon ©Quibik
Dominated by towering mountains and breathtaking natural beauty, the Kyrgyz Republic in Central Asia is not a well known travel destination, despite the fact that it is one of the most welcoming countries in the region.
Kyrgyzstan boasts some of the highest mountains in the world, with 23 peaks over 16,404 feet (5,000m), and is often referred to as the 'Switzerland of Central Asia'. The challenge of climbing these remote giants of nature has long been an irresistible lure for mountaineers, although for most of the 20th century the area was off-limits to foreigners outside of the Soviet Union. Ala-Archa National Park includes approximately 20 glaciers and 50 peaks and offers dozens of horse trekking, hiking, climbing and skiing possibilities. The mountains are also home to lakes, including Lake Issyk-Kul, which at 113 miles (182km) long and 37 miles (60km) wide is one of the largest alpine lakes in the world; the less touristy Song Kul; and Jeti Oguz, which has some spectacular mountain formations and thermal springs. Another popular attraction in Kyrgyzstan is the walnut forests of Arslanbob.
Among this abundance of natural splendour lies the attractive capital city of Bishkek, famous for being one of the greenest cities in the world thanks to its profusion of trees and parks, while the ancient city of Osh near the Uzbekistan border is allegedly 3,000 years old and is full of historical diversions. Osh is also known for its lively market, which is reputedly one of the most colourful in all of Central Asia.
The Kyrgyz, the country's largest ethnic group, are traditionally nomadic herders originating from Siberia in the 13th century. Their nomadic habits continue today as families herd their sheep, yaks and horses back up to the mountain pastures ( ) every summer where they live in round hide tents known as yurts. The tradition of horse riding is part and parcel of the Kyrgyz culture and numerous festivals and games are centred on this activity. Hospitality is another key function of their way of life and visitors will find it difficult to pass by without an invitation to share in a drink of fermented horse milk ( an acquired taste by anybody's standards.
Communications
The international dialling code for Kyrgyzstan is +996. The outgoing code is 00 followed by the relevant country code (e.g. 0044 for the UK). City codes for Bishkek and Osh are (0)312 and (0)322 respectively. Mobile coverage is fairly widespread in populated areas, and local SIM cards are easy to purchase. Internet is accessible.
Emergencies
Emergencies: 103 (Ambulance); 102 (Police); 101 (Fire)
Languages Spoken
Kyrgyz is the official language followed closely by Russian, which is understood and spoken by almost everyone in Kyrgyzstan.
Duty Free
Adults over 18 may bring the following into Kyrgyzstan without paying duty: 200 cigarettes or 200g tobacco products, 2 litres of alcohol (if over 21 years), and perfume for personal use.
Electricity
Electrical current is 220 volts, 50Hz. European plugs with two circular metal pins are in use.
Climate Info
Kyrgyzstan's climate is extremely diverse due largely to its mountainous landscape. Most of the country is temperate with little rainfall and lots of sunshine, but the south-western Ferghana Valley area is subtropical with very hot summers. Generally the lowlands average lows drop to 21°F (-6°C) in winter (December to January) and climb to 75°F (24°C) highs in the middle of summer (June to August), while the highland mountainous areas range from 54°F (12°C) summer highs to lows of -22°F (-30°C) in winter, sometimes even lower. Snowfall in winter is heavy.
Passport
Most foreign nationals can obtain a visa on arrival in Kyrgyzstan. Note, however, that it is not possible to apply for a visa from within the country if the visitor entered under the visa waiver agreement. If the visitor is likely to spend more than 60 days in the country, it is highly recommended that a visa is applied for and obtained prior to arrival in Kyrgyzstan or upon landing at the airport in Bishkek. Visa extentsions under these circumstances are possible. NOTE: It is highly recommended that your passport has at least six months validity remaining after your intended date of departure from your travel destination. Immigration officials often apply different rules to those stated by travel agents and official sources.
Entry Requirements
Canadian
citizens must have a passport that is valid for the period of intended stay in Kyrgyzstan, and do not require a visa for a maximum stay of 60 days.
show more ...
Health
There is a small risk of malaria from June to November in Kyrgyzstan, mainly in the areas bordering Uzbekistan and Tajikistan, but most cases are in areas rarely frequented by tourists and a generous amount of bug spray should be sufficient to ward off the disease. Visitors are recommended to drink bottled water only. Medical care and medical supplies are limited and it may be difficult to find someone who speaks English. Comprehensive medical insurance is advised, which should include air evacuation. Update regular vaccines including the measles-mumps-rubella (MMR), varicella (chickenpox), diphtheria-tetanus-pertussis and polio vaccines, as well as the yearly flu shot. Some travellers may at risk of contracting hepatitis A and B, typhoid, yellow fever and rabies (when coming into contact with animals); and should therefore seek the appropriate vaccinations and take the necessary medical precautions.
Safety
Visitors are often a target for muggings and theft, mainly in the cities, but also occurring in the rural areas. It is therefore not advisable to display wealth, take unofficial taxis or public transport, or walk in unlit areas at night. There is a low threat of terrorist activity particularly in the south west. The political situation is tense due in part to continuing high levels of corruption and crime, and all demonstrations should be avoided. Tensions also exist over recognition of the Kyrgyz-Uzbek borders and most governments advise against travel to the Ferghana Valley area, as well as along the Tajik-Kyrgyz border. While major cities such as Bishkek and the Issyk-Kul region are fairly stable, it is advised that the situation could deteriorate rapidly in any area of the country. Avalanches and mudslides in mountainous areas are common in the spring with the snow melt, and this leads to frequent road closures and disruption to transport.
Emergency Phone Number
Emergencies: 103 (Ambulance); 102 (Police); 101 (Fire)
* For current safety alerts, please visit
Foreign travel advice - GOV.UK
or
Travel.State.Gov
Money
The official currency is the Som (KGS), which is divided into 100 tyiyn. US dollars are the easiest foreign currency to exchange at banks and official exchange offices. Major hotels in Bishkek usually accept credit cards, but Kyrgyzstan is predominantly a cash economy. ATMs are often hard to come by; Bishkek has plenty, but there are a only few in Osh and Issyk-Kul. Travellers exchanging money in Kyrgyzstan should note that they'll get a better exchange rate by changing larger bills, and that many counters will not accept dirty or or wrinkled notes.
Exchange Rate
Not available.
Embassies of Kyrgyzstan
Kyrgyzstan Embassy, Washington DC, United States: +1 202 449 9822.
Kyrgyzstan Embassy, London, United Kingdom: +44 (0)20 7935 1462.
Kyrgyzstan Embassy, Washington DC, United States (responsible for Canada): +1 202 449 9822.
Foreign Embassies in Kyrgyzstan
United States Embassy, Bishkek: +996 (0)312 551 241.
British Honorary Consul, Bishkek: +996 (0)312 584 245.
Canadian Honorary Consulate, Astana, Kazakhstan (also responsible for Kyrgyzstan): +7 (7172) 475 577.
Australian Embassy, Moscow, Russia (also responsible for Kyrgyzstan): +7 (495) 956 6070.
South African Embassy, Astana, Kazakhstan (also responsible for Kyrgyzstan): + 7 7172 925 326.
Irish Embassy, Moscow, Russia (also responsible for Kyrgyzstan): +7 (495) 937 5911.
New Zealand Embassy, Moscow, Russia (also responsible for Kyrgyzstan): +7 (495) 956 3579.
Customers
Identification should be carried by travellers at all time while visiting Kyrgyzstan. Although Kyrgyzstan is a secular state, most Kyrgyz people are Muslim and visitors should respect local customs, particularly during the holy month of Ramadan. Dress is conservative. It is bad etiquette to take photos of people, particularly women, without their permission. Shoes must be removed when entering a yurt (nomad's tent), and refusing an offer of kumys (fermented horse milk) might cause offence. Homosexuality is frowned upon.
Business
Generally most people speak Russian and most business is carried out in Russian in Kyrgyzstan; translators are available. Business hours are Monday to Friday 9am to 5pm, Saturday 9am to 1pm.
Public Holidays in Kyrgyzstan
Travel Guide powered by www.wordtravels.com, copyright © Globe Media Ltd. All rights reserved. By its very nature much of the information in this guide is subject to change at short notice and travellers are urged to verify information on which they're relying with the relevant authorities. Globe Media and UNIGLOBE Travel does not accept any responsibility for any loss or inconvenience to any person as a result of information contained above.