General
Money
Entry Requirements
Health & safety
Weather
Embassies
Etiquette
Public Holidays
Attractions
Map
---
Introduction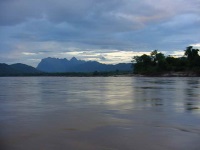 The Mekong ©Chmouel Boudjnah
Laos has been known since ancient times as Lan Xang, or Land of the Million Elephants, and offers visitors a glimpse of old Indochina. It is less developed than its neighbours China, Thailand and Vietnam, and traditionally the most reserved, but offers natural beauty and shy hospitality combined with a mix of original Buddhist culture and French influences. It also shares its borders with Myanmar (Burma) and Cambodia.
A mountainous, landlocked country, situated at the heart of South East Asia, Laos's lifeline is the Mekong River, which flows the length of the country, providing water for agricultural lands and a major means of transportation. Vientiane, the unassuming capital, is situated on its banks, and the city provides a comfortable introduction to the charms of the country. However, most tourists to Laos will find its most enticing destination is the city of Luang Prabang, the former royal kingdom, with a legacy of splendid golden temples and whitewashed houses. While it might be true that sights and attractions in Laos are few, they are nonetheless extremely special.
A troubled history of French colonisation, internal conflicts and assertive communism chased much of Laos's population away in the 1970s, and isolated the country from the outside world. Today though, the doors stand open, and services for travellers are gradually being instituted so that visitors can enjoy an unrivalled look at the old-fashioned way of life predominating in a country still largely unscathed by the harsh effects of mass tourism. Tourists willing to brave the lack of infrastructure will discover charming towns and rural villages, smiling, endearing people, splendid scenery, and a slow, relaxed pace of life.
Communications
The international access code for Laos is +856. The outgoing code is 00 followed by the relevant country code (e.g. 001 for the United States). City/area codes are in use, e.g. (0)21 for Vientiane and (0)71 for Luang Prabang. International Direct Dial is available in the major towns, but the service is expensive and inefficient. Hotels sometimes add a hefty surcharge to their telephone bills: check before making long-distance calls. Mobile phones will only work in the major cities; it is advisable to check the coverage with your service provider before leaving, as the local mobile phone companies have few active roaming agreements with other network operators. Internet cafes are widely available in tourist areas.
Emergencies
1191 (Police); 1195 (Ambulance); 192 (Tourist Police); 1190 (Fire/First Aid)
Languages Spoken
Lao is the official language, but some English and French are spoken.
Duty Free
Travellers to Laos do not have to pay duty on 200 cigarettes or 50 cigars or 250g of tobacco; 2 litres of wine and 1 litre of spirits; and 50ml of perfume and 250ml of eau de toilette.
Electricity
Electrical current is 230 volts, 50Hz. A variety of plugs are used, including the European-style two-pin, the UK-style three-pin, and the flat two-pin type.
Climate Info
Laos has a tropical climate with year-round high temperatures and two distinct seasons: the wet season from May to October, and the dry season from November to April. During the wet season, the topography of (mountainous) Laos means there is the risk of landslides. The temperatures are lower during the wet season, averaging 73°F (23°C), with August being the wettest month. The dry season has two distinct sub-sections: the cool dry period from November to February and the hot dry season from March to April. Dry season temperatures average at 82°F (28°C), and the hottest month is April. Between March and May Laos experiences a very hot season, with day-time temperatures reaching 104°F (40°C).
The best time to visit Laos is between November and March, when it is dry and temperatures are pleasant, although this is high tourist season and accommodation prices may be higher than they are at other times of the year. If you are travelling on a budget it may actually be better to brave the wet season. Having said that, Laos is still an off-the-beaten track travel destination and you are unlikely to struggle with crowds even during the peak season.
Passport
Most foreign passengers to Laos can obtain a visa on arrival, provided that: (i) they are arriving at one of the following airports: Vientiane International, Luang Prabang, Pakse, Warray; (ii) they are holding a return/onward ticket and the necessary travel documentation for their next destination; (iii) they have a confirmed hotel reservation in Laos; and (iv) they are in possession of one photograph, size 3 x 4 cm (however, it is always recommened to travel with more than one) (v) their passport contains at least two unused visa pages. These tourist visas are valid for 30 days. Note that a yellow fever vaccination certificate is required to enter Laos, if arriving within six days of leaving or transiting through an infected area. NOTE: It is highly recommended that your passport has at least six months validity remaining after your intended date of departure from your travel destination. Immigration officials often apply different rules to those stated by travel agents and official sources.
Entry Requirements
Canadian
citizens must have a passport that is valid for at least six months beyond the date of their arrival in Laos. A visa is required, and can be obtained on arrival for a maximum stay of up to 30 days if holding an address in Laos, one passport photo and all required documents for the next destination.
show more ...
Health
Those planning to travel to Laos should seek medical advice about vaccinations and endemic diseases at least three weeks prior to departure. Malaria exists throughout the country except in Vientiane, and typhoid and cholera occur in some areas. A typhoid vaccine is recommended for all travellers, except short-term travellers who will restrict their meals to major restaurants and hotels. Other risks include hepatitis E, plague, dengue fever, and Schistosomiasis if swimming in the Mekong River. Travellers' diarrhoea is a problem for many visitors; only drink bottled water and avoid dairy products, uncooked meat and fish, salads and unpeeled fruit.
Medical care in Vientiane is extremely basic and outside the capital there are no reliable facilities to deal with medical emergencies. Medical evacuation is difficult to organise and very expensive. Travellers are advised to take out comprehensive medical insurance, and those who have an unstable medical condition should consider avoiding Laos. A yellow fever certificate is required by all entering from an infected area.
Safety
Most visits to Laos are trouble-free, but crimes such as robbery are on the increase. Foreigners have been assaulted after having their drinks or food drugged. You should be careful about taking drinks from strangers, and do not leave food or drinks unattended. Theft of passports is a problem and travellers are advised to take care, avoid carrying large sums of money and keep valuables and documents in a safe place. Making copies of important travel documents is also a good idea. Travel in some rural parts of Laos is dangerous because of banditry and unexploded ordnance, and visitors should never stray from well-worn footpaths. Visitors should also note that an ID document or passport should be carried at all times and should be presented on demand or else a heavy fine could be imposed. Visitors to Vang Vieng are advised to be particularly vigilant of their belongings, and aware of their personal security as there have been reports of petty theft in the area. Staying at a trustworthy and secure hotel or guesthouse while in Vang Vieng is recommended.
Although Laos is known for its laid-back and friendly atmosphere, the travel risk is somewhat increased by the lack of travel infrastructure and medical facilities.
Emergency Phone Number
1191 (Police); 1195 (Ambulance); 192 (Tourist Police); 1190 (Fire/First Aid)
* For current safety alerts, please visit
Foreign travel advice - GOV.UK
or
Travel.State.Gov
Money
The Lao Kip (LAK) is the legal currency unit. US Dollars, Euros and Thai Baht are also accepted in many places and are more convenient to carry than large stacks of the local currency. Banks, hotels, and jewellery shops all offer currency exchange services. For everyday expenses, carry a mix of US Dollars and Kip. For larger items, or when the exchange rate works in your favour, use US dollars. For local transport, street food stalls and minor purchases, it is best to use Kip. When in rural areas, ensure you carry a supply of small notes as change can be hard to come by.
Major credit cards such as Visa and MasterCard are accepted at most international hotels, many shops and restaurants, and a few tourist-orientated establishments in Luang Prabang and Vientiane - but in other parts of the country assume that only cash is accepted.
Banks are generally open Monday to Friday from 8am to 12pm, and then again from 2pm to 3pm. In Vientiane, Luang Prabang, Pakse and other major towns, ATMs are available from which money can be withdrawn. Note that ATMs distribute only Lao Kip, with a maximum of around 1,000,000 Kip per transaction.
Exchange Rate
Not available.
Embassies of Laos
Laos Embassy, Washington DC, United States (also responsible for Canada): +1 202 332 6416.
Laos Embassy, London, United Kingdom: +44 20 7402 3770.
Laos Embassy, Canberra, Australia (also responsible for New Zealand): +61 (0)2 6286 4595.
Foreign Embassies in Laos
American Embassy, Vientiane: +856 (0)21 267 000.
British Embassy, Bangkok, Thailand (also responsible for Laos): +66 (0)2 305 8333.
Canadian Embassy, Bangkok, Thailand (also responsible for Laos): +66 (0)2 646 4300.
Australian Embassy, Vientiane: +856 (0)21 353 800.
South African Embassy, Bangkok, Thailand (also responsible for Laos): +66 (0)2 659 2900.
Irish Embassy, Bangkok, Thailand (also responsible for Laos): +66 2 016 1360.
New Zealand Embassy, Bangkok, Thailand (also responsible for Laos): +66 (0)2 254 2530.
Customers
Skimpy or revealing clothes are generally not acceptable, especially in places of worship. Public displays of affection are taboo in Lao society. The Laos government prohibits any sexual contact or relationships between Lao nationals and foreigners, unless married under Lao law; penalties may involve heavy fines or imprisonment. It is illegal not to carry an identity document. Photographing military sites is prohibited.
Business
Laos has a hot, tropical climate and therefore when it comes to business, lightweight suits are common, worn with a tie. Visitors should bear in mind that the country is generally rather conservative and act accordingly. Business cards should be given and received using both hands and should be treated with respect. Handshakes are common, but a traditional greeting is the or , similar to the Indian n where palms are placed together as if in prayer, and held in front of the chest or face. Surnames usually come before first names, which can be confusing for visitors. French is more widely spoken and understood than English, though translators are available. Business hours are usually from 8am to 12pm and 1pm to 4pm, Monday to Friday.
Tipping
Tipping is becoming more widely practiced in tourist hotels and restaurants, where 10 percent is expected; elsewhere, there is no need to tip. Many of the more up-market restaurants tend to include a 10 to 15 percent service charge in their bill.
Public Holidays in Laos
| | | |
| --- | --- | --- |
| | 2017 | 2018 |
| New Years Day | 1 Jan | 1 Jan |
| Pathet Lao Day | 6 Jan | 6 Jan |
| Army Day | 20 Jan | 20 Jan |
| Chinese New Year | 28 Feb | 16 Feb |
| International Womens Day | 8 Mar | 8 Mar |
| Day of the Peoples Party | 22 Mar | 22 Mar |
| Lao New Year (Pi Mai) | 14 Apr | 12 Apr |
| Labour Day | 1 May | 1 May |
| Buddhas Birthday | 3 May | TBA 2018 |
| Childrens Day | 1 Jun | 1 Jun |
| National Day | 2 Dec | 2 Dec |
Overview
Sightseeing in Laos usually incorporates religious sites and the many natural attractions of the country. Near Vientiane, Xiang Khouan is a religious park that has integrated Buddhist statues into a river meadow landscape. Vientiane also boasts the most impressive religious site of the country: That Luang, an enormous and ornate stupa within the city. The serene and historic city of Luang Prabang is near beautiful religious locations such as the Royal Palace, Wat Xieng Thong and the Pak Ou Caves, which all house ancient Buddhist statues and relics. Another great Laos tourist attraction is the beautiful cave of Tham Phou Kham in Vang Vieng. Visitors to Phonsavan can marvel at hundreds of enormous stone jars strewn about a meadow for mysterious reasons in ancient times. The area also hosts a number of other tourist sights and activities such as a Mines Advisory Group (MAG) centre, a silk farm and tours of the local villages.
Travellers looking for fun activities in Laos can hire inner tubes and float down the warm rivers that criss-cross the country (often with refreshing cocktails in hand). These sorts of languid activities are typical delights in Laos, which is a laid-back and beautiful country lending itself more to leisurely exploration than a frenzy of organised sightseeing.
Northern Laos is very accessible and generally tends to attract most of the tourists travelling to Laos. However, eastern and southern Laos are well off the tourist trail, for the moment, and richly rewarding for those willing to make the effort and have an adventure - the hiking trails are particularly worthwhile.
Map of Laos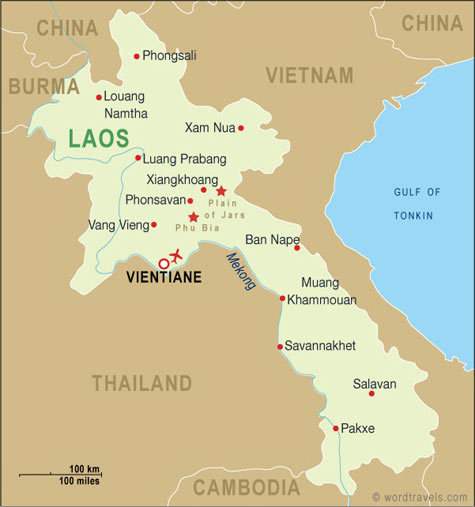 Travel Guide powered by www.wordtravels.com, copyright © Globe Media Ltd. All rights reserved. By its very nature much of the information in this guide is subject to change at short notice and travellers are urged to verify information on which they're relying with the relevant authorities. Globe Media and UNIGLOBE Travel does not accept any responsibility for any loss or inconvenience to any person as a result of information contained above.