General
Money
Entry Requirements
Health & safety
Weather
Embassies
Etiquette
Public Holidays
Attractions
Map
---
Introduction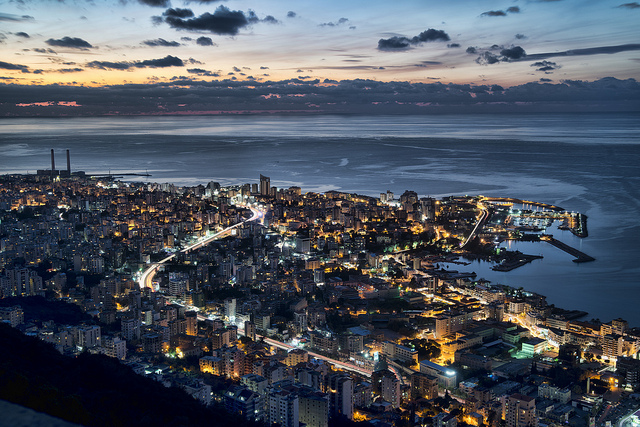 A view from Harissa ©Ahmad Moussaoui
Lebanon has long been a meeting point of major world cultures and civilisations. Once the seat of Phoenician and Roman occupancy in the region - best seen at the pre-Roman historic site of Baalbek - today Lebanon is famous for being home to the largest and best-preserved Roman ruins in the world. In the coastal cities of Saida (Sidon) and Jbail (Byblos), tourists even have the rare opportunity to snorkel amongst submerged Phoenician ruins.
One of the highlights of visiting Lebanon, and its cosmopolitan capital city Beirut, is the constant reminder of the country's long-standing role in the history of the world. Lying on the Mediterranean Sea, at the junction of Asia, Africa and Europe, Lebanon's cities and harbours formed part of a 'global' network of trade ports during Roman times. The Békaa Valley, known in the 1st century BC as the 'granary of Rome', is still the country's main agricultural region, and one of the leading wine-producing areas in the world.
Lebanon has a remarkable natural landscape, especially when one considers how much desert surrounds it. There are four main geographical regions in Lebanon, that can easily be identified on a map. From west to east, there is the coastal plain; the Mount Lebanon Range; the Békaa Valley; and the Anti-Lebanon Range. Each region varies in topography and climate, and in what it can offer a visitor. However, because Lebanon is a small country (about the size of Cyprus), day trips to historic coastal towns and lovely mountain villages can easily be made from Beirut.
From 1975 until the early 1990s Lebanon endured a bloody civil war, which deeply scarred the country and its inhabitants, but some reconciliatory efforts towards rebuilding the nation have created a burgeoning atmosphere of open-mindedness and tolerance. These days, although it still features on consular warning lists, Lebanon remains a popular travel destination. As long as travellers remain vigilant and aware of the socio-political situation at any given time, they should enjoy a safe and pleasant passage through the biblical 'Land of the Cedars'.
The ancient cities, ski resorts, impressive architecture and striking landscapes of Lebanon are, however, just the tip of the iceberg. The country is also known for its wonderful food, internationally-renowned wineries, incredible shopping districts, red-hot nightlife and skilled artisans. Beirut, sometimes called the 'Paris of the Middle East', is a trendy and highly cosmopolitan city, where a variety of languages, nationalities and religions transcend social barriers. Tragically and ironically, Beirut suffered a twin suicide bombing attack in November 2015, a day before the Paris attacks; but, devastating as these attacks were, Beirut's resilient character continues to embody multiculturalism despite terrorism.
This melting pot of cultures continues to thrive against all odds, after years of past and ongoing disruption, exemplified by the colourful contrasts of the Mediterranean city. Modern life plays out in the midst of ancient buildings, where churches and mosques sit adjacent to one another, and where foreigners and locals still mix easily in the streets.
Communications
The international dialling code for Lebanon is +961. The outgoing code is 00, followed by the relevant country code (e.g. 0044 for the UK). City codes are in use, e.g. (0)1 for Beirut, (0)6 for Tripoli. Internet cafes are widespread in Lebanon, particularly in Beirut and major cities. Internet services are also provided outside traditional internet cafes, e.g. Starbucks in Beirut provides a wireless internet connection. There is good mobile phone coverage and many networks have international roaming agreements.
Emergencies
140 (Ambulance), 175 (Fire), and 112 (Police)
Languages Spoken
Arabic is the official language, however, Lebanese Arabic is its own dialect, often a patois including at least one other language. French and English are the most common European languages and most people are bilingual.
Duty Free
Duty free allowances for travellers to Lebanon over 18 are 800 cigarettes/50 cigars/1kg of tobacco, two litres of spirits and four of other alcoholic beverages, and perfume for personal use. All currency should be declared on arrival, and a valid import licence is required for any arms or ammunition. All prescription medications should be accompanied by a Dr's letter and check a list of contraband medication prior to travel.
Electricity
Electrical current is 230 volts, 50Hz. The European round two-pin plug is standard (type C), but a variety of other plugs are used.
Climate Info
Lebanon has three different climate zones, the coastal strip, the mountains and the Bekaa Valley. The coastal area of Lebanon experiences a truly Mediterranean climate with hot, dry summers and mild, rainy winters. The mountainous regions have typical alpine climates and are cool in the summer and cold with heavy snowfalls in the winter. The Bekaa Valley has hot, dry summers and cold, dry winters with snow, frost and cold winds. Lebanon experiences an average of 300 days of sunshine a year, the average annual temperature in Beirut being 70°F (21°C), with a range from 50°F (10°C) in winter to 86°F (30°C) in summer, while the coastal regions can reach in excess of 95°F(35°C).
Passport
Most foreign nationals can obtain a visa on arrival in Beruit (BEY), Lebanon, provided that: (i) they are holding confirmed return/onward tickets, and the necessary travel documentation for their next destination; and (ii) they can supply a valid address and telephone number for themselves while in Lebanon; a familial or corporate sponsor are good examples of appropriate sponsors.
These tourist visas are either free (for stays of up to one month), or will be charged according to the nature and duration of the visit (for a maximum of up to six months). Visa extensions are possible from within the country. Business travellers and large tourists groups (min. 8 people) registered with a local tour operator can get visas on arrival for up to six months. Note that holders of passports containing a visa for Israel (whether valid or expired, used or unused), or containing any Israeli stamps or endorsements, will not be allowed to enter Lebanon. A yellow fever vaccination certificate is required to enter Lebanon, if arriving within six days of leaving or transiting through an infected area.
NOTE: It is highly recommended that your passport has at least six months validity remaining after your intended date of departure from your travel destination. Immigration officials often apply different rules to those stated by travel agents and official sources.
Entry Requirements
Canadian
citizens must have a passport that is valid for at least three months beyond their estimated duration of stay in Lebanon. A visa is required for all travellers and can be obtained on arrival at Beirut International Airport. However, some visas do require prior arrangments with the Lebanese government to ensure longer stays.
show more ...
Health
Health risks for travellers to Lebanon are not excessive. Update routine vaccines such as measles-mumps-rubella (MMR) vaccine, diphtheria-tetanus-pertussis vaccine, chickenpox vaccine and polio vaccine, as well as flu shots. There is no risk of yellow fever, but a vaccination certificate is required for travellers arriving from an infected country. Typhoid vaccinations are recommended to all travellers - especially around the rainy season when contaminated water may filter into the cities - with the exception of those who intend to stay in Lebanon for only a short period and take their meals in major restaurants and hotels. Medical facilities and healthcare in Lebanon are good but expensive and all payments are expected in cash, regardless of insurance. Make sure medical insurance covers any possible expenses and consider provision for medical evacuation.
Safety
Safety warnings change regularly and Lebanon is unpredictable at best, featuring on numerous consular warning lists. Most recently, twin suicide bombings in November 2015 killed 43 people and wounded 239 others in the southern suburbs of Beirut. Vigilance is essential, as family, neighbourhood and factional violence is spontaneous, sporadic and often lethal, and certain areas, particularly at the Syrian and Israeli border, must be completely avoided. Any travel south of the Litani River is discouraged. Politically or economically motivated kidnappings occur and other crimes, such as burglary, petty theft, vehicle theft and break-ins, are present in Lebanon, but are low by international standards. Visitors should be streetwise and exercise normal precautions otherwise.
Emergency Phone Number
140 (Ambulance), 175 (Fire), and 112 (Police)
* For current safety alerts, please visit
Foreign travel advice - GOV.UK
or
Travel.State.Gov
Money
The official currency is the Lebanese Pound (LBP), which is divided into 100 piastres. The Lebanese Pound is locally known as the Lira. ATM machines are widely available in Lebanon except in isolated towns and cash can be withdrawn from banks during business hours. Credits cards are widely used.
Exchange Rate
Not available.
Embassies of Lebanon
Lebanon Embassy, Washington DC, United States: +1 202 939 6300.
Lebanon Embassy, London, United Kingdom (also responsible for Ireland): +44 0 20 7229 7265.
Lebanon Embassy, Ottawa, Canada: +1 613 236 5825.
Lebanon Embassy, Canberra, Australia (also responsible for New Zealand): +61 2 6295 7378.
Lebanon Embassy, Pretoria, South Africa: +27 012 430 2130
Foreign Embassies in Lebanon
United States Embassy, Beirut: +961 4 543 600.
British Embassy, Beirut: +961 0 1 960 800.
Canadian Embassy, Beirut: +961 4 713 900.
Australian Embassy, Beirut: +961 0 1 960 600.
South African Honorary Consulate, Beirut: +961 0 1 804 100.
Irish Embassy, Cairo, Egypt (also responsible for Lebanon): +202 27 287 100
Embassy of New Zealand, Cairo, Egypt (also responsible for Lebanon): +20 2 246 16000
Customers
While more liberal than surrounding nations, Lebanon is largely conservative and predominately religious - Islam and Christianity are the two largest religions. Modesty in dress and behaviour is particularly important during Ramadaan and other relgious holidays, as well as at religious sites, but is generally encouraged. Cosmopolitan areas however, most notably in Beirut, are far more liberal than the rest of the country and wider region, allowing more leeway in terms of dress and behaviour. Possession, use and trafficking of controlled drugs are all serious offences in Lebanon and carry custodial sentences, and homosexuality is considered a criminal offence in most jurisdictions. Overstaying without the proper authority is also considered to be a serious offence. Photographing military personnel or installations and government buildings may lead to confiscation of photographic equipment, and possibly even imprisonment.
Business
Many businesspeople speak English, but an interpreter may be required and work attire in Lebanon is formal and conservative. Local business customs may prevail over an increasingly Westernised business environment, especially for smaller companies. Thus, an attempt at familiarity and pleasantaries over tea or coffee often preceed any business talk - business negotiations before these formalities are considered rude. Direct eye contact, physical closeness and friendliness is often a major part of gaining confidence in a business meeting. Cross-gendered greetings and negotiations will be more reserved and may involve little to no physical greetings. Gift giving is common and it is important to check on the legal limitations involved thereof with a legal consultant. Business cards are widely distributed and English is spoken by many local business people. The working week runs from Monday to Saturday, but some Muslim businesses may be closed on Fridays.
Tipping
Tipping is customary in Lebanon and service staff are usually tipped around 10 to 15 percent of the bill. Porters, hotel staff, valets and doormen usually receive a nominal fee depending on the area, service and establishment.
Public Holidays in Lebanon
| | | |
| --- | --- | --- |
| | 2017 | 2018 |
| Birth of the Prophet | 1 Dec | 21 Nov |
| New Years Day | 1 Jan | 1 Jan |
| Orthodox Christmas | 9 Jan | TBA |
| St Marouns Day | 9 Feb | 9 Feb |
| Rafik Hariri Memorial Day | 14 Feb | 14 Feb |
| Annunciation Day | 25 Mar | 25 Mar |
| Good Friday | 14 Apr | 30 Mar |
| Labour Day | 1 May | 1 May |
| Resistance and Liberation Day | 25 May | 25 May |
| Eid al-Fitr (End of Ramadan) | 26 Jun | 14 Jun |
| Assumption | 15 Aug | 15 Aug |
| Eid Al-Adha (Feast of Sacrifice) | 2 Sep | 22 Aug |
| Islamic New Year | 22 Sep | 12 Sep |
| Ashura | 30 Sep | 20 Sep |
| Independence Day | 22 Nov | 22 Nov |
| Christmas Day | 25 Dec | 25 Dec |
| Easter Sunday | 16 Apr | 1 Apr |
Travel Guide powered by www.wordtravels.com, copyright © Globe Media Ltd. All rights reserved. By its very nature much of the information in this guide is subject to change at short notice and travellers are urged to verify information on which they're relying with the relevant authorities. Globe Media and UNIGLOBE Travel does not accept any responsibility for any loss or inconvenience to any person as a result of information contained above.