General
Money
Entry Requirements
Health & safety
Weather
Embassies
Etiquette
Public Holidays
Attractions
Map
---
Introduction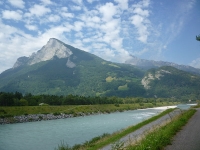 The Rhine River, Liechtenstein ©St9191
Liechtenstein is a mountainous little principality sandwiched between Switzerland and Austria. How little? Well, you could technically drive right around the edge of the country in about eight hours. The eastern region of Liechtenstein, bordering Austria, is the highest point in a country of impressive mountains, with the peaks of Grauspitz reaching 8,527 feet (2,599m).
Because of the small size of the country, ski enthusiasts like to joke about riding from Grauspitz right down the western slope into Switzerland. Of course, this is not technically possible. Besides the fact that the slopes end well before reaching Switzerland, the entire western border of Liechtenstein is made up of the mighty Rhine River - impossible to ski over even in the dead of winter. Having said that, border crossings are very relaxed in Liechtenstein and it is easy to bounce between Switzerland and Austria on your visit.
On your way past the lush Rhine Valley that makes up the western half of the country, a visit to the capital of Vaduz will yield a handful of remarkable sights. The Vaduz Castle is the residence of the Prince of Liechtenstein. It perches atop a hill overlooking the city and has become synonymous with the town despite the fact that no-one is actually allowed to visit the castle. There is an art gallery and the Liechtenstein National Museum which tells the story behind how this interesting little country came to be. Most of your sightseeing can be done by foot or on a bicycle; the city is very safe for such activity and certainly small enough. To see the rest of the country, simply rent a car.
Emergencies
117 (police), 118 (fire), 144 (medical).
Languages Spoken
The official language of Liechtenstein is German.
Duty Free
Travellers to Liechtenstein may import the following goods without paying custom duty: 400 cigarettes/50 cigars/250g tobacco, 750ml liquor, 50ml perfume and 250ml eau de toilette. Cameras must be declared on arrival, and may be accompanied by a reasonable amount of film.
Electricity
Electrical current is 220 - 240 volts, 50Hz. Plugs are of the round, two-pin type common in Europe.
Passport
The borderless region known as the Schengen Area includes the following countries: Austria, Belgium, Czech Republic, Denmark, Estonia, Finland, France, Germany, Greece, Hungary, Iceland, Italy, Latvia, Liechtenstein, Lithuania, Luxembourg, Malta, The Netherlands, Norway, Poland, Portugal, Slovakia, Slovenia, Spain, Sweden and Switzerland. All these countries issue a standard Schengen visa that has a multiple entry option, and which allows the holder to travel freely within the borders of all the aforementioned countries. Additionally, foreign visitors to Liechtenstein must be in possession of the necessary travel documentation for their next destination.
Note that Liechtenstein shares border services with Switzerland, and so if you have a Schengen visa for entry into Switzerland, then you can automatically enter Liechtenstein. There are no border guards or immigration posts between the two countries. However, those entering from Austria will need a Schengen visa that allows for entry into Switzerland and Liechtenstein.
NOTE: It is highly recommended that your passport has at least six months validity remaining after your intended date of departure from your travel destination. Immigration officials often apply different rules to those stated by travel agents and official sources.
Entry Requirements
Canadian
citizens must have a passport that is valid for at least three months after departure from Liechtenstein. No visa is required, for stays of up to 90 days.
show more ...
Health
There are no particular health risks associated with travel to Liechtenstein and no vaccinations are required. Travellers are always advised to be up to date on vaccinations for MMR (measles, mumps, rubella) and tetanus-diphtheria. Long-term travellers spending time in forested areas should consider a vaccination for tick-borne encephalitis. High quality medical care is widely available but can prove expensive. Comprehensive travel insurance is recommended.
Emergency Phone Number
117 (police), 118 (fire), 144 (medical).
* For current safety alerts, please visit
Foreign travel advice - GOV.UK
or
Travel.State.Gov
Exchange Rate
Not available.
Embassies of Liechtenstein
Foreign Embassies in Liechtenstein
Customers
Travellers to Liechtenstein should expect to find a prosperous, highly industrialised society, that is of a piece with those found in the rest of Western Europe. One thing to bear in mind might be that Liechtensteinian women were only given the right to vote in 1984, and outmoded and sexist attitudes may still prevail among older members of society. Generally speaking though, Liechtenstein is a modern country with a well-educated and flourishing population that encourage tourism and are friendly to visitors.
Public Holidays in Liechtenstein
Travel Guide powered by www.wordtravels.com, copyright © Globe Media Ltd. All rights reserved. By its very nature much of the information in this guide is subject to change at short notice and travellers are urged to verify information on which they're relying with the relevant authorities. Globe Media and UNIGLOBE Travel does not accept any responsibility for any loss or inconvenience to any person as a result of information contained above.