General
Money
Entry Requirements
Health & safety
Weather
Embassies
Etiquette
Public Holidays
Attractions
Map
---
Introduction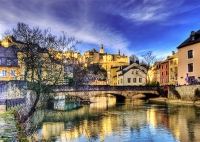 Luxembourg ©Wolfgang Staudt
It is easy to overlook the Grand Duchy of Luxembourg when planning a tour of Europe, dwarfed as it is by its neighbours France, Germany and Belgium. In the global imagination Luxembourg features vaguely as a country known for important banking institutions and European Union bureaucrats. However, this little country is located at the crossroads of several major European highways, and if you have reason to travel through it, don't hesitate to stop awhile and probe behind the glass office blocks and official buildings to find a land of fascinating medieval fortresses, rolling woodlands, sun-drenched castles, and quaint villages.
The entire country is only 51 miles (85km) long and 32 miles (52km) wide, but there is a lot in this small package. The Ardennes region is hilly, densely forested and dotted with medieval castles, best known for being the site of the World War II Battle of the Bulge. The Mullerthal area is great for hiking, with a landscape of curious sandstone rock formations, waterfalls and forest. The Moselle wine-growing region is picturesque and famed for its white wines. Luxembourg City has grown up around an ancient fortified citadel in a setting that is unique and strangely beautiful. As if that were not enough to attract attention, bear in mind that the Grand Duchy also has a booming fine-dining scene, including a number of prestigious Michelin-starred restaurants.
Luxembourg's long history is concerned mainly with warding off and withstanding invasion, occupation and siege, which is perhaps why its people seem a little more conservative than their neighbours, with a national motto that reads: 'We want to remain what we are'. For travellers, the advantage of this stoic traditionalism is the country's dedication to preserving history and culture, and the many traditional parades and festivals to attend.
Communications
The country code for Luxembourg is +352. The country is amply covered by GSM mobile phone networks and there are internet cafes in Luxembourg city.
Emergencies
113 (Police); 112 (Ambulance/ Fire)
Languages Spoken
The official language in Luxembourg is Letzeburgesch, a conglomerate German/French dialect. French and German are commonly used, and English is widely spoken.
Duty Free
Travellers over 17 years arriving from non-EU countries do not have to pay duty on 200 cigarettes, or 100 cigarillos, or 50 cigars, or 250g tobacco, or a proportional mix of these; 1 litre spirits with alcohol content higher than 22%, 2 litres of spirits with alcohol content below 22%, 4 litres of wine, 16 litres of beer, or a proportional mix of these. Other goods allowed include gift items and souvenirs to the value of €430 per adult travelling by sea or air, €300 per adult travelling overland, and €150 for children below 15 years. Providing goods are bought for personal use, there are no restrictions on carrying tobacco and alcohol between the 15 original countries of the EU (including the UK).
Electricity
230 volts, 50Hz. European-style two-pin plugs are used.
Passport
The borderless region known as the Schengen Area includes the following countries: Austria, Belgium, Czech Republic, Denmark, Estonia, Finland, France, Germany, Greece, Hungary, Iceland, Italy, Latvia, Lithuania, Luxembourg, Malta, The Netherlands, Norway, Poland, Portugal, Slovakia, Slovenia, Spain, Sweden and Switzerland. All these countries issue a standard Schengen visa that has a multiple entry option, and which allows the holder to travel freely within the borders of all the aforementioned countries. Additionally, passengers not having visible means of support, and those who are suspected of being a danger to public security, tranquillity or order may be refused entry to Luxembourg. Moreover, it is advised that non-EEA passengers hold return or onward tickets, and the necessary travel documentation for their next destination, as refusal of entry upon arrival can lead to serious difficulties and costs for passengers and transporting airlines.
NOTE: It is highly recommended that your passport has at least six months validity remaining after your intended date of departure from your travel destination. Immigration officials often apply different rules to those stated by travel agents and official sources.
Entry Requirements
Canadian
citizens must have a passport that is valid for at least three months beyond the period of intended stay in Luxembourg. No visa is required, for stays of up to three months.
show more ...
Health
No vaccination certificates are required for entry to Luxembourg, and there are no health risks associated with travel to the country. Medical facilities are of a high standard in cities but may be limited outside of urban areas. British citizens should carry a European Health Insurance Card (EHIC), in order to qualify for free emergency medical treatment. Medical insurance is recommended. If you require certain medications during your trip it is best to bring them with you, in their original packaging, with a signed and dated letter from your doctor detailing what the medication is and why you need it.
Safety
Travel to and around Luxembourg is very safe and the country has low crime rates. Visitors should take normal precautions against pick-pockets and petty theft, but trips are likely to be trouble free.
Emergency Phone Number
113 (Police); 112 (Ambulance/ Fire)
* For current safety alerts, please visit
Foreign travel advice - GOV.UK
or
Travel.State.Gov
Money
The currency in Luxembourg is the Euro (EUR), which is divided into 100 cents. Foreign currency can be exchanged at all Luxembourg banks and bureaux de change, as well as the airport and post office. Major hotels will also exchange currency, though rates are high. Major credit cards are widely accepted.
Exchange Rate
Not available.
Embassies of Luxembourg
Luxembourg Embassy, Washington DC, United States (also responsible for Canada): +1 202 265 4171.
Luxembourg Embassy, London, United Kingdom: +44 (0)20 7235 6963.
Netherlands Embassy (responsible for representing Luxembourg), Canberra, Australia: +61 (0)2 6220 9400.
Honorary Consulate of the Grand Duchy of Luxembourg, Johannesburg, South Africa: +27 (0)11 463 1744.
Honourary Consulate of Luxembourg, Dublin, Ireland: +353 (0)1 286 7285.
Foreign Embassies in Luxembourg
United States Embassy, Luxembourg: +352 460 123.
British Embassy, Luxembourg: +352 229 864.
Canadian Embassy, Brussels (also responsible for Luxembourg): +32 (0)2 741 0611.
Australian Embassy, Brussels (also responsible for Luxembourg): +32 (0)2 286 0500.
South African Embassy, Brussels (also responsible for Luxembourg): +32 (0)2 285 4492/64/53.
Irish Embassy, Luxembourg: +352 450 6101.
New Zealand Embassy, Brussels, Belgium (also responsible for Luxembourg): +32 (0)2 512 1040.
Customers
Luxembourg is a proud and stable country, with a culture surprisingly closed off to foreign influences, and marked by formal (even ceremonial) social interactions. European visitors will find Luxembourg's social milieu to be very similar to that of France or Germany, although perhaps slightly more conservative. Be sure not to put your feet up on tables or chairs, or to point your finger when referring to someone, as this is considered rude. Body language is generally quite muted in Luxembourg, and it is considered impolite to inquire about someone's private affairs unless you know them well.
Business
Business in Luxembourg is usually conducted in French, though some German and English is also used. Translators are readily available, but some effort at speaking French will be appreciated. Business tends to be conducted formally, beginning with a handshake and an exchange of business cards. Punctuality is essential. Dress is formal, with a suit and tie the norm. Surnames and titles are usually used. Luxembourgers are polite and cautious, and it is important to build personal relationships. Business hours are usually 8.30am to 5.30pm Monday to Friday, often closing for an hour at lunch.
Tipping
Hotel and restaurant bills generally include a service charge in Luxembourg. Porters and doormen in smarter hotels appreciate small tips and taxi drivers expect a tip of around 10 percent.
Public Holidays in Luxembourg
| | | |
| --- | --- | --- |
| | 2017 | 2018 |
| New Years Day | 1 Jan | 1 Jan |
| Good Friday | 14 Apr | 30 Mar |
| Easter Monday | 17 Apr | 2 Apr |
| Labour Day | 1 May | 1 May |
| Ascension Day | 25 May | 10 May |
| Whit Monday | 5 Jun | 21 May |
| Luxembourg National Holiday | 23 Jun | 23 Jun |
| Assumption of the Virgin Mary | 15 Aug | 15 Aug |
| All Saints Day | 1 Nov | 1 Nov |
| Christmas Day | 25 Dec | 25 Dec |
| St Stephens Day | 26 Dec | 26 Dec |
Map of Luxembourg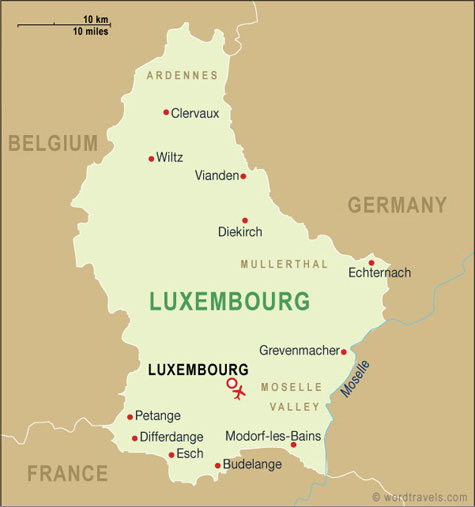 Travel Guide powered by www.wordtravels.com, copyright © Globe Media Ltd. All rights reserved. By its very nature much of the information in this guide is subject to change at short notice and travellers are urged to verify information on which they're relying with the relevant authorities. Globe Media and UNIGLOBE Travel does not accept any responsibility for any loss or inconvenience to any person as a result of information contained above.