General
Money
Entry Requirements
Health & safety
Weather
Embassies
Etiquette
Public Holidays
Attractions
Map
---
Introduction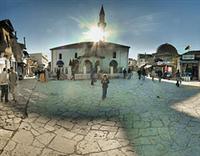 Skopje old town ©Panoramas
Macedonia is an ancient country in search of a modern identity. Since the end of the civil war in 1991, Macedonia can claim to be the most peaceful republic to emerge from the former Yugoslavia, and visitors here get to experience one of the safest and most beguiling countries in all of Europe. Macedonia is a paradise for hikers, bikers, skiers and climbers, as over 80 percent of the land is mountainous and forested. Its abundant lakes and unpolluted rivers also attract fishermen, while Roman ruins and religious art invite culture buffs looking to see a different, fresher face to ancient Europe. Macedonia's prime attraction is Lake Ohrid, on the south-east border with Albania. This is Europe's deepest lake and one of the oldest in the world. Between mid-July and late August the Ohrid Summer Festival takes place, and this is the best time to experience Macedonian music, food and people in all their glory.
The capital is Skopje, a really enjoyable microcosm of Macedonia's many charms. There are plenty of historical relics, medieval fortresses and a bustling Ottoman-style bazaar. After dark, Skopje's celebrated nightlife comes into its own with great live music and clubs. Mavrovo, 40 miles (60km) east of Skopje, is an excellent though hugely underrated ski resort in a wonderfully scenic mountain location. Bitoli, the country's second largest city, is known for its café culture and Ottoman heritage. Getting around in Macedonia is relatively easy, with fairly well maintained roads plied by public buses, and reasonably good value car hire available. The trains are clean, cheap and slow - which is a good thing as the scenery en route to destinations can be magnificent. For the moment Macedonia is still an off-the-beaten-track travel destination, but with its unbeatable mix of wilderness, culture, and famously friendly people, this destination is primed to become the next big thing on the European visitor's map. For those who like to explore countries relatively 'undiscovered' by tourists Macedonia is ideal.
Communications
The international dialling code for Macedonia is +389. The outgoing code is 00 followed by the relevant country code (e.g. 0044 for the United Kingdom). Internet access is widespread and there are Internet cafes all over the country. The central post office in Skopje is open from 7am to 7.30pm Monday to Saturday and 8am to 2pm on Sundays. There is good cell phone coverage and roaming agreements are in place with major international operators.
Emergencies
Police: 192. Public ambulance: 194
Languages Spoken
Macedonian is the official language. English, French and German are spoken quite widely.
Duty Free
Visitors to Macedonia may import one box of cigarettes, one bottle of liquor, and gifts valued to 60dm without incurring customs duty.
Electricity
Electrical current is 220 volts (50Hz). European round pin attachment plugs and Schuko plugs are in use.
Climate Info
Macedonia has a largely Continental climate, although the south and east of the country are quite Mediterranean. Generally, summers are long and dry, and winters are mild and rainy, with occasional heavy snowfall in the mountains. It can get surprisingly hot in summer, between May and August, with temperatures on the plains sometimes reaching as high as 104°F (40°C). The warmest month is July, with an average temperature of 72°F (22°C). Winters are fairly cold and snowfall is common. The coldest month is January, with an average temperature of 33°F (0°C). Rainfall is abundant, particularly in the short spring and autumn, with October being the wettest month, and August the driest. Visitors should note that the climate does vary according to region and geographical features.
Macedonia is a year-round destination, but the summer months, between May and August, are the peak tourism season and the optimum time to visit. At this time the popular lake areas and cities like Ohrid and Mavrovo (known for its mountain biking opportunities) can get crowded. November to April is the least popular period for travel to Macedonia, with the exception of the ski season in January and February, which sees visitors flock to the slopes in Mavrovo, Pelister, Krushevo and Popova Sapka. Spring and autumn can also be very pleasant but it can be rainy.
Passport
It is recommended that foreign passengers to Macedonia hold return/onward tickets, the necessary travel documentation for their next destination, and sufficient funds to cover their expenses while in the country. Once in Macedonia, foreign visitors must report to the nearest police station within three days of arriving, unless staying in a hotel. NOTE: It is highly recommended that your passport has at least six months validity remaining after your intended date of departure from your travel destination. Immigration officials often apply different rules to those stated by travel agents and official sources.
Entry Requirements
Canadian
citizens must have a passport that is valid for the duration of their stay in Macedonia. No visa is required for touristic stays of up to 90 days.
show more ...
Health
There are no specific health risks for Macedonia and travel is usually problem free from a health perspective. Hepatitis A and hepatitis B vaccinations are recommended and it is also advised that you be up to date with your vaccinations for MMR (measles, mumps, rubella) and tetanus-diphtheria. A typhoid vaccination may be recommended for those travellers who will be eating and drinking outside of major restaurants and hotels. On a related note, avoid drinking tap water unless it has been boiled or filtered. A rabies vaccination may be recommended for those travellers who may have contact with wild animals while in Macedonia.
Medical and health care facilities are good in Skopje and other large cities in Macedonia and pharmacies are generally well supplied. However, comprehensive medical insurance, with provision for emergency repatriation, is still strongly advised. It is also almost always better to take any prescription medication you may need with you when you travel, along with a signed and dated letter from your doctor detailing what the medication is and why you need it, to facilitate border crossings.
Safety
Macedonia is a relatively safe country to visit. Petty crime and pick pocketing can occur; be especially cautious at the large market in Skopje.
Emergency Phone Number
Police: 192. Public ambulance: 194
* For current safety alerts, please visit
Foreign travel advice - GOV.UK
or
Travel.State.Gov
Money
The unit of currency is the Macedonian Denar (MKD), divided into 100 deni. Dollars and euros are easy to change. Credit and debit cards are not widely accepted.
Exchange Rate
Not available.
Embassies of Macedonia
Macedonian Embassy, Washington DC: +1 (202) 667 0501.
Macedonian Embassy, London (also responsible for Ireland): +44 (0)20 7976 0535.
Macedonian Embassy, Ottawa: +1 (613) 234 3882.
Macedonian Embassy, Canberra: +61 (2) 6282 6220.
Foreign Embassies in Macedonia
United States Embassy, Skopje: +389 (2) 3102 000.
UK Embassy, Skopje: +389 (2) 3299 299.
Canadian Embassy, Skopje: +389 (2) 3225 630.
Australian Consulate, Skopje: +389 (2) 3061 114.
Customers
Avoid discussing Macedonian politics: touchy subjects include relations with its neighbours and the Balkan war.
Tipping
Tips of 10 percent of the bill are expected by waiters unless a service charge has already been added to the bill.
Public Holidays in Macedonia
Travel Guide powered by www.wordtravels.com, copyright © Globe Media Ltd. All rights reserved. By its very nature much of the information in this guide is subject to change at short notice and travellers are urged to verify information on which they're relying with the relevant authorities. Globe Media and UNIGLOBE Travel does not accept any responsibility for any loss or inconvenience to any person as a result of information contained above.