General
Money
Entry Requirements
Health & safety
Weather
Embassies
Etiquette
Public Holidays
Attractions
Map
---
Introduction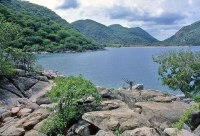 Lake Malawi ©Paul venter
Promoted as the 'Warm Heart of Africa', Malawi is a long, thin country renowned for the unequalled friendliness of its people, unspoilt national parks and wildlife reserves, and the beaches and tropical fish life of Lake Malawi, the third largest lake in Africa. The country's layout is dominated by the vast lake, as well as the Great Rift Valley that cuts through Malawi from north to south, made up of fertile valleys, cool mountains and verdant plateaus.
Lake Malawi is an irresistible attraction for travellers with its beaches, resorts, watersports and outstanding variety of fish life a magnet for divers and snorkellers. The lake is home to a bigger variety of fish species than any other freshwater lake on earth, most of them protected within the Lake Malawi National Park at its southern tip. Most visitors head for the small, restful village at Cape Maclear which, along with its offshore islands, is part of the park. Equally popular, Nkhata Bay to the north offers bays, beaches and various water activities. Spread along the length of the lakeshore are numerous traditional fishing villages, and the fishermen in their dugout canoes form a quintessential postcard silhouette against the spectacular golden sunsets.
Malawi is also blessed with numerous game reserves and national parks that are uncrowded, well stocked with animals and a renowned variety of birdlife, and offer a unique wilderness experience. The northern Nyika Plateau, at around 7,500 feet (2,300m), is one of the world's highest game reserves and is a remote area located in the most unspoilt and least visited part of the country, with beautiful grasslands and waterfalls, the highest concentration of leopard in Central Africa, and famous for its abundant orchid species. To the south the best-known reserve is Liwonde National Park, home to thousands of hippos and crocodiles on the banks of the Shire River, as well as large numbers of elephants, zebra and antelope.
The southern part of the country is the most developed and the most populated. Although Lilongwe is the capital, the region is home to Malawi's largest city and main commercial centre, Blantyre, which is a good base for visiting two of the area's attractions - the vast massif of Mount Mulunje, offering some of the finest hiking trails in the country, and Zomba Plateau.
Malawi has remained largely peaceful for over a century, unaffected by the war and internal strife that has torn many other African countries apart, and although poor and densely populated, the country offers visitors a wealth of scenic highlights, culture and activities.
Communications
The international dialling code for Malawi is +265. The outgoing code is 00 followed by the relevant country code (e.g. 0027 for South Africa). There are no city/area codes required. The telephone system is not very reliable, but internet, email and fax are available in most towns and tourist areas. The GSM 900 cell phone network gives coverage to most of the country and is compatible with most international operators. There is also 3G coverage in most of the larger towns and cities.
Emergencies
997 (Police); 998 (Ambulance); 999 (Fire)
Languages Spoken
English is the official language and widely spoken and understood, but Chichewa is the home language of the majority.
Duty Free
Travellers to Malawi do not have to pay customs duty on 200 cigarettes or 250g of tobacco. For travellers over 18 years of age 1 litre of spirits, and 1 litre of alcohol like beer or wine, can be brought into the country without incurring duty fees.
Electricity
Electrical current is 230 volts, 50Hz. Three-pin, rectangular blade plugs are standard.
Climate Info
Winter is the best time to visit Malawi, coinciding with the dry season, and lasting from May to October. The dry season is the best time for game viewing and hiking and getting around the country is easier in the dry season. June and July are the coolest months, with average daytime temperatures of 70ºF (21ºC), and colder nights, especially in the highlands. November to April is the hot, humid, rainy season with more rain falling on the higher plateaus than around the lake, and with average temperatures reaching up to 90ºF (32ºC). Some roads may become impassable during heavy rains.
Passport
Those passangers who attain a visa on arrival and who want to extend this visa beyond the 60 day extension option must apply for a residence permit. All foreign passengers to Malawi must hold return/onward tickets and the necessary travel documentation for their next destination, and sufficient funds to cover their expenses while in the country. A yellow fever vaccination certificate is required to enter Malawi, if arriving within six days of leaving or transiting through an infected area. NOTE: It is highly recommended that your passport has at least six months validity remaining after your intended date of departure from your travel destination. Immigration officials often apply different rules to those stated by travel agents and official sources.
Entry Requirements
Canadian
citizens must have a passport that is valid upon their arrival in Malawi. They can attain a visa on arrival for a maximum stay of 30 days, and can extend this visa for an additional 60 days.
show more ...
Health
Malaria is a health risk in Malawi throughout the year, especially on the coast. Cases of dengue fever and chikungunya fever have been reported and are also transmitted by mosquitoes; precautionary measures against being bitten should be taken at all times. Vaccinations are recommended for hepatitis A, hepatitis B and typhoid. All travellers coming from a country with yellow fever require inoculation against the disease. Tap water should not be drunk unless it has been boiled or chemically treated. Medical facilities are limited and, outside of the capital and other urban areas, medical care may be difficult to find. Limited medications are available but it is advisable to bring along a medical kit for private use. Comprehensive medical insurance is advised.
Safety
Malawi is considered a relatively safe country in which to travel and the vast majority of visits are trouble-free, but sensible precautions should be taken with regards to personal possessions and security, particularly after dark. There have been reports of robberies, money scams involving tourists, and 4x4 vehicles being hijacked; also be alert for muggers and bag snatchers. Most crime is petty and opportunistic and much of it occurs around bus stations and in other crowded public areas. A photocopy of your passport and visa should be carried at all times, but original documents should be stashed in a hotel safe, when possible.
Travellers are advised to avoid street protests and political rallies, which can become violent.
Emergency Phone Number
997 (Police); 998 (Ambulance); 999 (Fire)
* For current safety alerts, please visit
Foreign travel advice - GOV.UK
or
Travel.State.Gov
Money
The official currency is the Malawi Kwacha (MWK), which is divided into 100 tambalas. Foreign currencies are accepted by banks, authorised hotels and other institutions in the main town centres; bureaux de change are also available. The US Dollar is the easiest currency to exchange. Credit cards are not widely accepted and ATMs are scarce and should not be relied upon. Exchanging currency on the black market is not recommended.
Exchange Rate
Not available.
Embassies of Malawi
Malawi Embassy, Washington DC (also responsible for Canada): +1 202 721 0270.
Malawi High Commission, London: +44 (0) 20 7421 6010.
Malawi Consulate, Melbourne: +613 9988 7766.
Malawi High Commission, Pretoria: +27 (0)12 342 0146.
Foreign Embassies in Malawi
United States Embassy, Lilongwe: +265 1 773 166.
British High Commission, Lilongwe: +265 1 772 400.
Canadian High Commission, Lusaka (also responsible for Malawi): +260 21 1 250 833.
Australian Embassy, Harare (also responsible for Malawi): +263 (0)4 8532 3555.
South African High Commission, Lilongwe: +265 1 77 3722.
Embassy of Ireland, Lilongwe: +265 1 77 6408.
Customers
It is customarily expected by most Malawians to be greeted with a friendly 'Hello, how are you?' and a handshake. It is courteous to ask permission before taking photographs of people. Homosexual acts are illegal. Women may generally dress as they please but should take local custom and religion into account when travelling outside of the main tourist areas and consider covering legs and shoulders to avoid giving offense.
Business
Business in Malawi is quite formal; business cards are usually exchanged on meeting, accompanied by a firm handshake. Punctuality is important and dress should be formal; lightweight suits with a tie are acceptable. English is Malawi's official language and almost all business is conducted in English. Malawians tend to be very polite and thoughtful, and expect the same treatment in return. Business hours usually start fairly early; from about 7.30am to 5pm, Monday to Saturday.
Tipping
Service charges are generally not included in hotel and restaurant bills, and tipping is at the client's discretion. It is common practice to tip guides in the national parks.
Public Holidays in Malawi
| | | |
| --- | --- | --- |
| | 2017 | 2018 |
| Kamuzu Day | 14 May | 14 May |
| New Years Day | 1 Jan | 1 Jan |
| Chilembwe Day | 15 Jan | 15 Jan |
| Martyrs Day | 3 Mar | 3 Mar |
| Good Friday | 14 Apr | 30 Mar |
| Easter Monday | 17 Apr | 2 Apr |
| Labour Day | 1 May | 1 May |
| Republic Day | 6 Jul | 6 Jul |
| Eid al-Fitr (End of Ramadan) | 26 Jun | 15 Jun |
| Christmas Day | 25 Dec | 25 Dec |
| Boxing Day | 26 Dec | 26 Dec |
Overview
The beautiful landscapes of Malawi are diverse and offer a wide variety of things to see and do. Attractions in Malawi range from the highs of the Nyika Plateau to the lows of the majestic Rift Valley and Lake Malawi, keeping most travellers out in nature for the majority of their trip. Safaris are a popular activity in Malawi, and the game reserves are teeming with wildlife such as hippos, crocodiles, elephants, zebras, baboons, lions and leopards. Visitors can enjoy the outdoors in a number of ways, including trekking and mountain biking. Avid hikers can ascend Mount Mulanje, where steep mountain paths break into spectacular vistas.
However, the most popular attraction in the country is far and away the long and narrow Lake Malawi. Situated in the Rift Valley, the lake (and the national park around it) provides visitors ample game viewing opportunities near luxury lodges and campsites that offer activities like canoeing, yachting, snorkelling, and other watersports framed by soft, sandy beaches. Cape Maclear, Salima, and Monkey Bay are some of the more popular sites along the lake.
Map of Malawi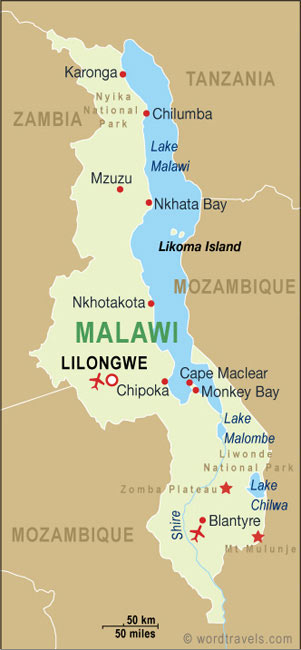 Travel Guide powered by www.wordtravels.com, copyright © Globe Media Ltd. All rights reserved. By its very nature much of the information in this guide is subject to change at short notice and travellers are urged to verify information on which they're relying with the relevant authorities. Globe Media and UNIGLOBE Travel does not accept any responsibility for any loss or inconvenience to any person as a result of information contained above.