General
Money
Entry Requirements
Health & safety
Weather
Embassies
Etiquette
Public Holidays
Attractions
Map
---
Introduction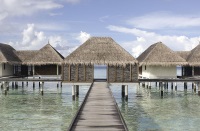 Maldives ©Andrew Shiva
The Maldives is a group of low-lying coral islands, forming an archipelago of 26 major atolls, situated south west of Sri Lanka. A small percentage of the islands are inhabited and 87 are exclusively resorts, boasting tropical landscapes hugged by picture-perfect beaches festooned with palm trees. The myriad islands are surrounded by coral reefs enclosing shallow lagoons.
The Dhivehin people of the Maldives are descended from an ethnic mix of Aryan, Negroid, Sinhalese, Dravidian and Arab cultures. The history of the area was dominated by a succession of bids for control that began with Muslim rule in the 12th-century. The Arabs were later supplanted by the Portuguese and then the British, until 1965 when the Maldives finally achieved full independence as a sultanate. The majority of Maldivians are Sunni Muslims and their lifestyle follows the traditions of Islam. Traces of ancient beliefs have endured in the form of superstitions centred on evil spirits.
The Maldives rely on tourism and fishing for their income, and with the large number of foreign visitors, eco-friendly tourism is gaining popularity in order to maintain the Maldives' natural beauty for future generations. Very little tourism in the Maldives is independent, with most visitors opting for all-inclusive resorts and package tours.
Communications
The international access code for the Maldives is +960. The outgoing code is 00 followed by the relevant country code (e.g. 001 for the United States). No city/area codes are required. IDD facilities are available at all resorts and card phones are available on all inhabited islands. The major islands are covered by the mobile network; the local operators use a GSM 900 network, which is compatible with many international cell phone operators, but it is best to check whether your network has roaming agreements with the Maldives. Dhiraagu, the Maldives Telecommunications Company, provides mobile telephones for daily rental. Internet access is available in hotels and main tourist resorts.
Emergencies
Emergencies: 119 (Police); 102 (Ambulance).
Languages Spoken
Dhivehi is the national language in Maldives. English is widely spoken in addition to German, French, Italian and Japanese, spoken by the resort staff.
Duty Free
Travellers to the Maldives, irrespective of age, do not have to pay duty on cigarettes, cigars, tobacco and gifts within reasonable quantities. Prohibited items include alcohol, firearms, pork, opium, marijuana, cocaine, pornography and religious idols.
Electricity
Electrical current in Maldives is 230 volts, 50Hz. A variety of plugs are in use, including the two-pin flat blade plug and the round three-pin plug.
Climate Info
The temperature in the Maldives is hot throughout the year and although the humidity is relatively high, the constant sea breezes help to keep the air moving and give some relief from the heat. The weather in the Maldives is fairly constant throughout the year, with average daily temperatures ranging from 87°F (31°C) to 78°F (26°C). Although there aren't four distinct seasons, there is a wet season in the Maldives, which runs from April to October, when strong winds can also be expected and the weather gradually gets colder (although not by much).
The best time to visit the Maldives is between December and April, during the dry season, when the weather is hot and pleasant and there is little wind. However, this is also the tourist high season, and resorts are not only more expensive and crowded but often fully booked and difficult to get into. Some travellers prefer to brave the wet season to enjoy a more peaceful and private holiday at more reasonable prices. November and April are the best months to travel to the Maldives if you are planning to do a lot of scuba diving and snorkelling.
Passport
All foreign passengers to the Maldives must hold onward/return tickets, and the necessary travel documentation for their next destination. Furthermore, visitors entering the Maldives without a hotel reservation or a Maldivian sponsor must hold proof of sufficient funds to cover their expenses while in the country. A disembarkation card must be filled in by every passenger, and submitted to the Immigration Officer upon entry into the Maldives. Nationals of most countries can obtain a tourist visa on arrival, for a maximum stay of 30 days. Extensions of stay, to a maximum of 90 days from the date of the visitor's arrival in the Maldives, are possible, by paying a fee of MVR 750 to the Department of Immigration in Male, at least one day prior to the expiry date of the initial 30-day entry period. Note that a yellow fever vaccination certificate is required to enter the Maldives, if arriving within six days of leaving or transiting through an infected area. NOTE: It is highly recommended that your passport has at least six months validity remaining after your intended date of departure from your travel destination. Immigration officials often apply different rules to those stated by travel agents and official sources.
Entry Requirements
Canadian
citizens must have a passport that is valid for 6 months from the arrival date in the Maldives. A visa is required, and can be obtained on arrival for a stay of 30 days.
show more ...
Health
Visitors to the Maldives should take precautions against mosquito bites as cases of dengue fever and Chikungunya virus have been reported. Hepatitis A, hepatitis B, and typhoid vaccinations are recommended for all travellers to the Maldives, and a yellow fever vaccination is required for all those arriving from a yellow-fever-infected area in Africa or the Americas. Visitors who will be spending a lot of time outdoors and are at risk of animal bites may be advised to get a rabies vaccination as well. Precautions should be taken while on holiday in the Maldives to avoid sunburn and dehydration.
There is a good private hospital on Malé and first aid facilities are available on all the resort islands. In the event of diving emergencies, a decompression chamber is available. Food and water in the resort hotels is generally risk-free. Medical insurance is advised for travel to the Maldives. If you require certain medications on holiday it is best to take them with you, in their original packaging, with a dated and signed letter from your doctor detailing what the medication is and why you need it.
Safety
Crime levels are low in the Maldives but petty theft does occur. It is best not to leave goods unattended on the beaches or in hotel rooms. There is a measure of political instability and visitors are advised to avoid public gatherings and demonstrations, particularly on Malé Island, as these can turn violent; however, resorts in the Maldives are considered very safe and there are rarely any disturbances.
Emergency Phone Number
Emergencies: 119 (Police); 102 (Ambulance).
* For current safety alerts, please visit
Foreign travel advice - GOV.UK
or
Travel.State.Gov
Money
The Maldivian Rufiya (MVR) is divided into 100 laari. The resorts in the Maldives are generally expensive and travellers should ensure they bring sufficient funds. There are no cash machines, but there are currency exchange facilities available at resorts and banks. Major credit cards are accepted at most resorts and hotels. US Dollars can be exchanged at the airport, banks or hotels. Guests staying at resorts can settle their accounts in hard foreign currency (US Dollars are best), or with credit cards. Banks are usually closed on Fridays and Saturdays.
Exchange Rate
Not available.
Embassies of Maldives
Maldives High Commission, London, United Kingdom: +44 (0)20 7224 2135.
Foreign Embassies in Maldives
American Embassy, Colombo, Sri Lanka (also responsible for Maldives): +94 11 249 8500.
British High Commission, Colombo, Sri Lanka (also responsible for Maldives): +94 11 539 0639.
Canadian High Commission, Colombo, Sri Lanka (also responsible for Maldives): +94 11 522 6232.
Australian High Commission, Colombo, Sri Lanka (also responsible for Maldives): +94 11 246 3200.
South African High Commission, Colombo, Sri Lanka (also responsible for Maldives): +94 11 268 9926.
Mission of Ireland to the UN, New York, United States (also responsible for Maldives): +1 212 421 6934.
New Zealand Consulate, Singapore (also responsible for Maldives): +65 6235 9966.
Customers
Maldivians are predominantly Muslim, and therefore Islamic customs should be respected, particularly during the month of Ramadan when eating, drinking and smoking during daylight hours should be discreet as it is forbidden by the Muslim culture. No pornography is allowed (or any material considered offensive under Islamic law), and homosexuality is illegal. Same-sex relationships are not tolerated and carry jail sentences and fines. Alcohol consumption is confined to the resorts. Dress is informal but nudism and topless bathing is prohibited. On visits to inhabited islands it is important to respect local customs that adhere to conservative dress codes, and public observance of any religion other than Islam is prohibited. The Maldives has strong anti-drug laws that carry severe penalties.
Business
The Maldives does a lot of trade as everything is imported. Business tends to be conducted in a more informal way, with more casual attire in lightweight materials. Meetings are usually scheduled for mornings and are typically conducted in English. Women, in particular, should dress conservatively. Business hours are usually 7.30am to 2.30pm Sunday to Thursday.
Tipping
Officially, tipping is not encouraged in the Maldives, but if the service is good it is customary to tip waiters and room staff in the resorts, even if a service charge has already been added.
Public Holidays in Maldives
| | | |
| --- | --- | --- |
| | 2015 | 2016 |
| Birth of the Prophet | 24 Dec | 12 Dec |
| Independence Day | 26 Jul | 26 Jul |
| Id al Fitr (End of Ramadan) | 18 Jul | 7 Jul |
| Victory Day | 3 Nov | 3 Nov |
| New Years Day | 1 Jan | 1 Jan |
| National Day | 2 Jan | 2 Jan |
| Republic Day | 11 Nov | 11 Nov |
| Hajj Day | 22 Sep | 10 Sep |
| Eid ul Adhaa | 23 Sep | 11 Sep |
Map of Maldives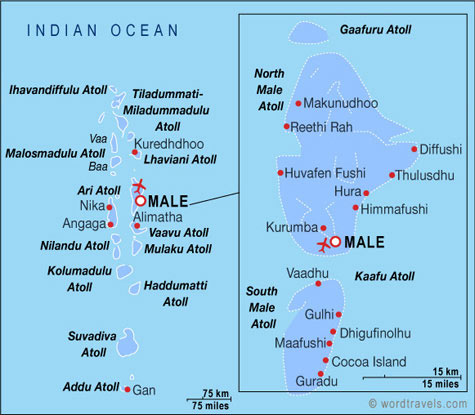 Travel Guide powered by www.wordtravels.com, copyright © Globe Media Ltd. All rights reserved. By its very nature much of the information in this guide is subject to change at short notice and travellers are urged to verify information on which they're relying with the relevant authorities. Globe Media and UNIGLOBE Travel does not accept any responsibility for any loss or inconvenience to any person as a result of information contained above.