General
Money
Entry Requirements
Health & safety
Weather
Embassies
Etiquette
Public Holidays
Attractions
Map
---
Introduction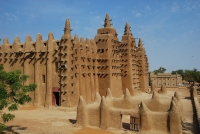 Great Mosque of Djenné ©Jean Louis Potier
Mali, one of the poorest countries in the world, is rich in mystery and majesty, offering some of Africa's most fascinating cultural sites and spectacular surreal scenery. The landlocked Republic is the largest country in West Africa, surrounded by seven other states and traversed, in its central and southeastern sector, by the great Niger River.
The country's best known city is the fabled Timbuktu, in ancient times the powerful, wealthy centre of Mali's Mandinka Empire, and now a UNESCO World Heritage Site that is in danger of being swallowed up by the desert sands. Mali's importance waned in the 16th century as the trans-Saharan caravan trading routes lost ground to European sea traders. Imperial power in Mali was replaced by French colonialism and ultimately, in 1960, independence, which has failed to bring prosperity. The Niger River is the centre of industry and commerce, vital for the livelihood of a nation whose majority are poor farmers and fishermen.
As Africa opens up to travellers, however, Mali is once again featuring large on the map, with its variety of unusual sights and experiences, from camel treks through stunning desert landscapes to hikes along the Bandiagara Escarpment where the Dogon people live, steeped in their unique mythology and art. In the medieval city of Djenne tourists marvel at the exquisite mosque, the largest mud building in the world, and centre of the country's predominant Islamic faith. Even the modern capital, Bamako, offers exotic sights and sounds among its dusty streets, and several worthwhile museums. Many visitors opt for the lively town of Mopti, built on three islands, where the market is just bursting with arts and crafts and from whence river cruisers set out along the Niger.
The name Timbuktu has long been colloquially used in English and other languages to denote remoteness. A trip to Mali today, however, is certainly not a dead end but an intriguing journey of discovery.
Communications
The international dialling code for Mali is +223. The outgoing code is 00 followed by the relevant country code (e.g. 0027 for South Africa). City/area codes are not required. There are a number of mobile phone operators with GSM-900 networks in Mali. Outgoing international calls are made through an international operator. Internet cafes are common in Bamako, and a few are present in other towns.
Emergencies
Emergencies: 17 (Police); 15 (Ambulance). These numbers may not work throughout the country and regional emergency numbers should be confirmed before travel.
Languages Spoken
French is the official language in Mali, but Bambara is spoken by 80% of the population. Numerous other African languages are also spoken. Outside the bigger towns few people speak French, and hardly anyone speaks English.
Duty Free
There is free import of 1,000 cigarettes or 250 cigars or 2kg of tobacco, 2 bottles of alcohol, and perfume for personal use. Sporting guns are allowed as long as authorisation from the Customs Department in Bamako is acquired within 24 hours of arrival.
Electricity
Electrical current is 220 volts, 50Hz. Plugs are most commonly of the round, two-pin variety.
Climate Info
Mali's climate is hot and dry in the northern Sahara zone, north of the Niger River, and hot and humid in the subtropical south of the country. Rainfall varies throughout the country, varying from a virtual absence of rain in the desert north to a rainy season lasting for about five months from June to October in the south. The middle section of the country experiences rainfall between June and August. The dry season is from November to May, with cooler temperatures between November and February that becomes cold at night in the north. The most uncomfortable time to visit is from April to June, with extreme heat, and in December when the hot, dry Harmattan wind blows. Temperatures average 86°F (30°C).
Passport
Most foreign passengers require a visa to enter Mali, and sometimes these visas can be gained on arrival. Visitors are encouraged to contact their nearest Malian embassy or consulate to confirm their visa/entry requirements. Note that a yellow fever vaccination certificate is required to enter Mali for all travellers arriving from an infected area. NOTE: It is highly recommended that your passport has at least six months validity remaining after your intended date of departure from your travel destination. Immigration officials often apply different rules to those stated by travel agents and official sources.
Entry Requirements
Canadian
citizens must have a passport that is valid upon their arrival in Mali. A visa is required.
show more ...
Health
All visitors to Mali are required to have a vaccination certificate for yellow fever. It is also recommended that precautions against meningitis (particularly if travelling between February and April), malaria and cholera be taken. Bottled water is available and food should be thoroughly cooked. Medical facilities are limited, especially outside of Bamako, and basic medicines might not be available. Travellers are advised to bring a personal supply of medicines with them. Comprehensive medical insurance is essential; serious medical problems will require air evacuation outside of the country.
Safety
All travel in Mali to the regions north, east and west of Timbuktu, as well as travel along the borders with Niger, Algeria and Mauritania should be avoided due to armed banditry and the risk of kidnapping. Increased incidents of armed banditry have been reported in the Sikasso region. The British government reports a high terrorism risk for westerners in the country, especially those attending festivals, and several tourists have been kidnapped. Crime levels are generally low, but it is best not to show valuables in public.
Emergency Phone Number
Emergencies: 17 (Police); 15 (Ambulance). These numbers may not work throughout the country and regional emergency numbers should be confirmed before travel.
* For current safety alerts, please visit
Foreign travel advice - GOV.UK
or
Travel.State.Gov
Money
The official currency in Mali is the West African CFA Franc (XOF), which is divided into 100 centimes. The CFA franc is tied to the Euro. Foreign currency can be exchanged at banks in Bamako. The Euro is the easiest currency to exchange. ATMs are generally only available in Bamako and usually only accept Visa cards. Some major credit cards, most reliably Visa, are accepted in some hotels and restaurants in the capital, but credit cards in general are not widely used in Mali.
Exchange Rate
Not available.
Embassies of Mali
Mali Embassy, Washington DC, United States: +1 202 332 2249.
Mali Embassy, Brussels, Belgium (also responsible for Britain): +322 345 74 32.
Mali Embassy, Ottawa, Canada: +1 613 232 1501.
Mali Embassy, Tokyo, Japan (also responsible for Australia): +81 3 5447 6881.
Mali Embassy, Pretoria, South Africa: +27 (0)12 342 7464.
Mali Embassy, Tokyo, Japan (also responsibe for New Zealand): +81 3 5447 6881.
Foreign Embassies in Mali
United States Embassy, Bamako: +223 20 70 2300.
British Embassy, Bamako: +223 2021 3412.
Canadian Embassy, Bamako (also responsible for Australia): +223 20 21 2236.
South African Embassy, Bamako: +223 20 29 2925.
Customers
Mali is a Muslim country and visitors should respect the local culture by dressing modestly (especially women) and asking people before taking their photographs. Religious customs should be respected, particularly during the month of Ramadan when eating, drinking and smoking during daylight hours should be discreet as it is forbidden by the Muslim culture. Homosexuality is frowned upon.
Business
French is the principal language of business in Mali. Business is conducted somewhat formally, but due to the heat, lightweight suits are worn for important meetings and more casual attire for regular meetings. One should use the French titles of Monsieur and Madame when meeting and greeting. Women, in particular should dress conservatively. Business hours are usually from 7.30am to 4pm Monday to Thursday; 7.30am to 12.30pm and 2.30pm to 5.30pm on Fridays to allow for mosque.
Tipping
Tipping is not required in Mali, but is an expression of respect as well as for rewarding good service. Tour guides usually receive between 3,000 to 5,000 CFA per day.
Public Holidays in Mali
| | | |
| --- | --- | --- |
| | 2017 | 2018 |
| Birth of the Prophet | 1 Dec | 21 Nov |
| New Years Day | 1 Jan | 1 Jan |
| Armed Forces Day | 20 Jan | 20 Jan |
| Martyrs Day | 26 Mar | 26 Mar |
| Easter Monday | 17 Apr | 2 Apr |
| Labour Day | 1 May | 1 May |
| Africa Day | 25 May | 25 May |
| Korité (End of Ramadan) | 26 Jun | 15 Jun |
| Independence Day | 22 Sep | 22 Sep |
| Tabaski (Feast of the Sacrifice) | 2 Sep | 22 Aug |
| Christmas Day | 25 Dec | 25 Dec |
Map of Mali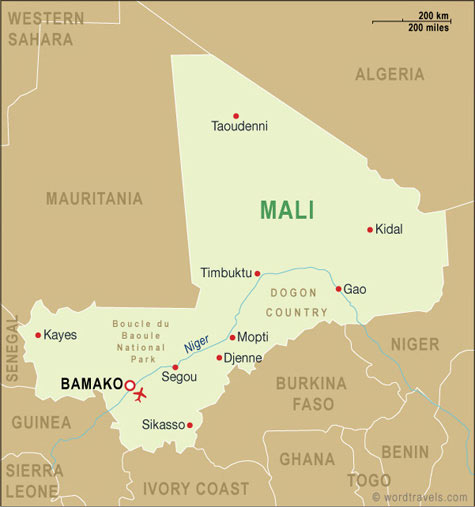 Travel Guide powered by www.wordtravels.com, copyright © Globe Media Ltd. All rights reserved. By its very nature much of the information in this guide is subject to change at short notice and travellers are urged to verify information on which they're relying with the relevant authorities. Globe Media and UNIGLOBE Travel does not accept any responsibility for any loss or inconvenience to any person as a result of information contained above.