General
Money
Entry Requirements
Health & safety
Weather
Embassies
Etiquette
Public Holidays
Attractions
Map
---
Introduction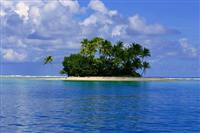 A lonesome atoll ©Christopher Michel
The Republic of the Marshall Islands is a collection of 29 atolls and five islands scattered across the middle of the Pacific Ocean. Home to around 60,000 people, the islands have been inhabited for over four millennia, despite its comparatively recent naming after John Marshall, the first European visitor in 1788.
Between 1946 and 1958 the USA detonated 66 nuclear weapons on and around these islands including the largest ever device, Castle Bravo. While the Republic's rather compelling lawsuit against the USA is being argued, the good news is that today scientists estimate that you are exposed to more radiation watching TV in your home than spending time on the islands. More pressing concerns are the prolonged drought, high cost of energy, and lack of employment opportunities.
The most promising area in that regard is tourism, which is growing steadily. Visitors come here for the incredible diving among the many World War II era wrecks, and the fabulous beaches, many of which are deserted save for palm trees and swathes of white-golden sand.
As a low-lying atoll, the Marshall Islands are seriously threatened by rising sea levels caused by global warming. Plans have already been put in place to evacuate the population should this threat become a reality.
The climate is generally hot and humid, with May to November being the wet season when the odd hurricane blows by to the horror of tourists and delight of the kite flying community.
The capital Majuro is a pleasant town and well worth exploring. All trips begin and end here and the facilities are very good. Beyond Majuro the outlying islands and atolls vary from sparsely populated to uninhabited and there are plenty of opportunities to truly get away from it all should you wish.
Emergencies
911
Languages Spoken
The two official languages are Marshallese, which is a member of the Malayo-Polynesian languages, and English.
Duty Free
Travellers to the Marshall Islands may import the following goods tax-free: 300 cigarettes/75 cigars/225g of tobacco. Visitors over 21 may bring two litres liquor. Prohibited imports include guns and ammunition, drugs and pornographic materials.
Electricity
120 volts, 60Hz. Plugs are mainly the type with two flat pins, though three-pin plugs are also widely used. European appliances without dual-voltage capabilities will require an adapter.
Climate Info
The maritime tropical climate on the Marshall Islands is hot and humid, with little seasonal temperature change. The waters in the lagoon are a comfortable 80°F (26°C) year round. The region is known for mild winds and tropical showers. Temperatures do not vary much and lows only drop to 74°F (21°C) and reach around 76°F (30°C), year round.
Passport
All foreign passengers to the Marshall Islands must hold return/onward tickets, the necessary travel documentation for their next destination, and sufficient funds to cover their expenses while in the country. Note that to enter Kwajalein, passengers must hold an Entry Authorisation issued by the US Military. To enter Ebeye, passengers must hold an Entry Permit for Ebeye, which can be obtained upon arrival in Kwajalein (KWA). NOTE: It is highly recommended that your passport has at least six months validity remaining after your intended date of departure from your travel destination. Immigration officials often apply different rules to those stated by travel agents and official sources.
Entry Requirements
Canadian
citizens must have a passport that is valid for at least six months beyond the date of their arrival in the Marshall Islands. A visa is required but can be issued on arrival, valid for up to 90 days.
show more ...
Health
Hepatitis A and B, typhoid, measles, mumps, rubella (MMR), tetanus-diphtheria and rabies vaccinations are advised for travellers. Travellers' diarrhea is the most common travel-related ailment. The cornerstone of prevention is food and water precautions, including not eating street food and not drinking tap water.
An outbreak of dengue fever, a flu-like illness sometimes complicated by haemorrhage or shock, was reported from the Marshall Islands in October 2011. The cases have been seen almost exclusively in the capital, Majuro. Insect repellents and precautions are the best way to avoid such diseases.
HIV (human immunodeficiency virus) infection is reported, but travellers are not at risk unless they have unprotected sexual contacts or receive injections or blood transfusions.
Emergency Phone Number
911
* For current safety alerts, please visit
Foreign travel advice - GOV.UK
or
Travel.State.Gov
Money
The country uses the United States dollar as its currency. ATM's are available at Majuro and Kwaj, but it is best to take US dollars, as many places don't have ATMs or don't accept credit cards.
Exchange Rate
Embassies of Marshall Islands
Foreign Embassies in Marshall Islands
Customers
In the Marshall Islands, respect for one's elders and deference to their authority are considered to be very important codes of social behaviour. Locals are conditioned not to walk in front or upwind of their seniors, nor to elevate their heads above them. Visitors to the Marshall Islands should ensure that they dress modestly, and behave less brashly than (perhaps) they are used to doing in their countries of origin. To avoid causing a stir, foreigners should check with the tourism office before visiting remote beaches or outlying areas, as the locals might not appreciate the presence of tourists in these areas.
Tipping
Tipping is not customary in the Marshall Islands, but a 10 percent tip for good service is welcomed.
Public Holidays in Marshall Islands
Travel Guide powered by www.wordtravels.com, copyright © Globe Media Ltd. All rights reserved. By its very nature much of the information in this guide is subject to change at short notice and travellers are urged to verify information on which they're relying with the relevant authorities. Globe Media and UNIGLOBE Travel does not accept any responsibility for any loss or inconvenience to any person as a result of information contained above.