General
Money
Entry Requirements
Health & safety
Weather
Embassies
Etiquette
Public Holidays
Attractions
Map
---
Introduction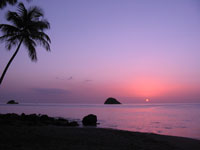 Sunset in Martinique ©Antoine Hubert
Nestled in the heart of the Caribbean and an overseas region of France, Martinique is one of the many islands that make up the Lesser Antilles island group, affectionately referred to as the 'Breezy Islands'.
With such a rich and diverse history, culture lovers will enjoy the many historical sites including La Pagerie, where Napoléon's Empress Joséphine was born in 1763, Diamond Rock, a 600-foot (182m) pinnacle in the sea, and St-Pierre, a once booming town destroyed by a volcanic eruption in 1902. St-Pierre was Martinique's principal city until Mount Pelée volcano erupted, wiping out the city and its 30,000 people in just three minutes.
Featuring two beautiful peaks, Carbet and Mount Pelée, the active volcano that is the highest mountain on the island, at 4,586 feet (1,398 metres), rises above Martinique's legendary tropical rainforest. The unspoiled beauty of this area will inspire visions of paradise that echo the Caribbean before mass-market tourism began intractably changing the landscape of many beautiful islands.
There is something for just about everybody on the beautiful island of Martinique, with plenty of water sports such as kitesurfing, yachting, diving, surfing and sailing as well as mountain biking, hiking, and rock jumping. For the less adventurous, warm sunny days can be spent lazing on the sandy, white, palm-fringed beaches, many of which are truly lovely. Salines Beach at the southernmost tip of Martinique is straight out of a postcard.
Communications
The international dialling code for Martinique is +596. The outgoing code is 00 followed by the relevant country code (e.g. 0044 for the United Kingdom). The island is covered by mobile networks.
Emergencies
18 (Fire); 17 (Police); 15 (Ambulance).
Languages Spoken
French is the official language of Martinique, but Antillean Creole (Creole Martiniquais) is mostly spoken among islanders. English is typically spoken only in the larger hotels and tourist areas.
Duty Free
Those travelling to Martinique may import the following goods duty-free: 200 cigarettes, or 100 cigars (non-cuban), 250g tobacco, two litres of liquor, and perfume, gifts and film in amounts reasonable for personal use. Currency must be declared on arrival.
Electricity
Electrical current in Martinique is 220 volts, 50Hz. European round pin attachment plugs are in use.
Climate Info
The average monthly temperatures in Martinique are surprisingly constant, with little seasonal variation. This stability is due to the refreshing breezes that blow from the northeast, known as the trade winds . The dry season is December through May, while June through November is the more humid and damp season; however, rain showers can occur at any time throughout the year.
Average air temperatures in coastal regions range from 72ºF to 86ºF (22ºC - 30ºC), while the inland areas average from 66ºF to 81ºF (9ºC - 27ºC). The warm coastal waters average between 68ºF and 74ºF (20ºC and 23ºC) all year. Hurricanes may occur any time from June to the end of November and are most common in September.
Passport
Martinique is part of the French West Indies. All foreign passengers to Martinique must hold a return or onward ticket, the necessary travel documentation for their next destination, and sufficient funds to cover their expenses while in the country. Schengen visas are also valid for travel to Martinique, provided they are endorsed as such. Note that a yellow fever vaccination certificate is required to enter Martinique if arriving in the country within six days of leaving or transiting through an infected area. NOTE: It is highly recommended that your passport has at least six months validity remaining after your intended date of departure from your travel destination. Immigration officials often apply different rules to those stated by travel agents and official sources.
Entry Requirements
Canadian
citizens must have a passport that is valid the period of intended stay in Martinique. No visa is required, for stays of up to 90 days.
show more ...
Health
Medical and health care facilities in Martinique are on a par with those of France and are considered to be some of the best in the French West Indies. Specialist treatment is also available. There are around 20 hospitals and clinics located on the island, including 24-hour emergency facilities. Travellers should be up to date on common vaccinations like hepatitis A and hepatitis B, tetanus, and MMR (measles, mumps, rubella) before travelling to Martinique, but no vaccinations are required by immigration officials. Medical insurance is advised.
Safety
There is very little crime in Martinique but visitors should take sensible precautions and avoid isolated areas after dark, and not carry large amounts of cash or jewellery. Valuables and travel documents should, where possible, be left in safety deposit boxes and hotel safes.
Emergency Phone Number
18 (Fire); 17 (Police); 15 (Ambulance).
* For current safety alerts, please visit
Foreign travel advice - GOV.UK
or
Travel.State.Gov
Money
The local currency is the Euro (EUR), but US Dollars and major credit cards are also widely accepted.
Exchange Rate
Not available.
Embassies of Martinique
French Embassy, Washington DC, United States (also responsible for Martinique): +1 202 944 6000.
French Embassy, London, United Kingdom (also responsible for Martinique): +44 207 073 1000.
French Embassy, Ottawa, Canada (also responsible for Martinique): +1 613 789 1795.
French Embassy, Canberra, Australia (also responsible for Martinique): +61 26 216 0100.
French Embassy, Pretoria, South Africa (also responsible for Martinique): +27 12 425 1600.
French Embassy, Dublin, Ireland (also responsible for Martinique): +353 1 277 5000.
French Embassy, Wellington, New Zealand (also responsible for Martinique): +64 4 384 2555.
Foreign Embassies in Martinique
United States Embassy, Paris, France (also responsible for Martinique): +33 1 4312 2222.
British Embassy, Paris, France (also responsible for Martinique): +33 1 4451 3100.
Canadian Embassy, Paris, France (also responsible for Martinique): +33 1 4443 2900.
Australian Embassy, Paris, France (also responsible for Martinique): +33 1 4059 3300.
South African Embassy, Paris, France (also responsible for Martinique): +33 1 5359 2323.
Irish Embassy, Paris, France (also responsible for Martinique): +33 1 4417 6700.
New Zealand Embassy, Paris, France (also responsible for Martinique): +33 1 4501 4343.
Customers
Unlike many tropical islands, Martinique has a thriving economy and is not solely dependent on tourism. Relaxed, informal clothing is acceptable around town, but scanty beach wear is considered improper in urban areas. The only officially designated clothing-optional beaches in the French islands are in Guadeloupe and St. Martin, but at hotel pools and at private beaches near hotels in Martinique topless swimming and sunbathing is common.
Tipping
As in France, tips are usually included in restaurant bills in Martinique and taxes and service charges are included in hotel rates.
Public Holidays in Martinique
| | | |
| --- | --- | --- |
| | 2017 | 2018 |
| Christmas Day | 25 Dec | 25 Dec |
| Bastille Day | 14 Jul | 14 Jul |
| Whit Monday | 5 Jun | 21 May |
| Victory Day | 8 May | 8 May |
| Ascension Day | 25 May | 10 May |
| Assumption Day | 15 Aug | 15 Aug |
| Armistice Day | 11 Nov | 11 Nov |
| Labour Day | 1 May | 1 May |
| Easter Monday | 17 Apr | 2 Apr |
| Slavery Abolition Day | 22 May | 22 May |
| Schoelcher Day | 21 Jul | 21 Jul |
| All Saints Eve | 1 Nov | 1 Nov |
| New Years Day | 1 Jan | 1 Jan |
Overview
Martinique offers travellers a seductive mix of paradise beaches, tropical gardens and French charm, promising lazy beach days, good quality accommodation, acclaimed diving sites, and a dose of interesting history. Fort de France is the capital and a worthwhile stop for tourists. Other popular destinations on the island include volcano-ravished Saint-Pierre, the resort town of Pointe Du Bout, and the quaint coastal villages of Sainte-Anne and Grand-Riviere.
Top tourist attractions on Martinique include the Balata Botanical Gardens near Fort de France; the Musee de la Pagerie, birthplace of Napoleon's Empress Josephine; and the active Mount Pelee Volcano which destroyed Sainte-Pierre in 1902, an event commemorated in the Volcanological Museum. There are many lovely hikes on the island, including La Caravelle Nature Trail in the mangroves of eastern Martinique. Of course, the most famous attractions are the beaches, with Les Salines and Anse Mitan being particular favourites.
Travel Guide powered by www.wordtravels.com, copyright © Globe Media Ltd. All rights reserved. By its very nature much of the information in this guide is subject to change at short notice and travellers are urged to verify information on which they're relying with the relevant authorities. Globe Media and UNIGLOBE Travel does not accept any responsibility for any loss or inconvenience to any person as a result of information contained above.