General
Money
Entry Requirements
Health & safety
Weather
Embassies
Etiquette
Public Holidays
Attractions
Map
---
Introduction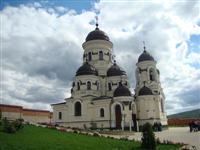 Chiprianu Monastery ©Andrey
Moldova is a small landlocked country in Eastern Europe between Romania and Ukraine. Formerly part of the Soviet Union, Moldova achieved independence in 1991 but remains the poorest and one of the least developed countries in Europe. The far eastern portion of the country, Transnestria, has formed a breakaway republic backed by Russia and is a source of continuing cross-border conflict.
Moldova is most famous for its wines, which are of a very high standard despite being largely ignored in the west. The average rural household will press an average of 3,500 litres per year, mostly from grapes grown in their own fields. Aside from this enterprise there is little industry in Moldova, which means that the air and rivers are largely unpolluted, even within Chisinau, the capital and largest city.
The majority of the buildings were destroyed during World War II, and subsequent Soviet-era rebuilding has provided a drab and functional air to the resulting structures n Moldova. However, several historical gems did survive and these are well worth a visit. Orheiul Vehci is an ancient church complex carved into limestone cliffs, and the nearby village of Ivancea is a perfectly preserved medieval settlement populated by people of Ukrainian descent. Cahul, two hours from Chisinau, has restorative thermal spas, while Milestii Mici is home to an astonishing underground city of wine cellars stretching 120km (80 miles) below the city.
Despite these charms very few people visit Moldova, making this a genuinely offbeat destination that appeals to adventurous travellers, wine lovers and those interested in post-Soviet republics.
Communications
The direct dialling country code for Moldova is +373, and the outgoing code is 00, followed by the relevant country code (e.g. 0044 for the UK). There are numerous area codes applying to cities, towns and villages, for example (0)22 for Chisinau. The country is well covered with GSM 900/1800 and 3G mobile phone networks. Internet cafes are available in cities and larger towns.
Emergencies
Police: 902 Medical: 903 Fire: 901
Languages Spoken
The official language of Moldova is Romanian, but English will be understood in larger cities like Chisinau.
Duty Free
Travellers to Moldova 18 and older may import up to 200 cigarettes, one litre of wine or spirits, and perfume and gifts in amounts reasonable for personal use.
Electricity
Electrical current is 230 volts, 50Hz. Two-pin European-style plugs are standard.
Climate Info
Moldova's climate is moderately continental: the summers are warm and long, with temperatures averaging about 68 °F (20°C), and the winters are relatively mild and dry, with January temperatures averaging 25°F (-4°C). Annual rainfall can vary greatly, but long dry spells are not unusual. The heaviest rainfall occurs in early summer and again in October, when heavy showers and thunderstorms are common.
Passport
All foreign passengers to Moldova must have return/onward tickets, the necessary travel documentation for their next destination, and proof of sufficient funds to cover their expenses while in the country. Note that all visitors are required to register their passports at the offices of Population Registration of the Department of Information Technologies, within three working days after arriving in Moldova (this is usually done by hotels). NOTE: It is highly recommended that your passport has at least six months validity remaining after your intended date of departure from your travel destination. Immigration officials often apply different rules to those stated by travel agents and official sources.
Entry Requirements
Canadian
citizens must have a passport that is valid for at least three months beyond the date of their arrival in Moldova. No visa is required, for stays of up to 90 days.
show more ...
Safety
Visitors should take normal safety precautions in Moldova; keep valuables safe and be aware of pickpockets and scam artists in major cities. Corruption is rife and visitors should be cautious of policemen demanding fines for spurious offences, or asking to see documents as a way of stealing cash; if approached in this way visitors should offer to go with them to the nearest police station before handing over any money or documents. Valuables, including passports, should not be left in hotel rooms, or near the window of a hotel room when you are there.
Emergency Phone Number
Police: 902 Medical: 903 Fire: 901
* For current safety alerts, please visit
Foreign travel advice - GOV.UK
or
Travel.State.Gov
Money
The leu is the currency of Moldova and is subdivided into 100 bani. There are few ATMs in Chisinau but none outside the capital city. You can easily change dollars or Euro (Pounds not so easily). You can also change Romanian Lei and Ukraine Hyenda at a lot of places. US dollars are accepted without conversion by quite a lot of businesses even taxis. But all along Stephan cel Mare (the Main Street of Chisinau) there are money changers exhibiting their rates. Credit card acceptance is few and far between and it is advised to take enough cash for your stay.
Exchange Rate
Not available.
Embassies of Moldova
Foreign Embassies in Moldova
Customers
Visitors to Moldova should not be unduly concerned with transgressing social mores. Moldovans are for the most part polite and friendly, and tend to go out of their way to ingratiate themselves with foreigners. In the more rural areas, women travellers who are smokers might want to light up in private, as there is a social stigma attached to the act. Travellers, and especially those who speak English, are advised to carry their passports with them at all times, as police officials in Moldova have been known to extract bribes from tourists who do not have 'proper identification' on hand. Finally, it seems as though chivalry is alive and well in Moldova - if you really want to fit in, be sure to offer your seat to the elderly on trains and buses, allow others to pass through doorways before you, and be willing to lend a hand if you see someone struggling with heavy luggage.
Business
Business can be quite bureaucratic and old-fashioned. The country adheres to an imbedded hierarchical structure and often it is the eldest who receive the most respect in business and social meetings. It is important to address each person according to their title followed by their surname; 'Domnul' for Mr. and 'Doamna' for Mrs. Moldovans prefer a face-to-face approach and like to strengthen personal relationships. Appointments should be made in advance and confirmed. Although the visitor is expected to be punctual the host may be late to arrive. Meetings are often quite formal and a general 'Western' set of old-world manners applies. Business suits are appropriate for meetings. Moldovans dislike an overt display of achievement or exaggerated conversation. Business hours are generally 9pm to 5pm Monday to Friday with an hour taken at lunch.
Tipping
Tipping is becoming increasingly common in Moldova, and is now expected in all restaurants and bars. A service charge is often included in restaurant bills but a further 5 to 10 percent tip is expected. Though it is not always necessary to tip them, taxi drivers can be rewarded for good service.
Public Holidays in Moldova
Travel Guide powered by www.wordtravels.com, copyright © Globe Media Ltd. All rights reserved. By its very nature much of the information in this guide is subject to change at short notice and travellers are urged to verify information on which they're relying with the relevant authorities. Globe Media and UNIGLOBE Travel does not accept any responsibility for any loss or inconvenience to any person as a result of information contained above.