General
Money
Entry Requirements
Health & safety
Weather
Embassies
Etiquette
Public Holidays
Attractions
Map
---
Introduction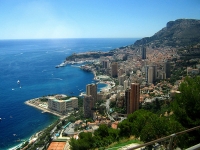 Monaco ©Hampus Cullin
An independent city-state west of the French Côte d'Azur, the Principality of Monaco is the playground of Europe's celebrities and idle rich. They are drawn by the sun, glamorous lifestyle and, most importantly, tax-free income, not to mention being in close proximity to one of the world's most publicised and famous Royal families. There are more millionaires per capita in this, the world's most densely populated country, than anywhere else, but true 'Monagasques' make up only about 15 percent of the population in a country that is jam-packed with opulence, wealth and the world's most expensive real estate.
As anyone who has seen the legendary Grand Prix will know, Monaco and its unofficial capital Monte-Carlo (the country doesn't actually have a capital) aren't as good looking as its sleek residents and visitors; most of the buildings are unattractive monstrosities, and the tiered urban jungle is cut off from the shoreline by sweeping roads: the roads on which Formula 1 racing cars screech during the annual Grand Prix in the second week of May each year.
Monaco does, however, have a suitably glamorous history: disguised as a Franciscan monk, Francois Grimaldi reclaimed a fortress on the Rock of Monaco from a rival Italian bloc in 1297, giving the country its name, which is derived from the word monk. The country soon became a major port and prospered, and when Lord Honore II took power in 1604, he declared himself a Prince - a tradition that remains today. Later, Monaco was annexed by France, but the Grimaldis soon regained their power and in the late 1800s, in order to restore wealth to the country, Prince Charles III created the Societe des Bains de Mer, consisting of a casino, some hotels and a theatre, from which sprung today's glittering Monte-Carlo area.
If it's open spaces you are seeking, go elsewhere (apart from a few ornate parks there is little to enjoy); likewise, if your wallet is light, stay away, unless you want to try your luck at filling it in Monaco's landmark Roccoco Casino. However, if you want see and be seen, and rub cloaks with royalty, then Monaco is the place to be.
Communications
The international access code for Monaco is +377. The outgoing code is 00 followed by the relevant country code (e.g. 0044 for the United Kingdom). Mobile phone coverage is excellent and roaming agreements exist with most international mobile companies (it is best to check with phone providers). Internet cafes are common.
Emergencies
Emergencies: 17 (police); 18 (ambulance and fire).
Languages Spoken
The official language of Monaco is French, but English and Italian, as well as Mongasque and Occitan (local languages) are also spoken.
Duty Free
Currency must be declared on arrival and passengers are allowed 400 cigarettes, one litre of liquor and a reasonable amount of perfume for personal use.
Electricity
Electrical current is 220 volts, 50 Hz. European round 2-pin plugs are used.
Climate Info
Monaco enjoys a mild, pleasant Mediterranean climate, averaging about 300 days of sunshine a year. Summer temperatures are usually in the 80-84º F (26-29ºC) range, while winter temperatures range between 48ºF and 58ºF (8-14ºC). July and August are the hottest months, while spring and autumn are perfect times to travel to Monaco as temperatures are at their mildest. The winter months of January and February tend to be the coldest and also receive the most rainfall.
Passport
The borderless region known as the Schengen Area includes the following countries: Austria, Belgium, Czech Republic, Denmark, Estonia, Finland, France, Germany, Greece, Hungary, Iceland, Italy, Latvia, Lithuania, Luxembourg, Malta, Monaco, The Netherlands, Norway, Poland, Portugal, Slovakia, Slovenia, Spain, Sweden and Switzerland. All these countries issue a standard Schengen visa that has a multiple entry option, and which allows the holder to travel freely within the borders of all the aforementioned countries. Additionally, non-EEA passengers to Monaco must hold proof of repatriation - such as return/onward tickets, the necessary travel documentation for their next destination, and sufficient funds to cover their expenses while in the country. NOTE: It is highly recommended that your passport has at least six months validity remaining after your intended date of departure from your travel destination. Immigration officials often apply different rules to those stated by travel agents and official sources.
Entry Requirements
Canadian
citizens must have a passport that is valid for at least three months beyond their arrival in Monaco. No visa is required, for stays of up to three months.
show more ...
Health
In general, no immunizations are necessary for travel to Monaco and there are no major health risks. The European Health Insurance Card (EHIC) does not provide health cover in Monaco. It is advised to carry enough personal medication with accompanying doctor's letter. Medical insurance is recommended.
Safety
Trips to Monaco are usually trouble-free, but the usual, sensible precautions such as being vigilant after dark and taking care of valuables apply.
Emergency Phone Number
Emergencies: 17 (police); 18 (ambulance and fire).
* For current safety alerts, please visit
Foreign travel advice - GOV.UK
or
Travel.State.Gov
Money
The unit of currency is the Euro (EUR), divided into 100 cents. Money can be exchanged at banks, bureaux de change or hotels. Bank hours are usually 9am to 12pm and 2pm to 4pm Monday to Friday and are closed on weekends. The is open daily. Travellers cheques (US$ are the preferred currency) are not widely accepted and should be exchanged at banks or a bureaux de change. All major credit cards are widely accepted.
Exchange Rate
Not available.
Embassies of Monaco
French Embassy, Washington DC, United States (also responsible for Monaco): +1 202 944 6000.
French Embassy, London, United Kingdom (also responsible for Monaco): +44 (0)20 7073 1000.
Monaco Consulate, Montreal, Canada: +1 514 878 5878.
French Embassy, Canberra, Australia (also responsible for Monaco): +61 (0)2 6216 0100.
Honorary Consul of Monaco, Cape Town, South Africa: +27 (0)21 702 0991.
French Embassy, Dublin, Ireland (also responsible for Monaco): +353 (0)1 277 5000.
Consulate of Monaco, Auckland, New Zealand: +64 (0)9 523 3313.
Foreign Embassies in Monaco
United States Embassy, Paris, France (also responsible for Monaco): +33 (0)1 4312 2222.
British Embassy, Paris, France (also responsible for Monaco): +33 (0)1 4451 3100.
Canadian Embassy, Paris, France (also responsible for Monaco): +33 (0)1 4443 2900.
Australian Embassy, Paris, France (also responsible for Monaco): +33 (0)1 4059 3300.
South African Embassy, Paris, France (also responsible for Monaco): +33 (0)1 5359 2323.
Irish Honorary Consulate, Monaco: +377 93 157 045.
New Zealand Embassy, Paris, France (also responsible for Monaco): +33 (0)1 4501 4343.
Customers
Swimsuits, bare chests and bare feet are restricted to beaches and swimming areas only in Monaco. Appropriate dress is required for visits to religious buildings (Monaco is largely Roman Catholic). Jacket and tie are required at the Casino.
Business
Business in Monaco is usually conducted formally and suits and ties are the norm. Greetings are made with a handshake and business cards can be exchanged. French is the official language of Monaco, though some English is spoken; it is best to ascertain beforehand which language will be used. Business hours are usually 9am to 12pm and 2pm to 5pm Monday to Friday.
Tipping
Most hotels and restaurants add a service charge in Monaco, but tipping extra for excellent service is appreciated. Porters/valets usually expect a tip. It is not necessary to tip taxi drivers, as they are self-employed.
Public Holidays in Monaco
Travel Guide powered by www.wordtravels.com, copyright © Globe Media Ltd. All rights reserved. By its very nature much of the information in this guide is subject to change at short notice and travellers are urged to verify information on which they're relying with the relevant authorities. Globe Media and UNIGLOBE Travel does not accept any responsibility for any loss or inconvenience to any person as a result of information contained above.