General
Money
Entry Requirements
Health & safety
Weather
Embassies
Etiquette
Public Holidays
Attractions
Map
---
Introduction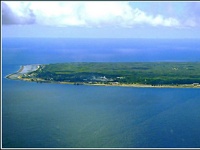 Nauru from the sea ©Tatiana Gerus
Nauru is the world's smallest independent island nation, measuring eight miles squared (21 km sq). This Micronesian island is just south of the equator and has less than 10,000 local inhabitants. It is an intimate place where tourists, who are very rare, can expect a warm welcome. The local Nauruan language is one of the most unique in the Micronesian islands, but English is an equally common tongue, so there is no need for a phrase book.
Phosphate mining gave the islanders one of the highest per capita incomes in the world during the 60s and 70s. However, after years of mining, there are thought to be only trace amounts remaining, which provide marginal income for the island. Australian government grants have been the primary source of income to Nauru in recent times.
Mining procedures have adversely affected the island's environment, polluting some of the waters making fishing, a previously common form of subsistence, impossible in some spots. In recent years, however, indigenous vegetation has begun to revitalise this formerly barren island.
Inhabited by the Germans and Japanese, and administered by Australia, New Zealand and the UK during the 20th Century, Nauru gained its independence in 1968. Today there are still traces of the Japanese occupation of the island during World War II, and tourists will enjoy visiting the former lookout bunker, complete with rusted guns and Japanese writing on the walls from the last watch.
For tourists interested in old mines, WWII relics, and meeting the locals, flights arrive several times a week from Australia. Like many of the Micronesian islands, Nauru has picturesque palm lined beaches, with deep-sea fishing, bird watching and diving as possible tourist activities.
Since 2001, Nauru has intermittently played host to a number of immigrants and refugees awaiting admission into Australia. This has been a source of recent controversy and has affected visa rates and international opinion of the Nauruan and Australian governments. However, this will do little to affect tourists and will have travel implications mostly for journalists and government officials travelling to the island.
Languages Spoken
The native language is Nauruan, but English is widely spoken on the island and is used for commercial and governmental purposes.
Duty Free
Travellers to Nauru age 16 and older may import up to 200 cigarettes and 500g tobacco. Those 21 and older may import two litres of liquor. Firearms, explosives, drugs, weapons and pornographic materials are prohibited.
Electricity
Electrical current is 240 Volts, 50Hz. The Australian three (or two) flat pin plug is standard. 24-Hour electricity has been available since 2005, but expect frequent power cuts.
Passport
All foreign passengers to Nauru must hold (i) confirmed return/onward tickets, (ii) the necessary travel documentation for their next destination, (iii) proof of sufficient funds to cover their expenses while in the country, and (iv) proof of confirmed accommodation in Nauru. Note that a yellow fever vaccination certificate is required (even for transit passengers), if arriving in Nauru within six days of leaving or transiting through an infected area. NOTE: It is highly recommended that your passport has at least six months validity remaining after your intended date of departure from your travel destination. Immigration officials often apply different rules to those stated by travel agents and official sources.
Entry Requirements
Canadian
citizens must have a passport that is valid for at least three months beyond the period of intended stay in Nauru. A visa is required.
show more ...
Health
The leading health concerns in Nauru are non-communicable diseases. Nonetheless, travellers are recommended to get hepatitis A and B vaccincations, a typhoid vaccination and a rabies vaccination for people spending a lot of time outdoors, who may be at risk of animal bites. Travellers are also advised to be up to date with their MMR (measles, mumps, rubella) and tetanus-diptheria vaccinations.
Yellow fever vaccinations are a requirement for those travelling from infected areas in Africa and the Americas. There have been outbreaks of dengue fever in the past, purported to have come from the refugee centre on the island. There is no defense against dengue fever other than minimising the chance of insect bites. Be careful about food and drink consumption. Buying food and water from the main local stores and restaurants is the best way to prevent food poisoning.
There is one hospital on the island, the Republic of Nauru Hospital, which deals with most medical problems, but major surgical operations are conducted in Australia. Travel insurance is highly recommended. If you require any medication on your travels it is best to bring it with you, in the original packaging, with a signed and dated letter from your doctor detailing exactly what it is and why you need it.
* For current safety alerts, please visit
Foreign travel advice - GOV.UK
or
Travel.State.Gov
Exchange Rate
Not available.
Embassies of Nauru
Foreign Embassies in Nauru
Customers
The people of Nauru have family-based values, bolstered by a strong Christian ethos, and visitors should not be surprised to hear prayers at most public gatherings. Traditionally a matrilineal society, women are greatly respected and children are often cared for by the larger community. Because of the political and social connections to Australia, Nauru's social etiquette has been increasingly influenced by Australian norms. Thus, western tourists will find basic social interaction quite familiar.
Travel Guide powered by www.wordtravels.com, copyright © Globe Media Ltd. All rights reserved. By its very nature much of the information in this guide is subject to change at short notice and travellers are urged to verify information on which they're relying with the relevant authorities. Globe Media and UNIGLOBE Travel does not accept any responsibility for any loss or inconvenience to any person as a result of information contained above.