General
Money
Entry Requirements
Health & safety
Weather
Embassies
Etiquette
Public Holidays
Attractions
Map
---
Introduction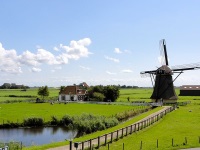 Friesland, Netherlands ©Gouwenaar
This country of tulips, windmills and bicycles stretches out over a predominantly flat landscape of land reclaimed from the sea. Sophisticated urban centres and sleepy rural towns are contained within the expansive vistas broken here and there by canals, castle walls and dikes. One of Europe's most densely populated regions is located within an area of the Netherlands called the Randstad. This urban hub radiates in a circle from Amsterdam and includes The Hague, Rotterdam and Utrecht, as well as the smaller towns of Haarlem, Leiden and Delft. The metropolitan centres of the Netherlands buzz with the activity of seasonal festivals, cultural activities, vibrant art scenes and excellent pubs and restaurants.
The rich cultural heritage that flavours much of Dutch life can be traced back through the centuries. During the 1600s the Netherlands dominated the world both economically and culturally, with the Dutch East India Company establishing trading links with the East and West Indies and bringing back an abundance of merchandise and cultural influences. The Golden Age reached its zenith in the artworks of the Dutch Masters: Rembrandt, Frans Hals and Jan Vermeer. Today, their paintings hang from the walls of the country's numerous world-class museums and galleries.
Most people travelling to the Netherlands head for the unique experience of its capital city, Amsterdam. The other parts are largely unaffected by tourism, particularly the areas outside the Randstad. The southern parts of the country are transformed by undulating landscapes of shifting sands and heath moors, best experienced within the Hoge Veluwe National Park. Further south, tucked between the German and Belgian borders, lies the historical city of Maastricht.
Since the collapse of Napoleon's empire in 1814, the Netherlands has taken a neutral stance throughout most of the world's conflicts, including the First World War in which it took no part. In spite of this independent stance it still suffered severely in World War II during the Nazi invasion of 1940. Its neutral political position, combined with its tradition of liberalism and tolerance, has made the Netherlands the logical choice for the establishment of the International Court of Justice, which is situated in The Hague.
Communications
The international access code for the Netherlands is +31. Local mobile phone operators have the Netherlands extremely well covered with GSM 900 and 1800 networks, which have roaming agreements with most international operators. Internet cafes are widely available.
Emergencies
112 (General)
Languages Spoken
Dutch is the official language. English is widely spoken. Fries (as well as Dutch) is spoken by the people of Friesland province.
Duty Free
Duty free items for travellers to the Netherlands include 200 cigarettes, 100 cigarillos, 50 cigars or 250g smoking tobacco; 1 litre spirits, 2 litres spirits or aperitifs made of wine or 2 litres of sparkling wines, liquor wines or still wine; perfume up to 50g or 250ml eau de toilette; 500g of coffee; 100g tea. Prohibited items include the import of all birds.
Electricity
Electrical current is 230 volts, 50Hz. Two-pin round European-style plugs are used.
Climate Info
The Netherlands has a fairly temperate climate, very similar to the UK: there are four distinct seasons but the temperatures are variable year-round and rain occurs throughout the year. The weather is particularly changeable on the coast, where it is influenced by the ocean. The Netherlands experiences cool summers, between June and August, and mild winters, between December and February. The average summer temperatures range between 53°F and 72°F (12°C and 22°C), and the average winter temperatures range between 34°F and 43°F (1°C and 6°C). Snow can fall anytime between November and April, although the Netherlands only experiences about 25 snowy days a year on average. Although rainfall can occur at any time of year it is marginally more common in summer and autumn. Tourists should ensure that they take along a rain jacket whatever time of year they are travelling to the Netherlands.
Despite the hordes of tourists the best time to visit the Netherlands is over the summer (June to August), or in spring (April and May) when the famous tulips are in bloom. However, the Netherlands is a year-round travel destination as enjoyment of the cultural attractions, like museums, galleries, restaurants and historic buildings is mostly not weather dependant.
Passport
The borderless region known as the Schengen Area includes the following countries: Austria, Belgium, Czech Republic, Denmark, Estonia, Finland, France, Germany, Greece, Hungary, Iceland, Italy, Latvia, Lithuania, Luxembourg, Malta, The Netherlands, Norway, Poland, Portugal, Slovakia, Slovenia, Spain, Sweden and Switzerland. All these countries issue a standard Schengen visa that has a multiple entry option, and which allows the holder to travel freely within the borders of all the aforementioned countries. Additionally, non-EEA visitors to the Netherlands must hold confirmed return/onward tickets, the necessary travel documentation for their next destination, and proof of sufficient funds to cover their expenses while in the country. NOTE: It is highly recommended that your passport has at least six months validity remaining after your intended date of departure from your travel destination. Immigration officials often apply different rules to those stated by travel agents and official sources.
Entry Requirements
Canadian
citizens must have a passport that is valid for three months beyond the period of intended stay in the Netherlands. No visa is required, for holders of Canadian passports, for a maximum stay of 90 days.
show more ...
Health
There are no health risks associated with travel to the Netherlands and no vaccinations are required for entry into the country. The water is safe to drink. The standard of health care in the Netherlands is very high, but the necessary health insurance provisions must be made before travelling. A reciprocal agreement exists with other EU countries, which entitles nationals to low-cost emergency medical treatment. A European Health Insurance Card (EHIC) is necessary for this purpose. Although medication is widely available in the Netherlands it is always best to take along any prescribed medication, in its original packaging, and accompanied by a signed and dated letter from your doctor detailing what it is and why it is needed.
Safety
Travel in the Netherlands is fairly safe and the vast majority of trips are trouble-free. Travellers should, however, always exercise caution in empty streets at night and be aware of pickpockets, particularly in central Amsterdam and at Central Station. There have been several incidents on trains from Schiphol Airport where heavily laden passengers have been targeted by thieves. As in all Western countries, there is a risk of indiscriminate terrorist attacks.
Police in Amsterdam are warning travellers of a new scam in recent years whereby tourists will be approached by 'plain clothes policemen' who claim to be investigating credit card fraud and counterfeit currency. Tourists are shown fake identification in the form of badges (Dutch police do not carry badges and plain clothes police will rarely conduct such an 'investigation'), and asked to hand over credit cards and money. If approached, travellers are advised to ask for proper identification or to accompany them to the nearest police station.
Emergency Phone Number
112 (General)
* For current safety alerts, please visit
Foreign travel advice - GOV.UK
or
Travel.State.Gov
Money
The official currency is the Euro (EUR), which is divided into 100 cents. Major credit cards are widely accepted. Foreign currency can be changed at banks, post offices or bureaux de change (usually indicated by the letters GWK). Banks are closed on weekends but bureaux de change are open. ATMs are widely distributed and most are open 24 hours a day.
Exchange Rate
Not available.
Embassies of Netherlands
Royal Netherlands Embassy, Washington DC, United States: +1 202 244 5300.
Royal Netherlands Embassy, London, United Kingdom: +44 20 7590 3200.
Royal Netherlands Embassy, Ottawa, Canada: +1 613 237 5031.
Royal Netherlands Embassy, Canberra, Australia: +61 26 220 9400.
Royal Netherlands Embassy, Pretoria, South Africa: +27 12 425 4500.
Royal Netherlands Embassy, Dublin, Ireland: +353 1 269 3444.
Royal Netherlands Embassy, Wellington, New Zealand: +64 4 471 6390.
Foreign Embassies in Netherlands
United States Embassy, The Hague: +31 70 310 2209.
British Embassy, The Hague: +31 20 676 4343.
Canadian Embassy, The Hague: +31 70 311 1600.
Australian Embassy, The Hague: +31 70 310 8200.
South African Embassy, The Hague: +31 70 392 4501.
Irish Embassy, The Hague: +31 70 363 0993.
New Zealand Embassy, The Hague: +31 70 346 9324.
Customers
In the Netherlands the use of cannabis is tolerated in designated 'coffeeshops' in major cities. This policy exists to prevent the marginalisation of soft drug users thereby exposing them to more harmful drugs. However, the trafficking in hard or soft drugs outside licensed premises is illegal and the possession of soft drugs in public places will incur a prison sentence. Travellers should note that the rules are somewhat different for foreigners, with the Netherlands tightening up drug laws in recent years: Amsterdam is the only city still fighting for the right of tourists to smoke cannabis in 'coffeeshops' and this has become a bit of a grey area with laws not always enforced on the ground. Everybody from the age of 14 is required to show a valid identity document to law enforcement officers on request. Tobacco smoking in cafés, bars and restaurants is prohibited.
Business
Business in the Netherlands is conducted in an efficient and professional manner. Punctuality is important, dress is usually formal (suits and ties are standard), business cards are exchanged and greetings are made with a handshake. Titles and surnames are used, unless otherwise indicated. Women tend to be well received in Dutch business and it is not uncommon for women to hold high positions. Most Dutch people speak excellent English. Business hours are usually 8.30am to 5pm.
Tipping
Service charges are included in hotel rates, restaurant bills and taxi fares, usually at about 15 percent. Tipping for good service is always appreciated but not necessary. It is customary to tip taxi drivers and waiters about 10 percent.
Public Holidays in Netherlands
| | | |
| --- | --- | --- |
| | 2017 | 2018 |
| New Year's Day | 1 Jan | 1 Jan |
| Easter Monday | 17 Apr | 2 Apr |
| King's Birthday | 27 Apr | 27 Apr |
| Ascension Day | 25 May | 10 May |
| Christmas Day | 25 Dec | 25 Dec |
| Boxing Day | 26 Dec | 26 Dec |
| Whit Monday | 5 Jun | 21 May |
| Liberation Day | 5 May | 5 May |
Overview
The picturesque country that is the Netherlands is home to a wealth of art, history and culture. While Amsterdam deservedly dominates the tourist trade there are a number of other interesting cities to explore, like Delft and Rotterdam. The Netherlands is also blessed with lovely natural landscapes so it is no wonder why tourists flock here every year.
The Netherlands' sights and attractions are often distinguished by historical names such as Anne Frank or Rembrandt, who are both immortalised in Amsterdam museums. Other highlights of the country for tourists include the Van Gogh Museum and the notorious Red Light District (De Wallen), as well as the ancient city of Groningen.
Visitors can also enjoy a Heineken at a café and mingle with the friendly locals, or cycle leisurely along the beautiful canals. Amsterdam is well known for its tolerant position toward cannabis, which can be smoked in designated 'coffeeshops', but tourists should note that it is not strictly legal, just traditionally tolerated, and that smoking in public places can still get you into trouble with the authorities. As a country the Netherlands has been trying to discourage the tourist drug scene recently and it is not as tolerated as it once was; in fact, most Dutch cities no longer allow foreigners to buy or smoke cannabis, and Amsterdam is becoming the last outpost for 'coffeeshops' frequented by foreigners. As laws and social practices are currently in flux regarding cannabis use it is recommended that travellers check official sources before visiting.
An authentic European destination, travelling in the Netherlands offers great historical sightseeing and artistic attractions, combined with a truly cultural experience. It is a great destination for culture-vultures and pleasure-seekers alike.
Map of Netherlands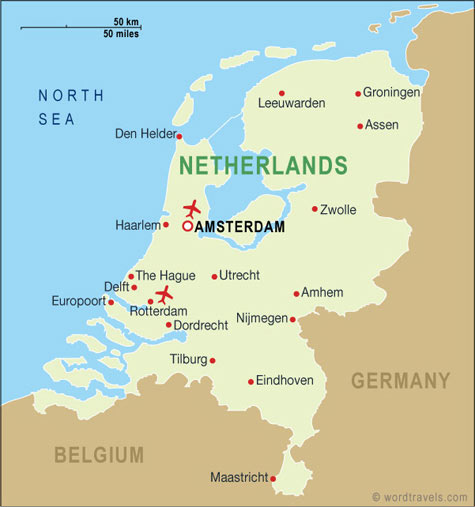 Travel Guide powered by www.wordtravels.com, copyright © Globe Media Ltd. All rights reserved. By its very nature much of the information in this guide is subject to change at short notice and travellers are urged to verify information on which they're relying with the relevant authorities. Globe Media and UNIGLOBE Travel does not accept any responsibility for any loss or inconvenience to any person as a result of information contained above.