General
Money
Entry Requirements
Health & safety
Weather
Embassies
Etiquette
Public Holidays
Attractions
Map
---
Introduction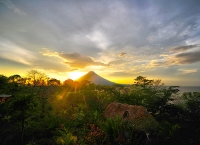 Volcano Concepcion ©jyuen1314
Political unrest has given way to a period of calm and stability in scenic Nicaragua; yet, the country hasn't quite escaped the stigma of the past to become the major tourist destination it deserves to be. The tourism industry is growing, however; it is only a matter of time before more travellers appreciate what a lucky few have already found: an entire geographical world exists within Nicaragua's borders.
The country is positioned between Costa Rica to the south, and Honduras to the north. It is flanked by oceans on two sides: the Atlantic Caribbean stretches along its eastern shores, with the Pacific to the west. Nicaragua is known as 'the land of lakes and volcanoes', with countless lagoons and lakes connected by networks of interlacing rivers, and a chain of smouldering mountains and lava fields running along the country's Pacific side. Lago de Nicaragua, a 92-mile (148km) long freshwater, shark-inhabited lake, dominates the terrain of the southwest. Rainforest blankets much of the lowlands, while high quality coffee beans grow along the highland slopes. Incredible animals make their homes in these environments: millions of sea turtles are born on the sandy western beaches, while jaguars and three-toed sloths roam the jungle and its canopies.
The lively Pacific coastline produces great waves for surfing vacations, or tourists can appreciate the mix of languages and cultures along the relaxed eastern coast, while embracing the Caribbean lifestyle with the locals. The capital, Managua, isn't a picturesque city, but its modern facilities, like the airport and hospitals, make it a convenient stop for travellers. The colonial architecture of many cities and towns makes for some romantic destinations, more reminiscent of the days of Spanish rule than of modern Nicaragua. The country remains relatively underdeveloped; for some, this can mean unwanted difficulties, but for others, it is a chance for unique experiences and unspoiled attractions.
Communications
The international access code for Nicaragua is +505. The outgoing code is 00, followed by the relevant country code (00 44 for the United Kingdom). The city area code for Managua is 2. Mobile phones operate on GSM and 3G networks. Local mobile phone calls are usually cheapest with locally bought SIM cards. Internet is widely available in all major cities, although the connection speed is sometimes slow.
Emergencies
118 (Police); 101 (Tourist Police)
Languages Spoken
The official language in Nicaragua is Spanish. Some communities on the Caribbean coast speak indigenous languages. English is understood at some tourist destinations.
Duty Free
Visitors to Nicaragua may import up to 400 cigarettes/500g of tobacco, five litres of liquor, and perfume for personal use. Meat, dairy and leather products, as well as matches, are restricted. Firearms require an import license.
Electricity
Electrical current in Nicaragua is 120 volts, 60Hz. Flat blade plugs are used.
Climate Info
Nicaragua has a tropical climate and is hot year round with little seasonal variation. There are two basic seasons: the wet season, from June to January, is defined by short heavy rainfalls that can occur daily (on the east coast, rains can last longer into the year and the east often experiences flooding during the rainy season); and the dry season, from December to May, when there is almost no rain and it can get very dry. The rainy season doesn't rule out travel because the tropical downpours tend to be over quickly and the sun comes out soon afterwards; however, tropical storms and hurricanes are possible between July and October, and some travellers prefer to avoid this period.
Temperature fluctuations result mainly from elevation, with average temperatures differing widely between sea level and lowlands, and highlands and highland peaks. Lowland daytime temperatures average above 86°F (30°C) with as much as 84 percent humidity, and highland temperatures average above 75°F (24°C). The hottest months are March, April and May. The best time to visit Nicaragua really depends on desired activities and region, but the peak tourist season is between December and March.
Passport
Travellers from most western countries do not need to arrange a visa prior to entry. Tourist cards are granted on arrival for USD 10 and are good for stays up to 90 days for travel among any of the C-4 countries (Nicaragua, Honduras, El Salvador and Guatemala). Extensions are possible for a fee of USD 2 per day. All visitors must be in possession of onward or return tickets, documents for their destination outside of Nicaragua and at least USD 200. It is recommended that tourists have six months validity remaining on their passports upon arrival in any country.
Entry Requirements
Canadians
require a passport valid for six months beyond the date of arrival, but a visa is not necessary for touristic stays of up to 90 days. A tourist card, costing USD 10, will need to be purchased on arrival.
show more ...
Health
Visitors from a yellow fever infected area in the Americas or Africa are required to prove they have been vaccinated before entry. Malaria is a threat in many regions of Nicaragua, and travellers are advised to seek medical advice and take some form of prophylaxis. Insect repellent and mosquito nets should also be used to avoid malaria and dengue fever, both of which are carried by mosquitoes. Vaccinations are recommended for hepatitis A, hepatitis B and typhoid, and those who will be coming into contact with animals, especially bats, should consider a rabies vaccination.
Modern medical facilities in Nicaragua are only found in major towns and cities, the best of which are in Managua. Rural communities lack modern hospitals and equipment, and medications are in short supply. If a hospital is needed in Nicaragua, travellers should indicate that they desire a private hospital. Comprehensive travel insurance is essential, and travellers should take along any medication they require, in its original packaging and accompanied by a signed and dated letter from a doctor detailing what it is and why it is needed. The most common health affliction for tourists is traveller's diarrhoea, which is preventable by safe water and food consumption. Travellers should not drink tap water, and should use common sense when eating uncooked foods.
Safety
Rural areas in Nicaragua are notably void of police and there has been a recent increase in crime in these areas. Theft and violent crime are also becoming more common in urban areas of the usually safe country. Travellers should be careful of muggings in taxis and only use official taxis with a red license plate. Buses should not be used after dark. Due to poor road conditions, highway driving is especially dangerous after dark and should be avoided.
Political demonstrations and protests occur sporadically in urban areas and can become violent; tourists should avoid all street gatherings. Powerful waves and currents can make Nicaragua's beaches dangerous, and swimmers and surfers should exercise caution. Despite these risks, Nicaragua is still one of the safest countries to travel to in the region and most visits are trouble-free.
Emergency Phone Number
118 (Police); 101 (Tourist Police)
* For current safety alerts, please visit
Foreign travel advice - GOV.UK
or
Travel.State.Gov
Money
The currency is the Nicaraguan Cordoba (NIO), but commonly referred to as the peso. US Dollars can also be used for most common transactions. Bills must be in good condition to be accepted, but damaged bills can be exchanged at banks. All major cities have ATMs and most hotels and restaurants accept credit card payments.
Exchange Rate
Not available.
Embassies of Nicaragua
Embassy of Nicaragua in Washington DC, United States: +1 (202) 939 6570.
Embassy of Nicaragua, London, United Kingdom (also responsible for Ireland): +44 (020) 7938 2373.
Nicaraguan Consulate General, Ontario, Canada: +1 (905) 430 0572.
Foreign Embassies in Nicaragua
US Embassy, Managua: +505 2252 7100.
British Embassy San Jose, Costa Rica (also responsible for Nicaragua): +506 2258 2025.
Canadian Embassy, San José, Costa Rica (also responsible for Nicaragua): +506 2242 4400.
Australian Embassy, Mexico City, Mexico (also responsible for Nicaragua): +52 55 1101 2200.
South African Embassy, Mexico City, Mexico (also responsible for Nicaragua): +52 55 1100 4970.
Customers
It is usual for adults in Nicaragua to live with their parents, and visitors should greet the oldest or most important person in a group first. When shopping, it is customary to bargain for goods.
Tipping
Tips of 10 to 15 percent are expected at restaurants in Nicaragua. Standard tipping is usual at hotels. Taxi drivers do not usually expect to be tipped.
Public Holidays in Nicaragua
| | | |
| --- | --- | --- |
| | 2017 | 2018 |
| New Years Day | 1 Jan | 1 Jan |
| Holy Thursday | 13 Apr | 29 Mar |
| Good Friday | 14 Apr | 30 Mar |
| Labour Day | 1 May | 1 May |
| Sandinista Revolution Anniversary | 19 Jul | 19 Jul |
| Battle of San Jacinto | 14 Sep | 14 Sep |
| Independence Day | 15 Sep | 15 Sep |
| Immaculate Conception | 8 Dec | 8 Dec |
| Christmas Day | 25 Dec | 25 Dec |
Overview
Nicaragua is known as the 'land of lakes and volcanoes' and these sublime natural features, which make Nicaragua a paradise for hikers and nature lovers, are the country's main tourist attractions. There is probably no better destination for travellers looking for close encounters with volcanoes, both active and dormant, and the massive Lake Nicaragua provides a variety of exciting opportunities to explore on water and land. Those wanting a taste of pristine rainforest should head north to the largely unexplored Bosawas Biosphere Reserve, which dominates about 15 percent of Nicaragua. Sun and sand enthusiasts also won't be disappointed, and those looking for a tropical paradise as yet unspoiled by resorts, crowds and development should holiday on the white beaches of the Corn Islands.
The tourist infrastructure in many of these places is not widely developed, making Nicaragua ideal for adventurous travellers looking for an experience of nature, rather than those wanting luxury and glamour. However, Nicaragua's cities offer some urban fun, with Managua, Granada and mountainous Matagalpa all providing convenient travel hubs, some colonial splendour, and interesting cultural experiences. The warmth of the climate and friendliness of the locals are an added bonus when travelling through Nicaragua.
Travel Guide powered by www.wordtravels.com, copyright © Globe Media Ltd. All rights reserved. By its very nature much of the information in this guide is subject to change at short notice and travellers are urged to verify information on which they're relying with the relevant authorities. Globe Media and UNIGLOBE Travel does not accept any responsibility for any loss or inconvenience to any person as a result of information contained above.