General
Money
Entry Requirements
Health & safety
Weather
Embassies
Etiquette
Public Holidays
Attractions
Map
---
Introduction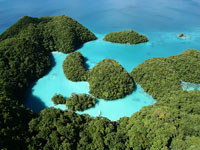 Milky Way ©LuxTonnerre
Beautifully positioned in the Pacific Ocean, about 500 miles (804km) east of the Philippines, the exquisite islands of Palau are honeycombed with underwater caverns and natural reefs. Boasting more than 700 species of corals and 1,500 species of fish, Palau has earned its reputation as an underwater wonder of the world, attracting around 50,000 visitors a year to its scuba diving paradise. The main appeal of the country for travellers is undoubtedly the underwater world and Palau has been fondly dubbed 'The Underwater Serengeti'; in fact, the country is virtually unknown outside of diving circles, despite being almost as pristine above the surface as below.
Steeped in a fascinating history dating back to at least 1,000 BC, Palau was first explored by Europeans in the 16th century and has since been under the control of Spain, Germany, Japan and the USA, before becoming an independent nation in 1994. The islands were occupied by the Japanese during World War II and played host to one of the bloodiest battles of the war, relics of which can be seen on Peleliu Island which houses a World War II Memorial Museum including former battlefields, tanks, artillery, and shrines.
Palau is an archipelago of about 250 limestone and volcanic islands, most of which have barely been marked by human settlement and remain blanketed in dense forest. The most populous island is Koror, but the capital of Ngerulmud as well as the international airport can be found on nearby Babeldaod Island.
For those looking for a relaxing and exotic holiday Palau offers sugary white beaches, turquoise waters, sunny weather and a plethora of activities including swimming, game fishing, kayaking, dolphin watching, snorkelling, and sailing. A slice of heaven awaits those who decide on a visit to Palau, which has just enough amenities to comfortably host tourists without compromising the natural beauty and island atmosphere.
Languages Spoken
The two official languages are Palauan and English. Palauan is the most widely spoken language but English and Japanese are also widely understood, with Spanish and German spoken to a lesser extent.
Duty Free
Visitors to Palau may import one carton of cigarettes and one bottle of liquor without incurring customs duty. Controlled substances and weapons are prohibited.
Electricity
Electrical current is generally 120 volts, 60Hz. Plugs are similar to those used in the USA and Japan, with two or three flat prongs.
Passport
All visitors must have a passport valid for six months from date of arrival. Visitors are required to hold proof of sufficient funds. It is highly recommended that passports have at least six months validity remaining after your intended date of departure from your travel destination. Immigration officials often apply different rules to those stated by travel agents and official sources.
Entry Requirements
A
passport valid for six months beyond arrival date is required. A 30-day visa is obtainable on arrival. Extensions are possible for tourist visas.
show more ...
Health
Travellers arriving from yellow-fever infected areas in Africa and the Americas are required to have a yellow fever vaccination to enter Palau. Other recommended vaccinations include hepatitis A and hepatitis B, while a vaccination for typhoid should be considered by long-term visitors planning to eat outside of hotels and restaurants.
Health care is basic but generally sufficient for routine problems; air evacuation to another country will likely be required for any serious health issue. Comprehensive health insurance is advised and travellers should carry a supply of basic medications as well as any required prescription medication. There is a hyperbaric chamber for divers at Belau National Hospital.
* For current safety alerts, please visit
Foreign travel advice - GOV.UK
or
Travel.State.Gov
Exchange Rate
Not available.
Embassies of Palau
Foreign Embassies in Palau
Customers
Palauan social values are largely family-based, with respect and deference being shown to elders. A strong emphasis is placed on easy-going, harmonious social relationships. Visitors should avoid wearing beachwear around town, although casual dress is totally acceptable. Remove your shoes when entering someone's home. The head is considered a sacred part of the body, and should not be touched (unless you've been invited to do so). If you are invited to a social gathering of any kind, rather accept the invitation and not go, than decline outright. Do not remark negatively about the locals' habit of chewing betel nut. Public displays of affection between same-sex partners may offend locals and travellers should note that although the law is seldom enforced homosexuality is technically illegal.
Travel Guide powered by www.wordtravels.com, copyright © Globe Media Ltd. All rights reserved. By its very nature much of the information in this guide is subject to change at short notice and travellers are urged to verify information on which they're relying with the relevant authorities. Globe Media and UNIGLOBE Travel does not accept any responsibility for any loss or inconvenience to any person as a result of information contained above.