General
Money
Entry Requirements
Health & safety
Weather
Embassies
Etiquette
Public Holidays
Attractions
Map
---
Introduction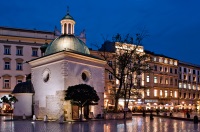 Krakow ©Sebastian Warneke
Travellers to Poland will be captivated and moved by its remarkable history of heroic resilience and tragedy, and delight in the charming character of its cities and in the natural beauty of the countryside. From romantic tales of medieval knights, battles, kings and splendid castles, to the horrors and destruction of World War II, from its determined stand against communism to today's modern outlook and booming economy, Poland abounds with evidence of both historical turbulence and a bright future to come.
Poland was the country most devastated by World War II in Eastern Europe, losing about a quarter of its population and almost its entire Jewish community. The aftermath of the war greatly influenced the character of the country. Former Jewish centres in the cities and the stark concentration camps where the Nazis carried out their extermination atrocities remain as the most stirring reminders of the nation's tragedies. Cities destroyed by the war had to be rebuilt from scratch and the many meticulously restored buildings and historic old towns are testimony to the pride and determination of a strong and durable nation.
Warsaw, the capital, was almost totally destroyed by the war and now presents an unusual mix of beautifully restored historic buildings, communist-era concrete structures, and modern fashion and consumerism. The maritime city of Gdañsk, home to the historic garrison at Westerplatte and the legendary Lenin shipyards, was the stage for both the beginning of the Second World War and the disintegration of Eastern European communism. But it is Krakow, the ancient royal capital, that draws the crowds, rivalling the elegance of cities like Prague and Vienna. Having largely escaped the destruction of the war it retains its charming medieval character: the Royal Castle, the grand Market Square, the old Jewish quarter and the nearby Nazi death camps of Auschwitz are all steeped in historical importance.
The unspoilt Baltic coastline and the splendour of the rugged mountain ranges of the Tatras will impress outdoor enthusiasts, with a variety of activities and scenery to provide a peaceful and relaxing break from the intensity of the country's history. Along with the legendary hospitality of Polish people, a sense of nationhood to which the Catholic Church is fundamental, and a strong musical and cultural sense of identity, its tourist infrastructure is flourishing and the country is experiencing a remarkable increase in the number of visitors to its shores.
Communications
The international access code for Poland is +48. Mobile phones work throughout the country; local operators use GSM and 3G networks. Internet cafes are available in most towns.
Emergencies
Emergencies: 112
Languages Spoken
The national language is Polish. English is widely understood in tourist areas.
Duty Free
Travellers to Poland over 17 years arriving from non-EU countries do not have to pay duty on 250 cigarettes or 50 cigars or 250g tobacco; 1 litre wine and 1 litre spirits; cosmetics and medicines for personal use; gifts up to the value of €175. Travellers to Poland arriving from within the EU do not have to pay duty on 800 cigarettes or 200 cigars or 1kg smoking tobacco; 10 litres spirits, 90 litres wine and 110 litres beer. Prohibited items include birds and poultry arriving from countries infected with Avian influenza. The export of all articles of artistic, historic or cultural value are subject to special regulations.
Electricity
Electrical current is 230 volts, 50Hz. The standard two-pin European style plugs are used.
Climate Info
Poland's climate is moderate and temperate, characterised by cold winters and warm summers, with continental influences from the east and maritime influences from the west. The weather in Poland is highly changeable, with great inconsistency from year to year (and even from day to day in some seasons). There are, however, four distinct seasons, and spring and summer are usually lovely in Poland. Winters become increasingly severe inland from the Baltic coast, with January temperatures in Warsaw averaging 23°F (-5°C). In summer it is hotter inland, with July temperatures in Warsaw averaging 66°F (19°C).
Rain can be expected throughout the year, particularly in the southern mountains and Poland is frequently cloudy and foggy. The best time to visit Poland is during the warmer months of spring and summer, between May and August. Early autumn, in September and October, is also a pleasant and mild time of year to visit. The peak tourist season is in July and August but travellers should note that many Poles take their annual leave at this time, making the tourist hotspots in Krakow and Sopot overcrowded in the height of summer. Budget travellers should consider travelling outside of the peak season as everything tends to be cheaper.
Passport
A passport valid for at least three months after period of intended stay is needed for those who require a visa. Generally, visa exempt nationals must have a passport valid for period of intended stay (other than EEA nationals). The borderless region known as the Schengen area includes the following countries: Austria, Belgium, Czech Republic, Denmark, Estonia, Finland, France, Germany, Greece, Hungary, Iceland, Italy, Latvia, Lichtenstein, Lithuania, Luxembourg, Malta, The Netherlands, Norway, Poland, Portugal, Slovakia, Slovenia, Spain, Sweden and Switzerland. All these countries issue a standard Schengen visa that has a multiple entry option that allows the holder to travel freely within the borders of all.
Entry Requirements
Canadian
nationals do not require a visa for stays of up to 90 days. Passports must be valid for three months beyond period of intended stay.
show more ...
Health
There are few health risks associated with travel to Poland. Those visiting forested areas are advised to seek medical advice about inoculations for tick borne encephalitis, and take tick bite prevention measures due to the presence of Lyme disease. Vaccinations may be recommended for hepatitis A, hepatitis B and typhoid, although those eating only in restaurants and hotels can safely disregard the typhoid vaccination.
Poland has a reciprocal health agreement with the UK and most EU countries, whose citizens are entitled to low-cost emergency medical treatment on presentation of a European Health Insurance Card (EHIC), but full health insurance cover is still advised. Medical facilities and standards of health care are good, but not many nurses or doctors speak English. If you take prescription medication along, be sure to bring a signed and dated letter from a doctor detailing what it is and why it is needed.
Safety
Tourists should be alert to the risk of robbery in tourist areas in large cities in Poland, particularly in the vicinity of hotels, markets and banks. Vigilance against theft should also be exercised at central railway stations, as well as on overnight long distance trains, and when travelling on public transport between Warsaw's Frederic Chopin Airport and central Warsaw. Avoid walking alone at night. Tourist sites, areas near big hotels, money exchange facilities and ATMs are popular with thieves. Having said that, visits to Poland are usually trouble free, and the precautions travellers should take are merely the safety measures advised for cities all over the world.
Emergency Phone Number
Emergencies: 112
* For current safety alerts, please visit
Foreign travel advice - GOV.UK
or
Travel.State.Gov
Money
The official currency is Zloty (PLN), divided into 100 groszy. Poland is essentially a cash country, and it is sometimes difficult to use credit cards in the cities, and almost impossible in rural areas. Credit cards are, however, accepted in places frequented by tourists. ATMs are available in major towns and cities. Money (preferably US Dollars or Euros) can be exchanged in the cities and larger towns at banks, hotels or bureaux called 'kantors', which offer the best rates. Banks are open Monday to Friday from 9am to 4pm and some are open on Saturday till 1pm.
Exchange Rate
Embassies of Poland
Polish Embassy, Washington DC, United States: +1 202 234 3800.
Polish Embassy, London, United Kingdom: + 44 (0)207 291 3520.
Polish Embassy, Ottawa, Canada: +1 613 789 0468.
Polish Embassy, Sydney, Australia: +61 (0)2 9363 9816.
Polish Embassy, Pretoria, South Africa: +27 (0)12 430 2631.
Polish Embassy, Dublin, Ireland: +353 (0)1 283 0855.
Polish Embassy, Wellington, New Zealand: +64 (0)4 499 7844.
Foreign Embassies in Poland
United States Embassy, Warsaw: +48 (0)22 504 2000.
British Embassy, Warsaw: +48 (0)22 311 0000.
Canadian Embassy, Warsaw: +48 (0)22 584 3100.
Australian Embassy, Warsaw: +48 (0)22 521 3444.
South African Embassy, Warsaw: +48 (0)22 622 1031.
Irish Embassy, Warsaw: +48 (0)22 849 6633.
New Zealand Embassy, Warsaw: +48 (0)22 521 0500.
Customers
Jay walking is an offence in Poland, and is punishable with a fine. Public drunkenness is severely viewed; police will take drunk people to drying out clinics until sober and the person will be charged for the stay, and driving after drinking alcohol is punishable by law.
Business
Poland has an interesting mix of the old and the new, and this is apparent in the business world too. Women can expect a kiss on the hand rather than a handshake from the older generation and one can expect to be warmly offered drinks during meetings; it is impolite to refuse. Although the Polish are hospitable and friendly, business is still conducted formally. Punctuality is important, dress should be formal and conservative (a suit and tie the norm) and business cards are exchanged. Use titles and first names unless otherwise indicated. English is widely spoken, though attempting some basic Polish phrases will be appreciated. Business hours in Poland are traditionally 7am to 3pm Monday to Friday, with a long lunch taken after 3pm. Western influence, however, means that hours are starting to shift to the more common 9am to 5pm.
Tipping
Tipping is not customary in Poland, but small gratuities of 10 percent or so can be offered for excellent service. In restaurants, when your bill is collected, saying 'thank you' signals to the waiter/waitress that they can keep the change.
Public Holidays in Poland
| | | |
| --- | --- | --- |
| | 2017 | 2018 |
| New Years Day | 1 Jan | 1 Jan |
| Epiphany | 6 Jan | 6 Jan |
| Easter Monday | 17 Apr | 2 Apr |
| Labour Day | 1 May | 1 May |
| Constitution Day | 3 May | 3 May |
| Corpus Christi | 15 Jun | 31 May |
| Assumption of the Virgin Mary (Armed Forces Day) | 15 Aug | 15 Aug |
| Easter Sunday | 16 Apr | 1 Apr |
| All Saints Day | 1 Nov | 1 Nov |
| Independence Day | 11 Nov | 11 Nov |
| Christmas Day | 25 Dec | 25 Dec |
| Boxing Day | 26 Dec | 26 Dec |
| Whit Sunday | 4 Jun | 20 May |
Overview
When sightseeing around Poland you'll find all the hallmarks of European charm in abundance: alpine mountains, historic buildings, resplendent lakes, lush meadows, untainted beaches and, as a less-than-rosy but fascinating bonus, the settings for some key events from the Second World War.
The capital of Warsaw was the first city to fall to Hitler and had to be almost completely rebuilt after the 1944 invasion. Parts of the Old Town were built to replicate the city as it had stood in the 17th and 18th centuries and the Historical Museum of Warsaw, a salute to the city's violent past, is a must. Although the experience is deeply unsettling and emotional a visit to Poland would not be complete without a trip to the country's most significant wartime landmark: Auschwitz, Hitler's biggest and most notorious concentration camp.
About two hours north of Warsaw is the Bialowieza Primaeval Forest, a UNESCO World Heritage Site which is one of the last remnants of the European primeval forest which once covered most the continent. Further north visitors will find other rare vestiges of old Europe, like the Gothic Castle in Malbork, the largest and most impressive brick fortress in Europe. There are several other wooden and stone churches, temples and other impressive buildings throughout Poland's vast and glorious countryside, which can be traversed by bus or train.
The city of Krakow is the most popular tourist destination in Poland, and the city which suffered least during the war. The main attraction is the remarkably well-preserved medieval centre, but Krakow is a cosmopolitan, modern city boasting the wonderful mix between old and new which characterises the whole country.
Map of Poland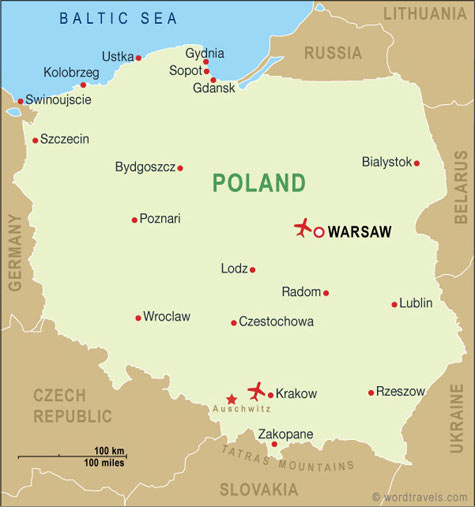 Travel Guide powered by www.wordtravels.com, copyright © Globe Media Ltd. All rights reserved. By its very nature much of the information in this guide is subject to change at short notice and travellers are urged to verify information on which they're relying with the relevant authorities. Globe Media and UNIGLOBE Travel does not accept any responsibility for any loss or inconvenience to any person as a result of information contained above.