General
Money
Entry Requirements
Health & safety
Weather
Embassies
Etiquette
Public Holidays
Attractions
Map
---
Introduction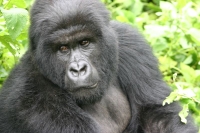 Gorillas in Rwanda at the Volcanoes National Park ©Derek Keats
'Land of a Thousand Hills' ( ), as it is popularly known, Rwanda is a small, verdant country in central Africa. The rolling hills of Rwanda are dotted with tea plantations, rugged mountains and towering volcanoes, with the shimmering Lake Kivu in the west.
Sadly, this beautiful country is best known to the world for the horrific genocide of 1994, when something like 800,000 Rwandans were slaughtered in the space of about three months. This massacre was the result of long-standing ethnic tension between the minority Tutsis and the Hutus. Rwanda is today a very peaceful African country but it has had to work hard to combat the memory of the genocide and portray itself instead as an unspoilt, scenically stunning destination that is rich in culture and wildlife, boasting fine food and one of the friendliest welcomes in Africa. Luckily the world is catching on to the advantages of this African gem and tourism is on the rise.
The rapidly growing city of Kigali, situated at Rwanda's geographical heart, is not only the capital but also the country's most important business centre and the main point of entry. While it is not a tourist hot spot, it is the hub of just about everything Rwandan and worth a quick exploration for travellers arriving from overseas. However, the real appeal of the country can be discovered outside of urban areas, with explorations of the lush national parks. The most popular activity for tourists in Rwanda is gorilla trekking and meeting these gentle giants in their natural habitat is widely acknowledged to be one of the most profound wildlife experiences in the world.
A picturesque country with an incredible people and interesting history, Rwanda is one of the most fascinating travel destinations in Africa.
Communications
The international dialling code for Rwanda is +250. There is an excellent cell phone network covering most of the country, and cell phones can be rented in Kigali. Internet cafes and computer centres are located in most major towns.
Emergencies
Emergencies: 112.
Languages Spoken
Kinyarwanda, French and English are the official languages. French is widely spoken, but English is limited to a few people in the tourist centres.
Duty Free
Passengers older than 16 years may bring two cartons of cigarettes and two litres of alcohol into the country without incurring import duties.
Electricity
Electrical current is 220-240 volts, 50Hz. European two-pin plugs are the most commonly used.
Climate Info
Rwanda experiences a pleasant, tropical highland climate with temperatures that vary depending on altitude, but vary little from month to month in the same location. There are two wet seasons and two dry seasons; a long and a short one. The wettest time of year is between March and May, while the driest months are July to September. There is also rain between October and November. Temperatures rarely go above 86°F (30°C) during the day or drop below 59°F (15°C), except on the upper slopes of the Virunga Mountains where frosty conditions are possible.
Passport
Passport and/or passport replacing documents must be valid for at least six months beyond arrival in Rwanda for all nationalities. It is always highly recommended that passports have at least six months validity remaining after your intended date of departure from your travel destination. Immigration officials often apply different rules to those stated by travel agents and official sources.
Entry Requirements
Canadians
require a passport valid for six months beyond arrival date, and a visa for entry to Rwanda.
show more ...
Health
There is a year-round risk of malaria throughout Rwanda and travellers are advised to take a course of prophylactics. A yellow fever certificate is required by all visitors and inoculation is also recommended. Hepatitis A and Meningococcus vaccinations are also recommended, as well as a polio booster for those who have not had one as an adult. Cholera outbreaks are not uncommon. Bottled drinking water is available in all towns. Medical facilities are limited and medical supplies may be unavailable, although hospitals are located in all major towns. Comprehensive medical insurance is advised.
Safety
Crime levels are relatively low in Rwanda, although tourists should be alert to bag snatching and incidents of petty theft. Travel to the border areas with Burundi and the DRC is not advised; trips to see the gorillas in the Volcanoes National Park should only be undertaken as part of a guided trek. Rwanda is considered a low threat for terrorism, however there are reports of random grenade attacks as recently as March 2012 and travellers should be vigilant at bus stops and other public areas. The roads in major towns are good, however travel after dark is not advisable; landslides are common during the rainy season (late spring to early autumn).
Emergency Phone Number
Emergencies: 112.
* For current safety alerts, please visit
Foreign travel advice - GOV.UK
or
Travel.State.Gov
Money
The official currency is the Rwanda Franc (RWF), which is divided into 100 centimes. The US Dollar is the hard currency of preference. Credit cards are only accepted at the major hotels and restaurants in Kigali.
Exchange Rate
Not available.
Embassies of Rwanda
Rwanda Embassy, Washington DC, United States: +1 202 232 2882.
Rwanda Embassy, London, United Kingdom (also responsible for Ireland): +44 (0)20 7224 9832.
Rwanda High Commission, Ottawa, Canada: (613) 569 5420
Rwanda Embassy, Tokyo, Japan (also responsible for Australia): +81 (0)3 5752 4255.
Rwanda Embassy, Pretoria, South Africa: +27 (0)12 342 6536.
Foreign Embassies in Rwanda
United States Embassy, Kigali: +250 596 400.
British Embassy, Kigali: +250 252 556 000.
Canadian High Commission, Nairobi, Kenya (also responsible for Rwanda): +254 (0)20 366 3000.
Australian High Commission, Nairobi, Kenya (also responsible for Rwanda): +254 (0)20 427 7100.
South African Embassy, Kigali: +250 252 551 300.
Irish Embassy, Kampala, Uganda (also responsible for Rwanda): +256 (0)41 7713 000.
Customers
Photography of government buildings is prohibited in Rwanda. Plastic bags have been banned for environmental reasons and will be confiscated on arrival at the airport. It is considered impolite to ask someone about their ethnic origin.
Business
A handshake is the normal form of greeting. A knowledge of French is useful as English is not widely spoken; interpreters may be required. Lightweight suits are suitable attire for meetings, which need to be arranged in advance.
Tipping
Some small change left at restaurants will be appreciated when dining in Rwanda. Guides on gorilla treks expect to be well tipped; amounts vary, but 10 percent is common.
Public Holidays in Rwanda
| | | |
| --- | --- | --- |
| | 2017 | 2018 |
| Eid al-Fitr (end of Ramadan) | 26 Jun | 15 Jun |
| New Years Day | 1 Jan | 1 Jan |
| National Heroes Day | 1 Feb | 1 Feb |
| Genocide Memorial Day | 7 Apr | 7 Apr |
| Good Friday | 14 Apr | 30 Mar |
| Labour Day | 1 May | 1 May |
| Independence Day | 1 Jul | 1 Jul |
| Liberation Day | 4 Jul | 4 Jul |
| Assumption | 15 Aug | 15 Aug |
| Christmas Day | 25 Dec | 25 Dec |
| Boxing Day | 26 Dec | 26 Dec |
Overview
Rwanda is certainly a nature lover's paradise, and its focus is mainly ecotourism. It is an incredible country with a rich history and a scenery and wildlife unlike any other.
Home to the world's largest population of mountain gorillas within the Volcanoes National Park, Rwanda's gorillas are certainly the country's most popular tourist attraction. Gorilla tracking is very much on every visitor's to-do list. Nyungwe Forest National Park is home to a large number of smaller primates, as well as more than 275 bird species, while Akagera National Park is big game country where herds of elephants and buffalo, lions, hippos and plains animals inhabit the archetypal African savannah landscape set among a web of swamps and lakes. The waters of Lake Kivu are enclosed by green terraced hills that give way to beaches, inlets and the resort towns of Gisenyi, Kibuye and Cyangugu, which also make for popular tourist sites.
For those looking to delve into Rwanda's sobering history, a trip to the Kigali Genocide Memorial Centre will enlighten visitors, and leave them in awe of a nation that has come far in its efforts to become the peaceful and beautiful country it is today.
Travel Guide powered by www.wordtravels.com, copyright © Globe Media Ltd. All rights reserved. By its very nature much of the information in this guide is subject to change at short notice and travellers are urged to verify information on which they're relying with the relevant authorities. Globe Media and UNIGLOBE Travel does not accept any responsibility for any loss or inconvenience to any person as a result of information contained above.