General
Money
Entry Requirements
Health & safety
Weather
Embassies
Etiquette
Public Holidays
Attractions
Map
---
Introduction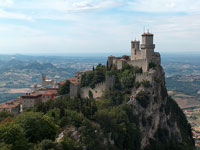 San Marino ©fdecomite
Completely surrounded by Italy and located in the Apennine Mountains, it's not surprising most people don't know where the Most Serene Republic of San Marino is. The third smallest state in Europe, after the Vatican City and Monaco, San Marino is the world's oldest republic, having been founded in AD 301 by a Christian stonemason fleeing religious persecution.
Perched on the slopes of Monte Titano, the City of San Marino is a UNESCO World Heritage Site, and walking through its alleyways and narrow streets will reward visitors with some unique discoveries. Travellers can explore the medieval city's interesting history and culture in the historic centre, or visit the Three Towers of San Marino, situated on the three peaks of Monte Titano with views of the lush countryside. Other attractions include the Gothic Palazzo Pubblico and colourful fortress guards at Piazza della Libertà; the sacred art at the St Francis Museum and compelling stories of the Museum of Emigration; and the Basilica di San Marino. Nearby villages, such as Serraville and Valdragone, make pleasant day trips as well.
San Marino boasts a Mediterranean climate with mild winters and warm, sunny summers, providing the perfect environment to explore all this magical country has to offer. San Marino is safe with very little crime, but visitors should be aware of petty theft and pickpockets, and although there are no major health risks associated with travelling to San Marino, visitors should have comprehensive medical insurance. San Marino has no airport of its own, but travellers can fly into Rimini, just six miles (10km) away.
Sample some of the country's Limoncello and fine wine, or relax with a cup of coffee and a slice of (Cake of the Three Mountains) and watch the world go by in this beautiful, verdant mountain country.
Languages Spoken
The official language of San Marino is Italian.
Duty Free
Travellers from EU countries are limited to 110 litres of beer, 90 litres of wine (of which 60 litres may be sparkling), 20 litres of fortified wine, 10 litres of spirits, and 800 cigarettes, 200 cigars, or 1kg of tobacco. Non-EU travellers are limited to 16 litres of beer, 4 litres of wine, 2 litres of fortified wine, 1 litre of spirits, and 200 cigarettes, 50 cigars, or 250 grams of tobacco. Prohibited items include narcotic drugs, medicinal products, arms and weapons, explosives and protected animal and plant species.
Electricity
Electrical current is 220-240 volts, 50Hz. Plugs in use include the Italian three-pin and the European-style two-pin.
Passport
Visa requirements for San Marino are the same as those that apply for Italy. It is highly recommended that passports have at least six months validity remaining after your intended date of departure from your travel destination. Immigration officials often apply different rules to those stated by travel agents and official sources.
Entry Requirements
A
passport valid for at least three months beyond the period of intended stay is required. No visas are required for stays of up to 90 days.
show more ...
Health
There are no specific health risks associated with travel to San Marino and visitors should be able to travel without special vaccinations and medications. Vaccinations for MMR (measles, mumps, rubella) and tetanus-diphtheria may be recommended by your doctor if you are not up to date. An influenza vaccine is a good idea if you are travelling to San Marino between November and April.
Medical facilities in San Marino are good, but travel insurance is still recommended for non-EU citizens, as medical attention can be expensive. Serious conditions will result in a transfer to more comprehensive facilities in Rimini.
Safety
San Marino is considered a very safe city with low crime rates, although visitors should keep a close eye on their valuables, as pickpockets are common in crowded areas.
* For current safety alerts, please visit
Foreign travel advice - GOV.UK
or
Travel.State.Gov
Exchange Rate
Not available.
Embassies of San Marino
Foreign Embassies in San Marino
Customers
Although many local customs and standards of etiquette in San Marino are similar to Italy, it is considered rude to refer to locals as 'Italians', as San Marino residents are very proud of their independence.
Public Holidays in San Marino
Travel Guide powered by www.wordtravels.com, copyright © Globe Media Ltd. All rights reserved. By its very nature much of the information in this guide is subject to change at short notice and travellers are urged to verify information on which they're relying with the relevant authorities. Globe Media and UNIGLOBE Travel does not accept any responsibility for any loss or inconvenience to any person as a result of information contained above.